Why Olivia Culpo Won't Be Rehashing Her Past With Nick Jonas On 'Model Squad'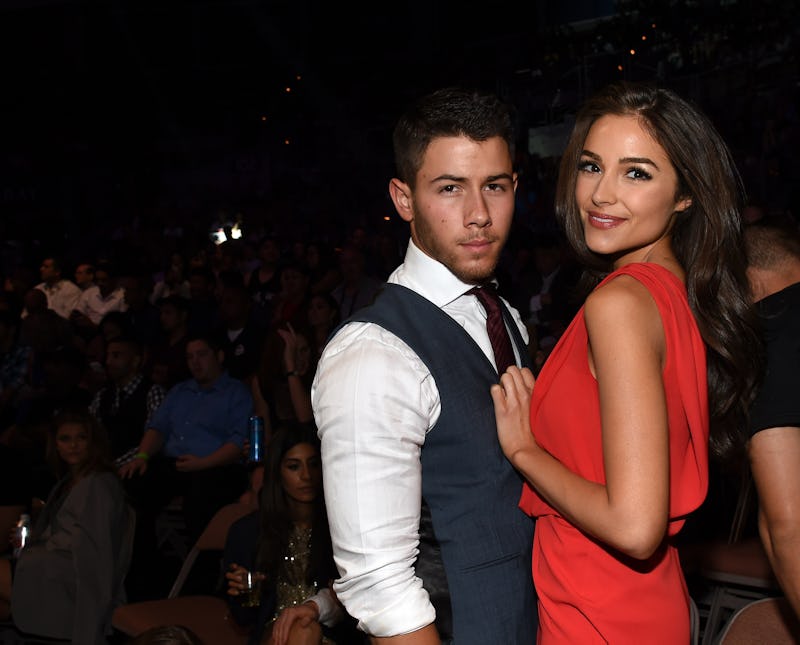 Ethan Miller/Getty Images Entertainment/Getty Images
Although the youngest JoBro is now engaged to actress, model, and film producer Priyanka Chopra, E!'s debut of Model Squad inevitably reminds fans of what he and another brown-haired runway walker once had. At the time, it seemed like they were meant to be, but obviously, that wasn't the case. The two of them split back in 2015 (Yes, it's been that long.), but exactly how long were Olivia Culpo and Nick Jonas together? Long enough for Nick to dedicate a whole album to their relationship.
According to E! News, they broke things off after two years of dating, and it wasn't an easy breakup for either of them. "This has been a sensitive matter and both of them still love and care about each other and only want the best for one another," an insider shared. "The long distance and ups and downs have been weighing on the two of them lately and it has not been easy but they know this is the best decision for them at this time."
Culpo shared her initial feelings about the breakup on Instagram, knowing her followers would notice her impending lack of snuggly selfies with Nick.
"Your heart just breaks, that's all," she wrote. "Heartbreak is hard but you find more and more things to be grateful for every day. One of those things is all of you. Thank you all. Yes I'm going to be okay and I love u guys so so much."
Nick, like most musicians, put his post-heartbreak feelings into songs. He told Entertainment Tonight that his 2016 album titled Last Year Was Complicated was the product of his breakup with Culpo. "There's no better release for me than creating. I just had to do it, I had that instinct," he told ET. "The minute she left, I was alone in my apartment. I was like, 'I have to come and get out of the city and write.' I feel like music is the best therapist I've ever had."
According to Us Weekly, Nick's best bud and fellow musician Demi Lovato saw the end coming, and suggested that he ended things with Culpo long before the breakup. Nick obviously didn't agree with the advice then, and three years after the split, he still wasn't convinced. Earlier this year, it was reported that Nick took a shot at getting Culpo back, but she showed no interest in making it happen. She's been busy with her own career, as her new reality series shows, and has obviously moved on — just like Jonas.
That didn't stop fans from noticing that Nick continued liking Culpo's Instagram posts. Then, a source told Us that he reached out to her directly. "He reached out a couple weeks ago via text trying to reconnect," the source said. It was also reported that Culpo wasn't ready to re-board that train because he "treated her badly when they broke up." She had also just recently split with another ex, football player Danny Amendola.
Only a number of months have passed since Nick tried to rekindle his relationship with Culpo, and since then, he's gotten engaged, which means that all of the reports about him chasing Culpo might not be totally on point. And according So now that it's for sure not going to be him, hopefully upcoming episodes of Model Squad will reveal who's joining Culpo's side next.