Three Florida Races Are In A Recount — Here's How Long It Should Take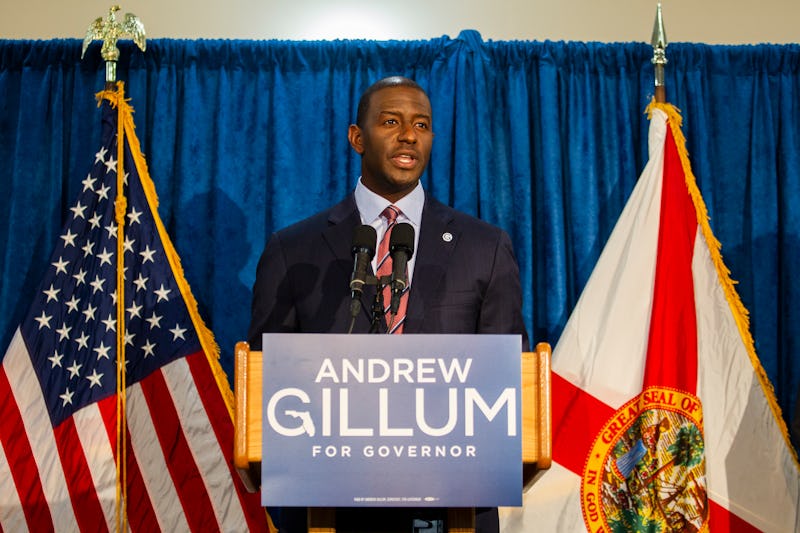 Mark Wallheiser/Getty Images News/Getty Images
Election night was a dramatic showing across the country — with many history-making races decided. But not everywhere has the outcome been so clear cut, and many races have yet to be called. In Florida, the closest three races are getting a second look, including both the race for governor and the U.S. Senate seat. Finding out the final result in these races now depends on how long the Florida recount will take. The machine recount must be finished by Thursday at 3 p.m., but there could be more recounting after that.
These recounts are taking place due to state election law because the races are so close, a margin under 0.5 percent. The three elections affected are Republican Gov. Rick Scott and Democratic Sen. Bill Nelson's run for U.S. Senate, former Rep. Ron DeSantis and Democratic Tallahassee Mayor Andrew Gillum's run for governor, and, finally, Republican Matt Caldwell and Democrat Nikki Fried's run for agriculture commissioner.
The recount could end with the results of the races growing even closer, as overseas and military ballots could push them one way or another. If after the machine recount a race is under a margin of 0.25 percent, it goes to a hand recount. Already Scott and Nelson's race, as well as Caldwell and Fried's, meets that criteria.
A hand recount can take far longer. Any overvote or undervote is examined by election officials. An overvote is when a voter chooses more than one candidate for a race, and an undervote is when a voter doesn't choose a candidate. There were an unusual number of undervotes in the Senate race in Broward County, The New York Times reported.
This is what happened during the 2000 election, when George W. Bush and Al Gore were both vying for the presidency. The recount went through December and only ended when the Supreme Court ruled that the recount had to end.
Some studies show that had the recount included some of the undervotes that were due to voting machines malfunctioning, Gore would have won the race. But the courts decided that dimpled ballots, ballots where voting machines didn't punch through the paper to mark the vote, couldn't be counted. Among other variations of votes not always read by the machines are hanging chads, when the paper is only partially punched out by the voting machine.
This time the hand recounts — assuming that there are any, the candidate in second place after the machine count can ask to skip it — could also be stopped by the courts, and the whole thing could be resolved by lawsuits. There have already been some filed.
As for candidates asking to forgo the recount, that seems unlikely. Gillum had conceded on election night, but has since changed his mind. "I am replacing my words of concession with an uncompromised and unapologetic call we count every single vote," Gillum said at a news conference on Saturday. DeSantis hasn't stopped his transition plans.
In the Senate race, a Scott spokesperson called on Nelson to give up the recount. Nelson's statement to CNN on the matter, however, seems to rule that out. "We believe when every legal ballot is counted, we'll win this election," Nelson said.
These races have national importance — particularly the Senate race — but according to Florida law, you'll have to wait a bit longer to know who the winner is.