O.J. Simpson's Time In Prison Could Be Cut Short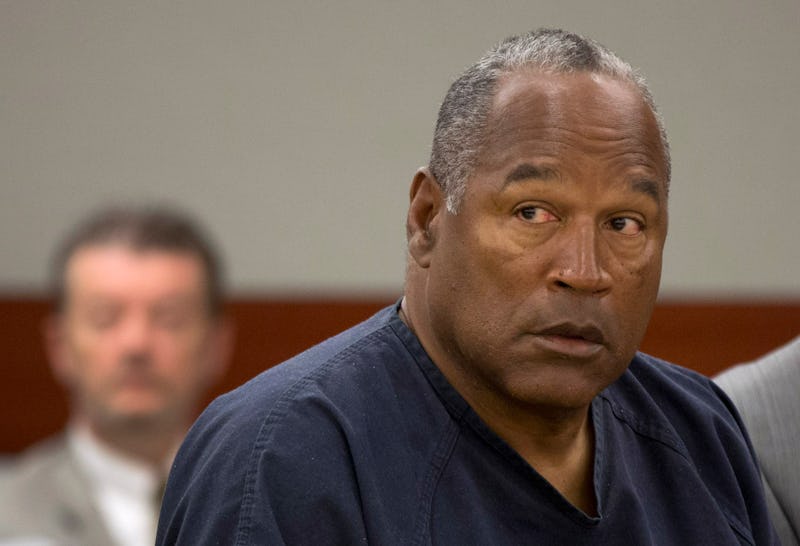 Pool/Getty Images News/Getty Images
As his parole hearing approaches on Thursday, many eyes will be on O.J. Simpson in court once again. The 70-year-old has been serving his 33-year sentence for a 2007 incident where he was found guilty in a handful of charges, including armed robbery, kidnapping, and assault with a deadly weapon. But how long has Simpson been in prison?
Of his 33-year sentence, Simpson has served eight and a half years at Nevada's Lovelock Correctional Facility, a medium-security prison, according to CNN. On Thursday, four members of the Nevada Board of Parole will decide whether he will be released as early as October 1.
Simpson is currently serving time for a 2007 incident in which he and five others, two of whom were armed, allegedly robbed two sports memorabilia dealers at gunpoint in a Las Vegas hotel room. Simpson claimed that he was trying to recover what he believed was stolen property: footballs, plaques, and photos of his children, according to NBC News. Simpson also claimed he didn't know that the people he was with were carrying guns.
In 2013, Simpson was paroled on several of the 12 charges from the case, but not all. David Roger, former Clark County district attorney who led the prosecution in Simpson's robbery case, said that the former football star will likely be granted parole for the remainder of his charges because of the time he's already served for the robbery.
During a parole hearing, inmates are scored on a variety of factors. The higher the score, the more likely the inmate poses a risk upon release. Five points or less is considered a low risk, six to 11 means a medium risk, and 12 or more suggests a high risk. Simpson scored a three on his initial parole hearing in 2013. Unless his situation at Lovelock has changed significantly in the last four years, he'll likely score around the same, according to CNN.
According to reports from Yahoo, Simpson will have the opportunity to speak at his hearing, but he won't actually be in the room. He'll videoconference into the hearing from the Lovelock Correctional Center.
Simpson was famously acquitted in 1995 during the criminal trial for the murder of his ex-wife, Nicole Brown Simpson, and her friend, Ron Goldman. However, Simpson was found liable in a 1997 wrongful death civil suit. About 20 years later, the case was revisited in the form of several TV shows: The People V. OJ Simpson: American Crime Story miniseries on FX and the OJ: Made in America documentary on ESPN.
So now fans will have to wait to see if the man formerly known as "The Juice" will be set free.