Here's How Long Fans Can Expect Fifth Harmony To Be Gone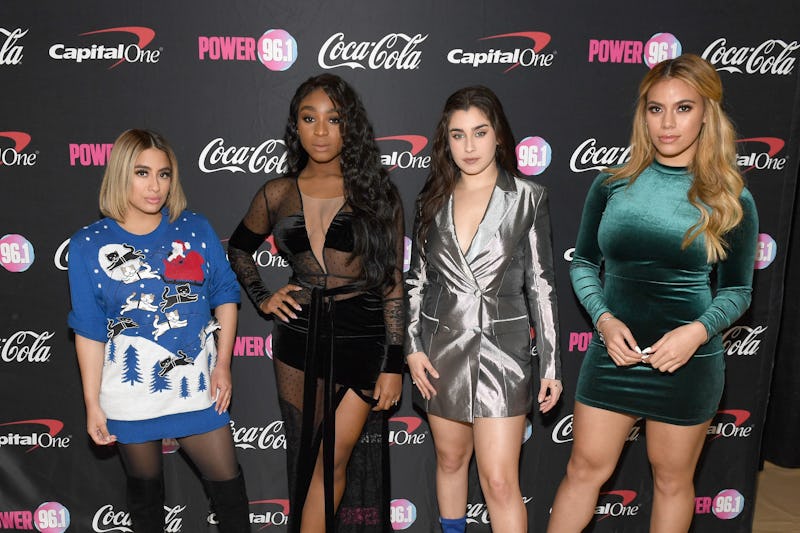 Paras Griffin/Getty Images Entertainment/Getty Images
Unfortunately for fans, Fifth Harmony just announced a hiatus from recording new music. But the good news is this means that the members are branching out to record as solo artists. Does this mean that the group is done forever, though? How long Fifth Harmony's hiatus? Is it truly a break or is it a breakup?
Fifth Harmony announced the hiatus with a note to their fans that was shared on the group's social media accounts. There is no official indication about when and if they will get back together as a group, but they have a lot going on as individuals and the hiatus hasn't even begun yet. The break will not commence until they finish the Fifth Harmony performances that they have already agreed to. The statement reads, "We do have some upcoming shows through the end of the year, which will still happen as planned, and we can't wait!"
According to Fifth Harmony's official website, they have three final performances in the works. They will perform in Hollywood, Florida on May 11, San Juan, Puerto Rico on May 13, and Reykjavik, Iceland on May 16.
Aside from confirming their commitment to shows that they've already booked and thanking their loyal supporters, the singers made it clear why they are going their separate ways: the pursuit of solo careers. The statement says, "After six years going hard, non-stop, we also realized that in order to stay authentic to ourselves and to you, we do need to take some time for now to go on a hiatus from Fifth Harmony in order to pursue solo endeavors."
The attempt at solo careers is not at all surprising to their fans. The writing has been on the wall for a long time. Former member Camila Cabello has been killing it as a solo artist. Her debut album Camila debuted at number one on the Billboard 200 chart in January 2018.
It is natural for the others to want that same level of success and the opportunity to have more creative input as individual artists. As busy as they've all been as members of Fifth Harmony, they have all had their individual side projects throughout the years.
Normani
Normani competed on Season 24 of Dancing With the Stars in 2017. Normani made it all the way to the finals on DWTS, nabbing third place, exposing herself to a whole new audience and garnering even more fans than she already had. Normani showcased her skills as a solo artist with several videos on her YouTube Channel. She has covered Mariah Carey's "All I Want For Christmas Is You," Tory Lanez hit song "Say It," and Drake's song "Fake Love."
In October 2017, Billboard confirmed that Normani signed a solo management deal with the company S10 Entertainment. As of this moment, she has not released any original songs as a solo artist, but Normani did collaborate with Khalid for the song "Love Lies" which was released in 2018.
Lauren Jauregui
In May 2017, Lauren Jauregui was featured on Halsey's track "Strangers" as a solo artist. The song was celebrated by Billboard as "a strong, unapologetic acknowledgement of lesbian and bisexual women." Fifth Harmony collaborated with rapper Ty Dolla $ign for their 2016 song "Work From Home," which is one of the group's biggest hits. Jauregui linked up with the rapper again in 2017 as a featured artist on his song "In Your Phone." In 2017, Jauregui collaborated with Steve Aoki for their song "All Night."
Ally Brooke
Just like her band mates, Ally Brooke has also released music as a solo artist. She collaborated with Lost Kings and A$AP Ferg for the song "Look At Us Now" in 2017. In December 2017, Ally announced that she will act in the Freeform series Famous In Love. Ally Brooke tweeted about her acting debut: "Watch out for me in season 2 of #FamousInLove." She continued, "Thank you times a million to everyone for welcoming me and making today SO MUCH DARN FUN! See you next year." According to Ally's IMDb page, she is set to appear in one episode when the show returns for its second season later this year.
Dinah Jane
In December 2017, Dinah Jane collaborated with her role model Leona Lewis for their joint song "Christmas Medley." Dinah Jane shared her excitement about the collaboration via tweet: "This is the best Christmas gift I've ever received! Thank you to the fans & thank you Ms.Lewis for making my dreams come true! With that being said, enjoy this special medley we created for you guys this Christmas!" Dinah Jane was also featured on RedOne's song "Boom Boom" in 2017 alongside French Montana and Daddy Yankee.
The Fifth Harmony hiatus has been a long time coming. As much as these women enjoy working together and entertaining their fans, they have all been making big moves as solo artists. There is no new music from Fifth Harmony on the way any time soon and there is no formal indication about when and if they will end the hiatus. On the bright side, Harmonizers will get to enjoy the members' solo work. After many years of success, it makes perfect sense that the singers would want to prioritize their individual endeavors.