You Can Squeeze In The Olympic Opening Ceremony Before You Even Go To Work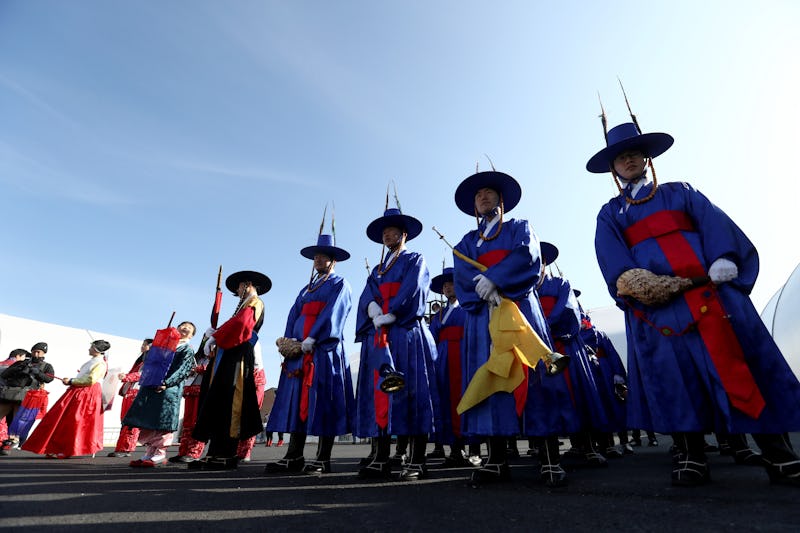 Robert Cianflone/Getty Images Sport/Getty Images
On Friday, in a stadium designed to hold roughly 35,000 people, the highly anticipated opening ceremony of the Winter Olympics will kick off the 2018 Winter Games. It starts at 6 a.m. ET, so if you're wondering how long the opening ceremony is, you shouldn't worry, because you'll be able to squeeze it in before work.
According to TIME, the opening ceremony will run for two hours, meaning it'll end around 8 a.m. ET. If you want to watch the opening ceremony from the U.S., you'll have two chances to do so. You'll be able to watch it live on NBCOlympics.com, but if you don't feel like waking up that early for it (especially if you're on the West Coast), you can wait until 8 p.m. ET, when NBC will air a more detailed broadcast, which will be hosted by Katie Couric and Mike Tirico.
The ceremony will take place at the Pyeongchang Olympic Stadium, which was built just for the occasion and cost tens of millions of dollars to build. Only four events — the opening and closing ceremonies of the Winter Olympics, and the opening and closing ceremonies of the Paralympics next month — will be held at the stadium before it is dismantled.
Notable attendees expected at the opening ceremony include Mike Pence, Japanese Prime Minister Shinzo Abe, and Kim Yo Jong, Kim Jong Un's younger sister. Kim Yo Jong's impending arrival in South Korea is particularly momentous, as it will mark the first time that an immediate member of Kim Jong Un's family will step foot in the South.
The 2018 Winter Olympics have already seen their fair share of controversy. In December, the International Olympic Committee banned Russia from competing in the Games after uncovering a state-sponsored doping scandal, though athletes who can prove they are clean may compete as "Olympic Athletes from Russia." South Korea's willingness to welcome a North Korean delegation at the Winter Olympics has led to domestic criticism of President Moon Jae-in and other officials.
Moreover, the 2018 Winter Olympics have been selling tickets at a slower rate than previous years. Whether it's due to the absence of Russia or of the NHL, the Games had sold only 61 percent of overall tickets as of the beginning of January. It could also be because of the weather. According to USA Today, this year's Winter Olympics could be the coldest since 1994, when they were held in Lillehammer, Norway.
To save time and money, South Korea built its Olympic Stadium without a roof. This means that opening ceremony attendees may face severely cold conditions. At a rehearsal for the ceremony on Saturday, the temperature in Fahrenheit, including wind chill, was 7 degrees below zero. Luckily, the temperatures are supposed to go up by the end of the week, and are forecasted to hover around freezing with wind chill for the opening ceremony.
South Korea already has plans to deal with the cold weather. There are plans for hot pack and blanket distribution to protect opening ceremony attendees from hypothermia, and the government hopes to speed up security checks to avoid making people endure long lines in the cold.
Between North Korea, Russia, and the U.S., South Korea has its fair share of issues to contend with. But as North and South Korean athletes prepare to march under the same flag for the first time in 11 years during Friday's opening ceremony, there is some hope that the Winter Olympics will at least lead to further peacemaking efforts on the Korean peninsula.