This Is How Long The Super Bowl Could Go On For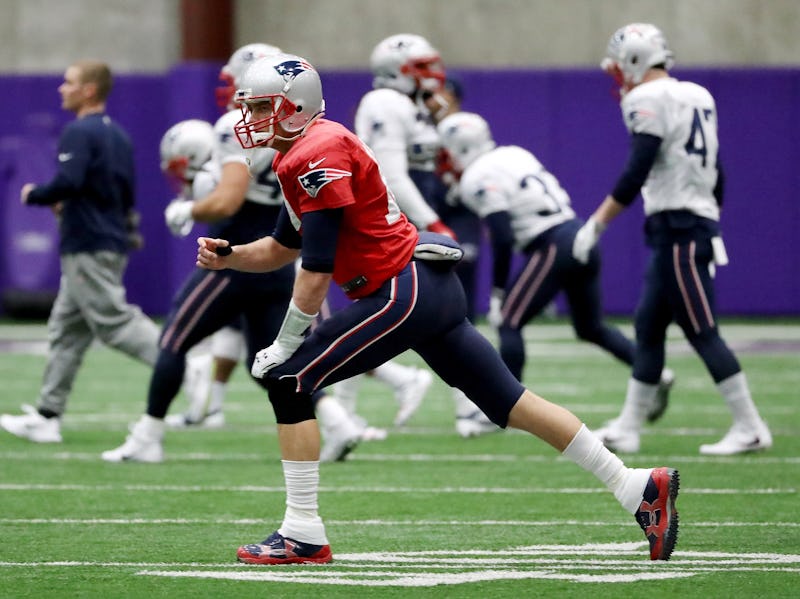 Elsa/Getty Images Sport/Getty Images
Most television sets across America will be tuned into Super Bowl LII on Sunday night. For those planning a get-together and wondering how long you'll have people over — or just how long before you can change the channel — the length of the Super Bowl is vital information. Most NFL games run about three hours from kickoff to the last play with commercials and halftime included. Super Bowl games can be a little longer, but Sunday's game is expected to be done by 10 p.m. ET.
10 p.m. is the time that the postgame show is slated to start on NBC. The total length of the game would clock in at about 3 hours and 30 minutes (it starts at 6:30 p.m. ET).
By then, in theory, you'll know whether the New England Patriots or the Philadelphia Eagles have won and how Justin Timberlake's halftime show went. After the postgame show will air a new episode of the NBC drama This Is Us. But both will be pushed back if the game goes longer than expected.
The best, or most cautious, hosts will have enough layer dip to last a good four hours, just to be safe. The longest Super Bowl ever — number XLII — clocked in at four hours and 14 minutes in 2013. The average, according to a report by The Verge last year, is about 3 hours and 44 minutes, which would mean the postgame show wouldn't be able to start until about 10:15 p.m. ET.
The NFL has actually made a concerted effort in recent years to keep their games shorter. In 2016 the league acknowledged that longer games might be hurting the bottom line. "We want to take as much what we call dead time, non-action out of the game, so that we can make the game more exciting," NFL Commissioner Roger Goodell told The New York Times at the time.
He argued that too many commercials and video reviews were slowing the game down. It had gotten six minutes longer on average since 2008. In the past years the effort has worked. The NFL decided to cut the commercial breaks from five per hour to just four and limit the time of video reviews that refs use to make calls.
Still, advertising will take up a large chunk of Sunday's programing, if past years are any indication. MarketWatch looked at past years to show that ads take up about an hour, whereas actual game play can be as little as 12 minutes during a Super Bowl. This year, ads were still for sale as late as last week with packages starting around $5 million. Despite the price tag, there should be a healthy dose of advertising.
Super Bowl halftime shows tend to extend the games' times, too. The average break for an NFL game is just 15 minutes, but for the biggest game of the year, that number often reaches 30 minutes — and that can have an effect on players, not just everyone watching at home.
"It really gets into a whole restarting mentality," Patriots Coach Bill Belichick told The Star-Ledger in 2012. "It's not like taking a break and coming out in the second half. It's like starting the game all over again. It's like playing a game, stopping, and then playing a second game."
Ultimately it will be this year's game that decides just how long the night will be, and that can't be predicted. That range of time might be difficult for the food menu or to know how many bags of ice to buy. But you can bet that it will be done by 10 p.m. — and definitely by 10:44 p.m. ET. If not, that's a new record.