How Long Is Trump's State Of The Union? Previous Presidencies Offer A Clue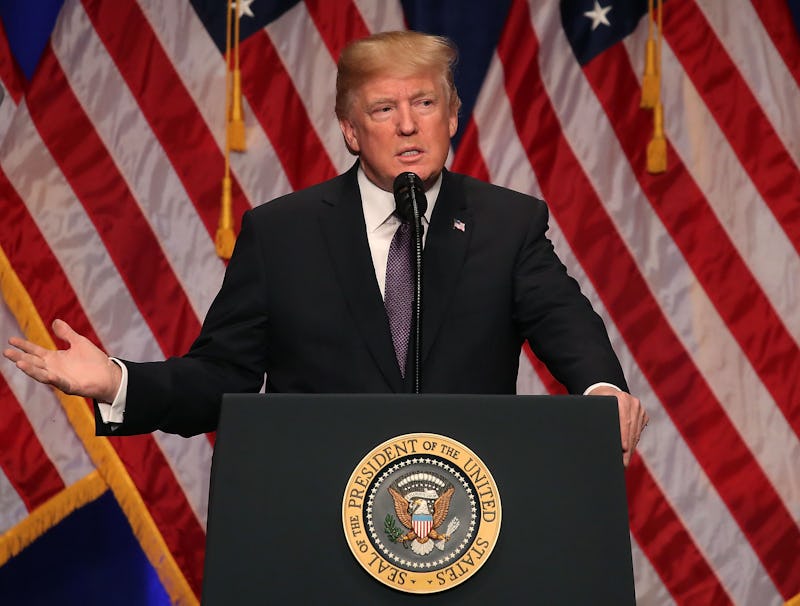 Mark Wilson/Getty Images News/Getty Images
At the end of January, Donald Trump will deliver the first State of the Union (SOTU) address of his presidency. While it's impossible to know exactly how long Trump's State of the Union will be, previous presidents' addresses offer some clues. Hint: It won't be short.
In short, SOTU lengths have varied widely in the last fifty years. According to The American Presidency Project, since President Lyndon Johnson's 1966 SOTU, the average length for each president's annual SOTU has ranged from about 36 minutes to 75 minutes in length.
While it's not possible to know how long Trump will speak before Congress on Jan. 30, most modern presidents have stuck within a pretty consistent timeframe from year to year. So, since Trump's 2017 address to Congress lasted about an hour, it's probable that this year's official SOTU will be roughly the same length.
As for content, the speech is largely expected to focus on immigration and border security — two pillars of not just of the Trump campaign, but also two polarizing topics that dominated headlines in the latter half of his first year in office. Both issues received increased attention surrounding a three-day government shutdown which occurred just a week prior to the SOTU was scheduled to take place.
Much of the discourse surrounding the shutdown has concerned whether or not Congress would pass permanent protections for Dreamers, a certain subset of undocumented immigrants who entered the United States as children and who have lived in the country consecutively for most of their lives. Previously, they were offered work permits and deportation immunity via the Deferred Action for Childhood Arrivals (DACA) program, put into place by executive order by President Obama in 2012.
Last September, Trump announced that he was ending the program, but that he would offer a six-month grace period for Congress to pass a permanent version of the program. (One of Trump's main arguments against DACA is that it was unconstitutional because it wasn't passed by the legislature.)
As the grace period wound down and Congress failed to pass a DACA bill (sometimes referred to as a Dream Act), Democrats and Republicans engaged in a showdown over longterm funding for the government. Democrats were demanding that the funding bill include provisions to protect Dreamers, and Republicans were in turn demanding that the bill include increased border security. When they couldn't agree in time, they failed to fund the government, which shut down for three days during the impasse.
While they ultimately agreed on a stopgap funding arrangement that would fund the government until Feb. 8, the conflict set up a particularly awkward backdrop for Trump's first SOTU address. According to Politico, the hope was originally for the speech to take on a bipartisan edge. But, with tensions at an all-time high, the path to bipartisan rallying is less clear than ever.
Politico further reports that while immigration and national security, as well as a push for infrastructure renewal, are expected to remain in the speech, the tone is a little less certain. "Now is a natural time for the president to pivot from partisan activities to bipartisan activities. But the shutdown is all about partisan politics," an unnamed White House official reportedly said.
The content of the SOTU isn't the only part of the night that's expected to draw attention, either. Two groups of Democratic lawmakers are using the SOTU as an opportunity for political protest. As of a week before the speech, five Representatives announced that they intend to boycott the event and hold an alternative meeting dubbed "The State of OUR Union." According to Rep. Pramila Jayapal, the event will be an opportunity for those boycotting to "talk about our opposition to these racist policies that are being put out of the White House and to make sure we put out our own aggressive vision of what our America looks like as we take it back."
Another group of lawmakers are planning to lead protests at the speech itself. Led by Rep. Jackie Speier, a group of congresspeople are planning to wear all black in solidarity with the #MeToo movement. The decision to wear black, specifically, is in spirit with the #TimesUp protest, which took place at the 2018 Golden Globes earlier in the month, where actresses banded together to wear black in protest of systemic sexual misconduct, which they said permeates the film and television industry.
As with Hollywood, there has been a move within Congress to address and reform how sexual misconduct cases are handled within its ranks. Like participants in Hollywood, the group of participating congresspeople are using a high-profile event to draw attention to the cause.