North Korea Has Three Americans Currently Detained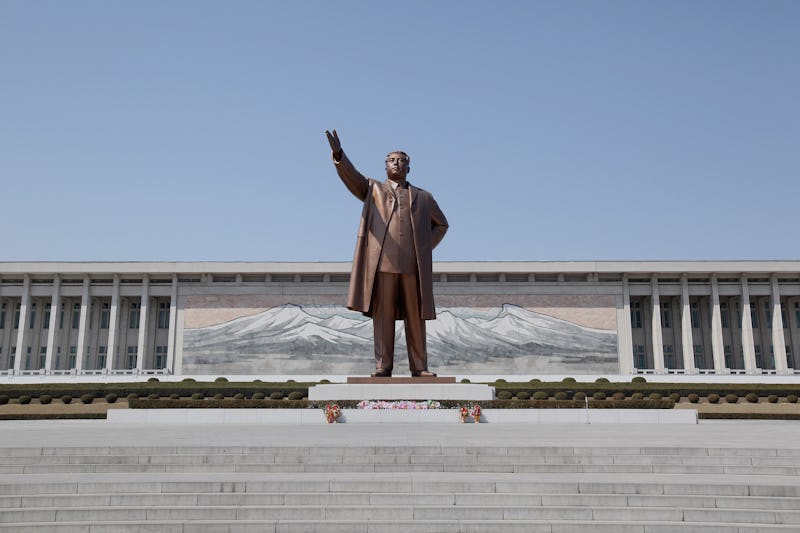 Feng Li/Getty Images News/Getty Images
With tensions rising between the United States and North Korea, it seems especially meaningful that North Korean authorities would take an American into custody right at this moment. This brings the total number of Americans detained in North Korea to three, including Tony Kim, who was stopped from flying out of the North Korean capital of Pyongyang on Saturday morning.
Kim, also known by his Korean name Kim Sang-duk, had been teaching at Pyongyang University of Science and Technology (PUST). The university often has visiting foreign professors, and so far the school has released statements saying that his detention is "related to an investigation into matters not connected in any way with the work of PUST." There is currently no additional public information as to why Kim is being held, but the Swedish Embassy in North Korea is working with the U.S. State Department on the case. However, though the department said it's aware of reports that an American was being detained, it cannot provide more specific details because of security concerns at the moment.
There are currently two other Americans being held in North Korea, both in cases totally unrelated to Kim's. A naturalized American citizen originally from South Korea named Kim Dong-chul was sentenced to 10 years in prison for alleged espionage in April 2016. As far as anyone can tell, he is currently serving his term of hard labor.
The other case of an American detained in North Korea gained quite a bit more press when it happened. University of Virginia student Otto Warmbier was arrested in January 2016 at Pyongyang's airport as he was trying to fly back to China. He had allegedly tried to steal a propaganda sign from his hotel room, which North Korean authorities saw as a "hostile act." He was sentenced to 15 years of hard labor in March 2016.
There have also been Americans released from North Korea in recent years, all of whom were detained but then only spent a short time in custody. Kenneth Bae spent two years in a North Korean prison after being accused of participating in a Christian plot meant to harm the regime. Matthew Todd Miller, like Otto Warmbier, was also accused of "hostile acts" after he tore up his tourist visa and requested asylum in North Korea. Jeffrey Fowle was found to possess a bible inside the militantly atheist communist nation, and he was detained for five months because of it. All three of them were released in 2014, however.
As of right now, authorities know of only those three men currently being detained by North Korea. But with tensions rising between the United States and North Korea, Kim's case is bound to get a lot of attention.