Trump Needs To Fight Against Anti-Semitic Threats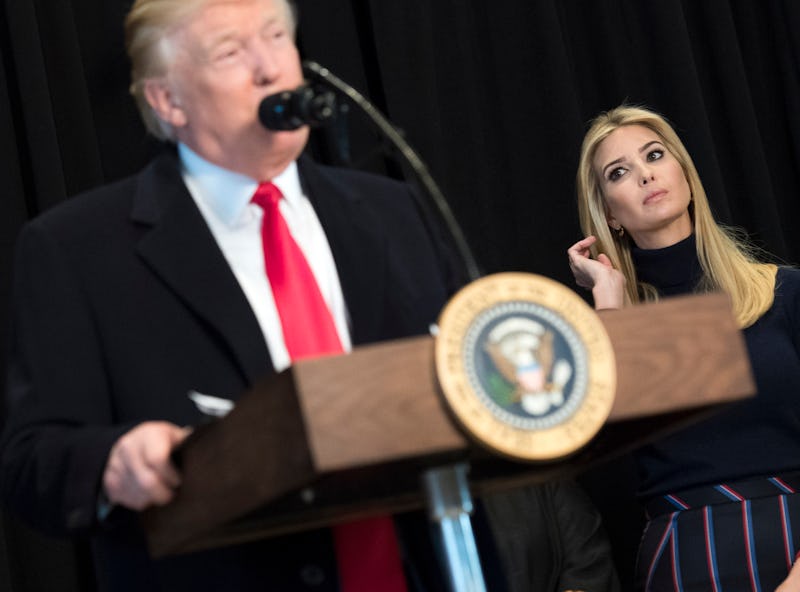 Pool/Getty Images News/Getty Images
On Monday, yet another wave of bomb threats were reported at Jewish Community Centers and schools across the country. There have been multiple rounds of threats to the Jewish community just two months into 2017 and the latest incidents affected at least 20 centers resulting in evacuations in at least 13 states. Thankfully, no explosive devices were found at the sites. Only a day before, around 100 graves were damaged at a Jewish cemetery in Philadelphia. And ever since President Donald Trump took office and became the leader of the country, he has been relatively mum on these growing threats of violence aimed at Jews.
It's horrifying and saddening that these threats are still taking place, and a stronger denouncement or a plan of action on how to combat the threats should come from the current administration.
Trump's silence on the issue of anti-Semitic threats has been a point of contention. He didn't offer a condemnation of the incidents until Feb. 21, after his daughter, Ivanka, made a statement on Twitter. According to Politico, Ivanka's husband Jared Kushner (who is an Orthodox Jew) encouraged the president to speak out about the Jewish Center attacks. After 170 graves at a Missouri cemetery were damaged, Trump said, "anti-Semitic threats targeting our Jewish community at community centers are horrible and are painful and a very sad reminder of the work that still must be done to root out hate and prejudice and evil."
During a Feb. 17 press conference, a Jewish reporter attempted to ask Trump about the bomb threats, but was silenced. The reporter prefaced his question by saying that he didn't believe there was any evidence of anti-Semitism from Trump's administration, but asked, "What we are concerned about, and what we haven't really heard being addressed, is an uptick in anti-Semitism and how the government is planning to take care of it." In response, Trump told the reporter to sit down, and he proceeded to basically explain how not anti-Semitic he is, saying, "I am the least anti-Semitic person that you've ever seen in your entire life."
Rather than reassure a worried community that he is working on a solution to the threats facing them, Trump only accused the press of making him out to be anti-Semitic. Instead of thinking about himself and how he is labeled, he should be working with community leaders on a plan to make the country safer and combat the anti-Semitic rhetoric and threats that are spreading.