8 Cities Just Elected Their First Black Mayors & It's Already Made History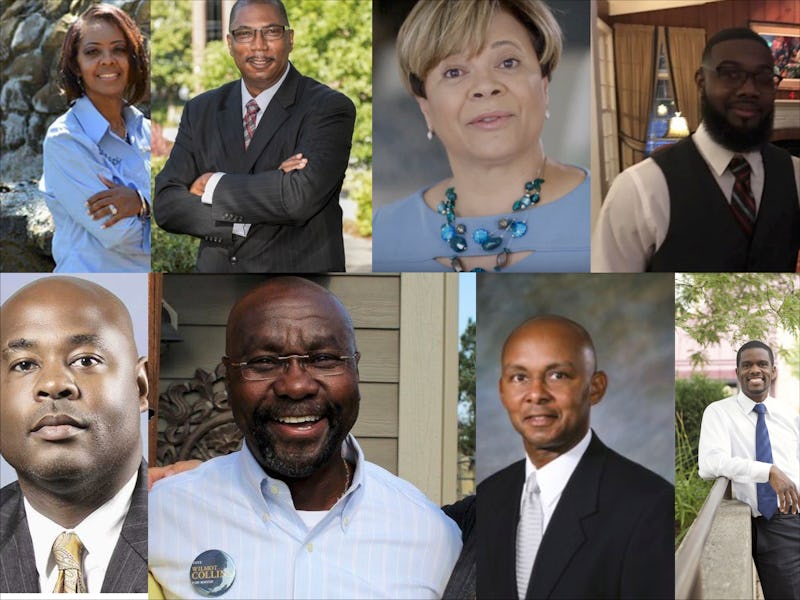 Vi Lyles For Mayor/YouTube; MelvinCarter.org; City Of Georgetown; Craig Newton; Mary Parham-Copelan For Mayor; Booker T. Gainor/ GoFundMe; Wilmot/Collins Facebook; Jonathan McCollar
Amid a flurry of progressive victories Tuesday night, at least eight black Americans were elected mayor for the first time in their city's history. The victories came from a handful of states: Vi Lyles, in Charlotte, North Carolina; Jonathan McCollar in Statesboro, Georgia; Brendon Barber, in Georgetown, South Carolina; Melvin Carter, in St. Paul, Minneapolis; Mary Parham-Copelan, in Milledgeville, Georgia; Craig Newton in Gwinnett, Atlanta; Booker Gainor in Cairo, Georgia; and Wilmot Collins, of Helena, Montana.
Drawing attention to the cumulative victories on Twitter was Kristen Clarke, of the Lawyers' Committee for Civil Rights Under Law. "African Americans were elected mayor for 1st time:" she wrote Tuesday evening, going on to compile a list of some mayor-elects who had been elected their city's first black mayor that night. This victory in cities that had, until now, only been represented by non-black mayors is emblematic of the all-out progressive sweep Tuesday evening, particularly in Virginia and New Jersey.
In Charlotte, Lyles emotionally told her supporters: "You've proven that a woman whose father didn't graduate from high school can become this city's first female African-American mayor," according to The Charlotte Observer.
Her daughter, Aisha Alexander, wrote on Twitter: "Y'all. My mother @ViLyles made history tonight. She is the FIRST EVER Black woman elected Mayor of Charlotte, NC!" She added Wednesday morning on Twitter: "We are forever thankful - but the real work begins today and I hope you are ready to continue this journey with us because #thefutureisfemale, #blacklivesmatter and #loveislove and we can't stop, won't stop until everybody knows it."
Meanwhile, in St. Paul, Carter said in a statement, "I've heard a lot — from mothers, from grandmothers, from grandparents, in this community — about the extent to which just seeing somebody who reflects the diversity of this city in the city's top office just can change what our children see for themselves," according to Fox 9 News.
The victory was particularly sweet for Lyles and Parham-Copelan, who made history twice over. ""Oh my goodness; oh my goodness," Parham-Copelan said upon learning of her victory, according to the Union-Recorder. "Milledgeville wanted a change and they got out there and worked hard for me and they made this change possible," she added.
Perhaps the most unexpectedly progressive victory occurred in Montana. There, Collins — a former refugee from Liberia, who has now spent 23 years in Helena — will be the first black mayor in any city in the state, having run on what state media describe as a "progressive ticket." He ran for mayor in a city that is, according to census data, less than one percent black.
Of the voters who elected him to a historic victory, Collins said, "I'm here for them, and I'll be listening to them over the next few weeks," according to local station KTVH.
Over in Atlanta, Newton had no formal rivals in his mayoral race, but told the Gwinnett Daily Post: "I appreciate the historic part of my getting elected ... It means a lot to a lot of people who worked really hard here in Gwinnett, but my focus was not being first. My focus is being the best."
And in Georgia, McCollar beat two opponents with his anti-poverty platform, telling station WTOC that it showed that the city "was ready for a change." He added: "This is just evidence of the work of the people that were part of this movement."