Here's The Shocking Amount Of Confederate Monuments The South Actually Has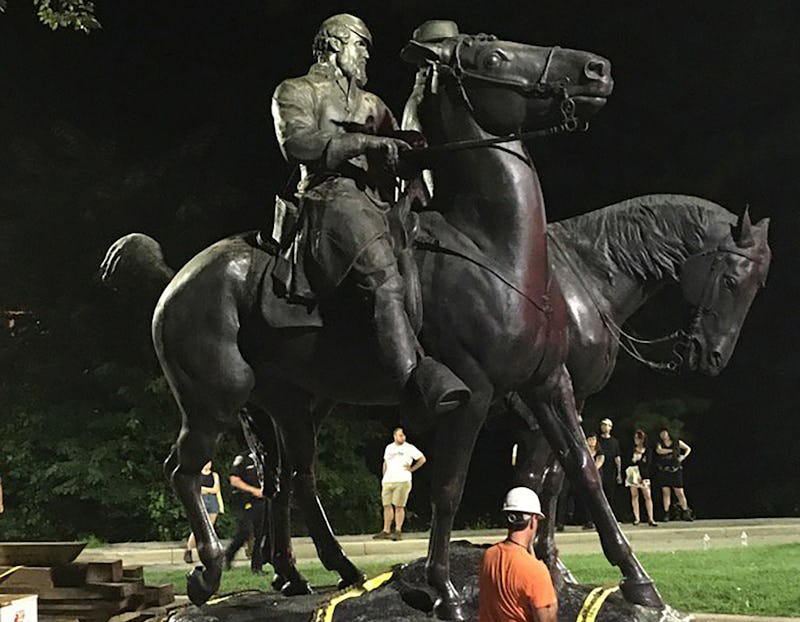 ALEC MACGILLIS/AFP/Getty Images
The Saturday protest against Charlottesville's plan to remove Confederate Gen. Robert E. Lee's statue ended in deadly violence, and Americans continue to struggle to make sense of it in the wake of President Trump's defense of white supremacists and neo-Nazis. Tearing down monuments celebrating leaders who fought against ending slavery has been a hot-button issue across the country in the past year, but in the wake of Charlottesville, many are wondering just how many Confederate statues are actually in the South.
It isn't just Virginia grappling with the subject of Confederate monuments; Kentucky, too, is planning on revving up its agenda to do away with Confederate monuments. On Tuesday, Baltimore quietly removed its Confederate statues in the dead of night.
Some 1,400 public parks, monuments, and memorials are dedicated to the Confederacy in the South. To count up the rough number of Confederate monuments below the Mason-Dixon line, slice up the region in three parts to better understand how these statues are spread out.
Consider the Southern Atlantic states, such as Delaware, Florida, Georgia, Maryland, North Carolina, South Carolina, Virginia, and West Virginia. Then there are the East-South central states: Tennessee, Mississippi, Alabama, and Kentucky. After those two major slices, there's the West-South central states like Oklahoma, Louisiana, Arkansas, and good ol' Texas.
You have to consider not only statues but also certain public parks and memorials named after Confederate soldiers and supporters to be able to understand just how deeply pervasive Confederacy-relevant public memorabilia — and more importantly, nostalgia — is in the South.
While some of these monuments in the South have been removed after public protests, many of them continue to stand in broad daylight much to the chagrin of locals who oppose the glorification of Confederate history. Proponents of these statues claim that the support is for southern heritage, not the hate symbolized by them. But the primary argument against the erection and maintenance of Confederate monuments, according to critics, is that it valorizes a war that attempted to uphold slavery and signifies the resistance to the advancement of civil rights.
There are several interesting factoids from this approximate number of 1,400. For example, West Virginia — which has been derided for its predominantly conservative populace — actually has a significantly smaller number compared to its neighbor, Virginia. That is to say, West Virginia has about only 17 public spaces dedicated to the memory of the Confederacy while Virginia has a stunning 223.
While West Virginia continues to have Confederate monuments like the bust of Stonewall Jackson and the First Confederate Memorial, Virginia boasts several Confederate statues such as those in front of courthouses in Lynchburg, Loudoun, and Mecklenburg County as well as the Monument Avenue showcasing several Confederate leaders and Confederacy-commemorating parks like Lee Park.
In the case of least Confederate public spaces, there's one Southern state and that is Delaware, which has only one Confederate monument unveiled in 2007.
Shortly after the deadly neo-Nazi rally in Charlottesville, the mayor of Richmond, Levar Stoney, shared apt words about these monuments:
At the end of the day, the way those statues stand at the moment is a default endorsement of a shameful past that divided the nation. And to me, it defies my mission of one Richmond. You [and] I want to be a city that is tolerant, inclusive, and embraces its diversity, and those statues without context do not do that.
Hopefully, others will follow Stoney's suit and remember that before justifying the presence of these monuments.