This DACA Dreamer Is Currently In Detention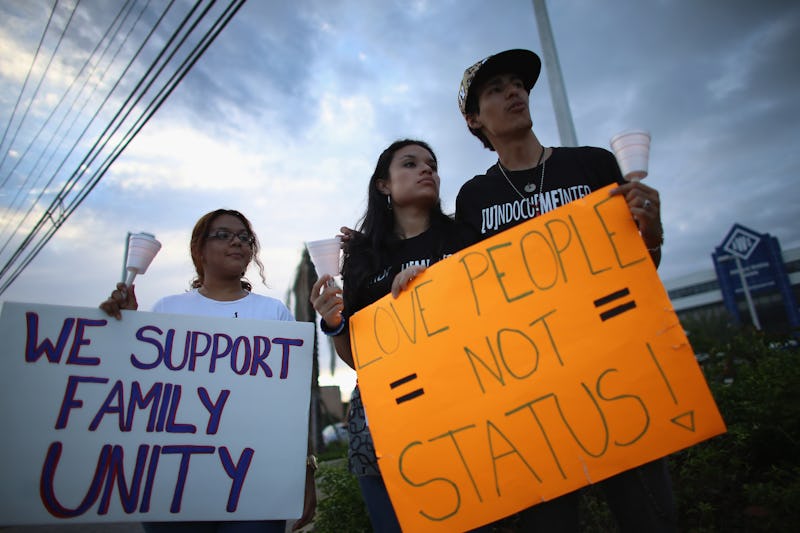 Joe Raedle/Getty Images News/Getty Images
Dreamers around the country are afraid of being detained or even deported given President Donald Trump's new policies on immigration. He signed an executive order in January that essentially ended the practice of focusing solely on violent offenders for deportation; a mother of two U.S. citizens was deported last week in Phoenix, where she'd lived for 20 years. Dreamers fear Deferred Action for Childhood Arrivals recipients could be next. One Dreamer in Mississippi even barricaded herself inside her home when Immigration and Customs Enforcement showed up. So how many DACA recipients have been taken by ICE?
The answer, for the time being, remains at least one. There is one widely reported case of an immigrant who was twice awarded a two-year work permit under the DACA program being detained by ICE in Seattle. The DACA program began under Obama through an executive action and is supposed to protect immigrants who arrived to the country as minors. Daniel Ramirez Medina, now 23, arrived at the age of 7 from Mexico. His current authorization runs through 2018, and yet he is still being detained, days after he was arrested on Friday.
That in itself should be worrying. David Leopold, an immigration lawyer and former president of the American Immigration Lawyers Association told The Guardian that while the initial arrest could have been the work of a "rogue agent," the fact that Ramirez Medina is still in custody more likely points to a policy change. "It adds up to a new policy that we're going to remove anybody we can get our hands on," Leopold told the paper, noting that the 23-year-old was caught up in a raid, like those seen around the country this past week that targeted at least 680 people.
Ramirez Medina has sued the U.S. government for his detention alleging unlawful seizure. A judge in Seattle has since asked the government to defend its actions by 9 a.m. PST Thursday. "If petitioner is still detained and removal proceedings have not been initiated against him, what is the basis for ICE's authority to detain him?" U.S. Chief Magistrate James Donohue wrote in a filing.
The Department of Homeland Security said he was taken in for being a "risk to public safety." DHS claimed that Ramirez Medina admitted to being in a gang, something his lawyers deny. "Mr. Ramirez unequivocally denies being in a gang. While in custody, he was repeatedly pressured by US Immigration and Customs Enforcement agents to falsely admit affiliation," Ramirez Medina's lawyer Mark Rosenbaum alleged in a statement.
Until DHS responds to the court filing, Ramirez Medina remains in detention. There's a status conference scheduled for Friday at the Washington state U.S. District Court. DHS said in a statement that he had been "transferred to the Northwest Detention Center to await the outcome of removal proceedings before an immigration judge."
Meanwhile outside that detention center in Tacoma, demonstrators were protesting Ramirez Medina's arrest once again Wednesday night. Despite the drizzling rain of the Pacific Northwest, dozens held up signs several nights this week. On Tuesday, protest organizer Rolando Avila told local news, "We're here in solidarity, and we demand he be released, because he is someone that is valuable in this community."
Until Ramirez Medina is released and ICE and or the president publicly commit to protect Dreamers, you can expect more resistance from both DACA recipients and the general public alike.