Millions Of Deaths Per Year Are Linked To Pollution — Here's How You Can Change That
by Priscilla Totiyapungprasert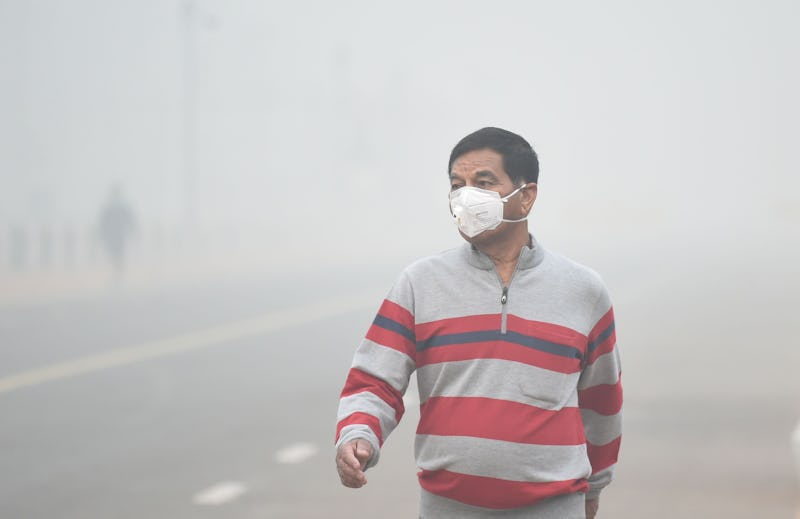 SAJJAD HUSSAIN/AFP/Getty Images
A recently published study found that pollution was linked to 9 million deaths, or one in six deaths, worldwide in 2015. These findings paint pollution as more than an environmental problem, but a public health challenge as well — one that requires improvement efforts from the regional level up to possibly the international level. And by making small changes to your everyday habits, you can help curb pollution locally.
Air pollution topped the list of risk factors that contribute to premature deaths, followed by water pollution and pollution in the workplace. Almost all the deaths occurred in underdeveloped and developing countries, with Bangladesh and Somalia affected the most severely. More than 25 percent of deaths in those two countries, for instance, were related to pollution in 2015. On the other end of the spectrum, Brunei and Sweden had lowest percentage of deaths linked to pollution at less than 4 percent. The United States fell between 5 to 6 percent of deaths links to pollution. In other words, the United States has work to do as well when it comes to creating a cleaner environment — not only for the sake of the planet, but also for the sake of humans.
But this comes as no surprise to scientists who have long vocalized the long-term consequences of human-generated greenhouse gas emissions, which are primarily the byproduct of fossil fuel usage, deforestation, and industrial livestock farming. Global warming can contribute to loss of food security, mass migration, and potentially the intensification of natural events like hurricanes and wildfires. As the study published in The Lancet medical journal shows, human-caused pollution can also cause widespread disease and ultimately death.
The harmful effects of pollution are no secret among change-makers, either. That's why people are organizing everywhere from the grassroots level to the global level to solve this public health problem.
If you're motivated to help turn this dangerous trend around, Vanity Fair's Green Guide lists individual actions you can take in your everyday life to help save the planet. The list of 50 suggestions includes air drying your clothes and, for omnivores, going vegetarian once a week. And on the note of reducing meat consumption, The Guardian produced a video that answers the question, "Do you have to be vegan to help fix climate change?" Spoiler alert — you don't. But choosing to eat less meat is still beneficial because all those cows we raise produce more carbon emissions than cars, planes, trains, and ships.
Ultimately, most environmentalists would agree: It takes a village — more than a single village — to clean up the planet. That means collective efforts and policy reform from the top up can have a tremendous influence, especially if you begin contacting your local representatives.
An October 2017 report from the American Council for an Energy Efficient Council shows that states are investing more in energy efficiency, regardless if the state is blue or red. That's thanks in part to reform in local and state policy, so continue to support eco-friendly legislation and vote for politicians that also support the cause.
And when harmful legislation comes on the radar, call and write your representatives to fight it. Last week Scott Pruitt, climate change skeptic and Trump-appointed head of the EPA, announced, "The war on coal is over. Tomorrow in Washington, D.C., I will be signing a proposed rule to roll back the Clean Power Plan." Coal plants are the nation's top source of CO2 emissions, which are the drivers of global warming.
The Trump administration's push to replace the Clean Power Plan comes as little surprise considering President Trump's history of dismissing climate change, pulling the United States out of the global Paris climate agreement, and hiring climate change deniers to high-profile positions. Recently, for example, he nominated Kathleen Hartnett White to the White House Council on Environmental Quality. She once referred to the belief in global warming as "a real dark side of the kind of paganism" and accused environmental leaders of using climate policy "to undermine the system of economic growth and industrialization."
Despite Trump's efforts, progressive businesses in the private sector are implementing measures against climate change and NGOs are gathering resources to solve pollution problems. If you're looking to get involved, consider donating to one of these NGOs fighting air pollution, the biggest source of pollution-related deaths.