'Genius' Aims To Tell Einstein's Full Story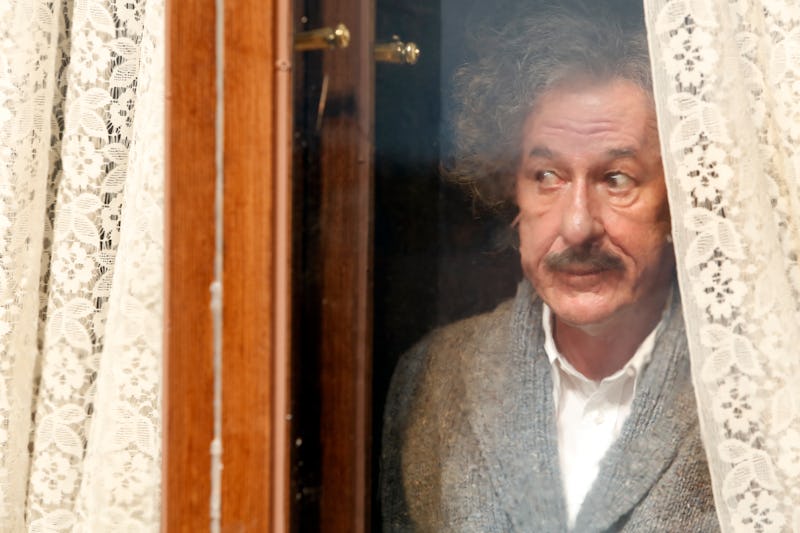 National Geographic/Dusan Martincek
National Geographic's anthology series Genius, chronicling the life of Albert Einstein, premiered on Tuesday, April 25. The series stars some heavy hitters in the role of Einstein, with Oscar winner Geoffrey Rush playing older Einstein and Lovesick's Johnny Flynn portraying the young scientist. With impressive credits and an impressive figure as source material, viewers may be wondering how much of Einstein's life will be shown. How many episodes of Genius will there be?
According to National Geographic, Genius will be 10 episodes in length. The series is executive produced by Brian Grazer and Ron Howard and is based on Walter Isaacson's critically acclaimed book, Einstein: His Life and Universe. The biographical series will follow the ups and downs of Einstein's personal and professional life — and depict the development of his general theory of relativity.
Considering the all star cast and crew, audiences are expecting an accurate and compelling look at one of the world's greatest minds. When watching teasers and promos for the series, Flynn and Rush appear to be dedicated to a dignified portrayal of the character. Though Genius is working to capture Einstein in a new light, Flynn and Rush are certainly not the first actors to portray Einstein on screen. IMDB.com has a list of more than 150 portrayals of Albert Einstein. In honor of National Geographic's Genius, let's look back at some of the other memorable portrayals of Einstein on screen — from the scientific to the bizarre.