'Snowfall' Packs A Lot Of Story Into Its First Season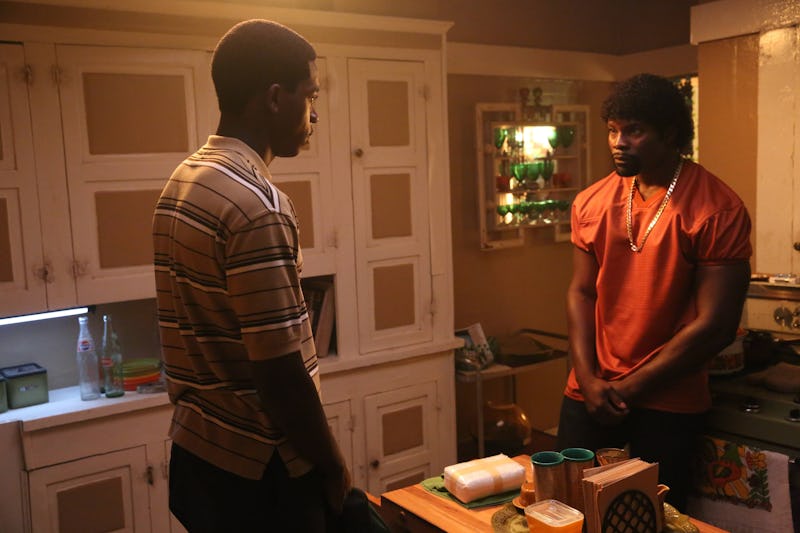 Michael Yarish/FX
The best television shows take their audiences into worlds they can't explore for themselves, whether that means somewhere fictional like Game of Thrones' Westeros, or somewhere rooted in the past, like Mad Men's '60s Manhattan. Snowfall is decidedly in the latter camp; the new FX drama documents the early days of the crack cocaine epidemic in 1983-era LA, from the perspectives of four different Los Angelenos who are getting into the trade. Of course, in this era of Peak TV, shows can run for as little or as long as showrunners deem necessary, and it's hard to know how to keep up. So how many episodes is Season 1 of Snowfall?
If you sat through the July 5 premiere in rapt attention and can't wait to watch more, then I've got good news for you! According to the Los Angeles Times, the first season of Snowfall will have 10 episodes, which has more or less become the new standard for cable television. As Vulture first outlined in 2015, for decades, broadcast television fixated on a 22-episode long season, and in the '90s, cable shows typically lasted for 13 episodes. Now, many cable channels — most notably HBO, with shows like Game of Thrones, Westworld, Silicon Valley, and Veep — stick to 10, which gives them more room on their schedule to expand the number of shows the produce and allows them to make more ambitious shows with more A-list level talent. Do you think Nicole Kidman would have deigned to appear on Big Little Lies if she'd been locked in for 22 episodes? Maybe, but a shorter season still makes these prestige series an easier commitment.
Of course, Snowfall doesn't have anyone as well-known as Kidman in its cast — although give it some time and I suspect Damson Idris, Carter Hudson, Sergio Peris-Mencheta, and Emily Rios could become household names — but it does have some pretty prestigious producers behind the scenes. The series was created by Boyz N The Hood director John Singleton (who almost directed the Tupac biopic All Eyez On Me before dropping out due to creative differences, according to the New York Post) and Eric Amadio, who co-wrote the pilot together. Justified creator Dave Andron serves as executive producer and showrunner.
Snowfall's premiere has also been a long time coming; Deadline reported that the show had been picked up by Showtime way back in 2014, and then that it was made into a pilot for FX a year later. Now, three years since that first deal, the show is finally getting to air — but it doesn't seem like a slam dunk just yet. The first few episodes received positive-to-mixed reviews from outlets like the Guardian, which called it "messy but magical," and USA Today, which said that while the show is "enjoyable," its "early episodes are too slow, too confusing and too overstuffed with exposition." I guess sometimes when you only have 10 episodes to get someone hooked, you have to make them count, right?
One thing is for sure: Although Snowfall may not be a perfect series, its first season definitely seems to have a lot going for it. There may be more 10-episode seasons to come.