This 'Prison Break' Won't Take Very Long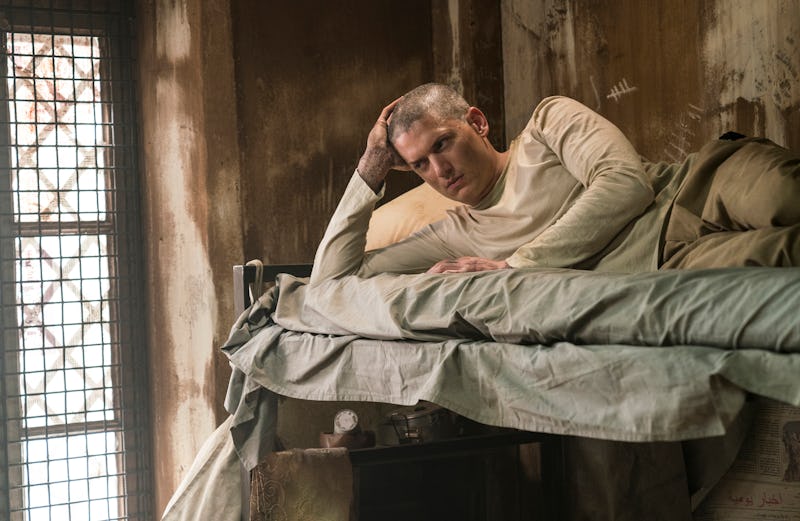 Ed Araquel/FOX
Prison Break is the latest series to get a brief revival years after its original cancellation, like 24 and Gilmore Girls before it. But this particular return was a little surprising, since not only were major characters dead by the end of the post-Season 4 extended finale, but Prison Break also abandoned its central "break into prison in order to break out of prison" storyline after the first couple of seasons. Yet, the revival still promises a return to the show's initial hook. (More on that later.) Since the show is officially back on April 4 and has a whole new story to tell, how many new episodes are in Prison Break Season 5?
TV Line reported in January that Fox's initial Prison Break revival order had been revised from 10 to nine episodes. That's a lot shorter than most of the show's previous seasons, which — excepting the 13-episode Season 3 — hovered around 22 episodes. A nine-episode run is not very long, especially since hour-long network shows are really only about 44 minutes with commercials. That means the runtime of the entire revival will only be around seven hours. But the length of the season isn't all there is to know about Prison Break Season 5.
According to TV Guide, the first episode of the Prison Break return, titled "Ogygia," takes place seven years after Michael (Wentworth Miller) disappeared. He'll resurface in a Yemeni prison, and eventually link back up with his brother, Lincoln (Dominic Purcell). According to Deadline, Fox President Dana Walden offered that, despite the movie sequel confirming Michael's death, "a logical and believable explanation to why the characters are alive and still moving around the world" will anchor Season 5.
Michael's ensuing journey home to his love Sara (Sarah Wayne Callies) is where the show has roots in an even older text than the original Prison Break series. At the show's PaleyLive presentation, creator Paul T. Scheuring said he was inspired in this revival by an epic Greek poem with similar subject matter. "The emotional core of it is [Michael] going back to reunite with that woman and see the son he's never seen," Scheuring explained. "At that point I said, 'I do know that story; that's The Odyssey.'"
That explains why Wentworth Miller will be back on the show, despite meeting his demise in the film. Also returning — among lots of other original characters — is Callies, who told Digital Spy, "It's a really interesting challenge to think about resurrecting a character I said goodbye to six years ago...it never occurred to me we would be doing this." In addition to main cast members Miller, Callies, and Purcell; also reprising their roles in the premiere are Amaury Nolasco, Robert Knepper, and Rockmond Dunbar (Sucre, T-Bag and C-Note, respectively).
By the end of Prison Break Season 5, who knows where these familiar characters will all end up. But with only nine episodes in which to tell this new, international story, it's going to be a wild ride.