'The Young Pope's Reign Is Far From Over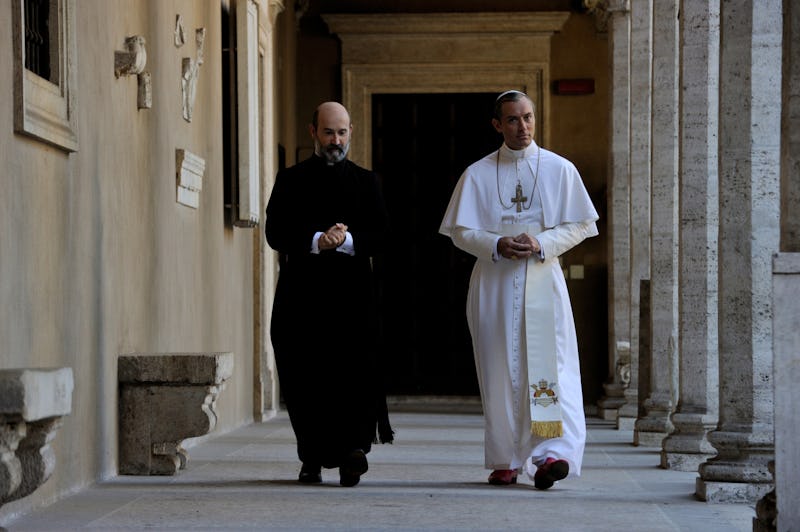 Gianni Fiorito/HBO
HBO's The Young Pope has only aired one episode so far, but it's already one of the most interesting new shows of the year. Between Jude Law's "bad boy" Pope Pius XIII, the strange dreams, and the depiction of an American pope in his 40s, it has given viewers plenty to talk (and joke) about. And since The Young Pope will air 10 episodes in its first season, that conversation is only going to grow. While many HBO series contain 10 episodes, this one stands out for the way it will release those episodes.
The Young Pope will air a new episode every Sunday night at 9 p.m., followed by another new episode every Monday night at 9 p.m. It's a pretty smart move for HBO. Waiting a whole week for a new episode, and watching a series for 10 weeks, can be exhausting for viewers, especially in the age of streaming. By releasing The Young Pope this way, the audience get it in small doses with less of a wait between episodes, and the whole season unfolds in a shorter amount of time.
But that doesn't mean I'm not looking forward to watching the rest of Pope Pius' reign. There are so many things I want to see more of on The Young Pope.
Sister Mary
As Pius' mentor, it's a given that we'll be seeing more of Mary, but you don't cast Diane Keaton in a role if you don't have awesome material for her. She's also one of the only people who knows the pope Lenny Belardo and that's something we definitely need more flashbacks to, considering what we've seen of their relationship so far.
Outlandish Dream Sequences
The series' most memorable moment so far might be during the first episode, when Pope Pius crawls out of a pile of babies and starts talking to the crowds about everything from masturbation to homosexuality. The whole sequence ends up being a dream, and it shows that Oscar-winning Italian filmmaker Paolo Sorrentino isn't messing around and he knows it. Sure, The Young Pope is a little unique and a lot strange, but surprisingly, it works.
Public Vs. Private Pius
One of the best things about watching a show about someone in power is seeing how that power affects their life outside of the spotlight. How different is Lenny from Pius XIII?
Cardinal Voiello
I'm totally here for Cardinal Voiello's advising of the young pope, especially because he definitely seems to have an ulterior motive. Either way, he's smarter than people think he is, which could make for some really interesting conflict down the road.
Embrace The Weird
The gift of a kangaroo from the Australian government, dressing to LMFAO's "Sexy And I Know It," drinking Cherry Coke Zero for breakfast, and a nun that sleeps in a shirt that says "I'm a Virgin, But This Is an Old Shirt." The Young Pope has already proven that it embraces the weird, and I really hope that we continue to see more of these moments throughout the season.
We've only seen two episodes so far, but The Young Pope has already shown its potential to be one of this year's most surprising and evocative hits. I, for one, cannot wait to see the rest of the series.