Here's How 'Shameless' Will Make Up For Fiona Leaving This Season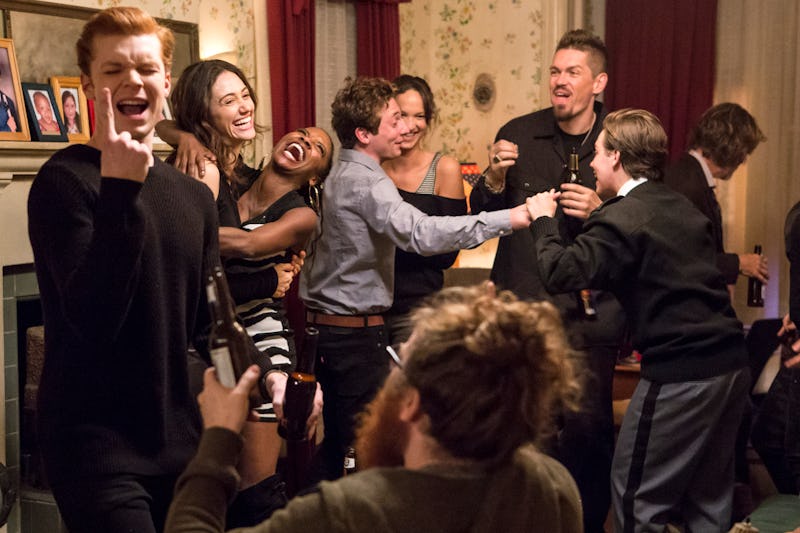 Showtime
In Shameless Season 8, Frank smuggled illegal immigrants across the Canadian border. Fiona donned her landlord hat and found love with a hardy, mysterious woodworker (appropriately named Ford). Carl got accidentally engaged, and purposely married. Debbie lost some toes. Lip faced his sobriety demons and fell back in love with his ex. Liam assisted the robbery of his rich kid best friend, and Ian was coined Chicago's "Gay Jesus" — all of which happened within just 12 one-hour episodes. Impressive, right? If the Gallaghers can accomplish (or maybe un-accomplish?) that much in one brief season, as they do, one can only imagine what they'd do with a longer one. Well, you won't have to imagine for much longer, because Season 9 of Shameless is going to feature two extra episodes, making for a grand total of 14 hours of South Side shenanigans.
You might be thinking two episodes isn't that significant, but for the Gallaghers, that's more than enough time to stir the proverbial pot. (Not the portable, feces-filled one that Frank emerged from, victoriously, at the end of the Season 8 finale.) That's why these two extra episodes are a pretty big deal, especially for those who have been keeping up with the Gallaghers since Liam was in diapers.
Although the show has said goodbye (for now, at least) to some once pretty influential characters (i.e. Sex Toy Sheila, Crazy Steve, Troubled Mickey, to name a few), it has welcomed just as many new ones who could use the extra screen time to further introduce themselves — for instance, Ian's kind-of boyfriend Trevor, Fiona's kind-of boyfriend Ford, and Lip's pseudo-adopted kid, Xan.
So that's the good news. The bad news? As of Aug. 30, the show will also be saying goodbye to Fiona this season, the Gallagher matriarch and super resilient glue that has held the family together for years. Emmy Rossum, portrayer of the beloved badass woman, publicly announced that she is stepping away from the role to explore "the next chapter of her career," according to Warner Bros. Entertainment.
"The opportunity to play Fiona has been a gift," she wrote in a statement on Facebook. "There are few characters — female or otherwise — as layered and dynamic. She is a mother lion, fierce, flawed and sexually liberated. She is injured, vulnerable, but will never give up. She is living in an economic depression, but refuses to be depressed. She is resourceful. She is loyal. She is brave. I knew it the second I read the pilot script, this was different, this was special ... Quite simply, the last eight years have been the best of my life."
It's possible that the extension of Season 9 resulted from the need to dismiss Fiona from the Gallagher story, but that doesn't mean fans won't welcome it. According to TV Guide, the season will actually be split into two halves. The first half will air on Sept. 9, and after a brief hiatus, the rest of the season will air starting Jan. 20. Some may find that sad, but who actually wants the last episode of a good show to arrive? No one, that's who. So let's enjoy Fiona getting the Gallaghers out of trouble while it lasts.