Trump Has Signed 18 Exec Orders & Memos So Far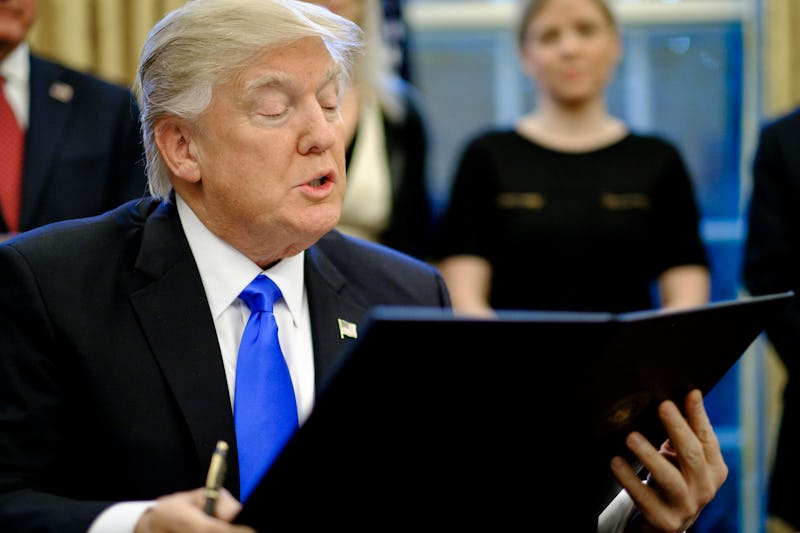 Pool/Getty Images News/Getty Images
President Donald Trump's first weeks in office were controversial, at best. The day after his inauguration, protestors took over the streets of the nation's capital and cities across the country to oppose him, and that was before he even did all the most polemic stuff. He has gone after Obamacare, ordered construction of the border wall, and stopped the refugee program — all without signing a single law. Instead, he turned to executive orders and presidential memoranda to further his policy goals. So how many executive orders and memos have there been?
Trump actually signed one fewer than Barack Obama at this point in his presidency. The total, as of Jan. 30, the last day the president signed an executive action, he had signed 18 things. Obama — just to give you an idea — signed 19 during his first weeks in office.
Of the 18, seven were executive orders and 11 were memos. There is a difference between the two, although in practice they're both used to direct policy in an area where there isn't a specific law dealing with the issue. Essentially executive orders must be published with an identifying number in the Federal Register. Memos don't have to be published at all.
Both can be lumped together into executive actions. While the sheer number of Trump's executive actions is not outside the norm; what they contain with regards to policy is. The president has already been named in a large number of lawsuits (at least 42 since the inauguration) — and not just for sexual harassment and fraud. CNN reported that many have to do with his travel and refugee bans. Obama, again for comparison, was named in 11 suits at this point in his presidency.
Also interestingly, it seems that Trump's transition team didn't even write many of their own executive orders. It seems that some had been prepared for Mitt Romney's first days in office by people on his team (Romney never signed off on or even saw them). Buzzfeed interviewed key people from Romney's transition team and saw their versions of the documents. Trump's orders have been edited, but just slightly.
One memo that has gotten a lot of attention — but not necessarily as a memo — is his move to put his adviser Steve Bannon on the National Security Council, a role that is usually reserved for generals and other security personnel. The controversial change is part of this memo, which is quite long and includes other points for the nation's security apparatus.
Ultimately, it will be interesting to see whether Trump signs more executive actions than other past presidents have. Obama at 277 actually signed less executive orders than George W. Bush did at 291. And both signed fewer than Bill Clinton, whose number was 364. The highest number still rests with Franklin D. Roosevelt, who signed 3,721 executive orders, which is high even when you consider he was president for three full terms and part of his fourth.
Ultimately it won't be how many actions Trump signs, but what they hold whether they are constitutional. Luckily groups like the ACLU will take him to court if they're not.