The Amount Of Hotels Trump Owns Is Actually Not What You Might Think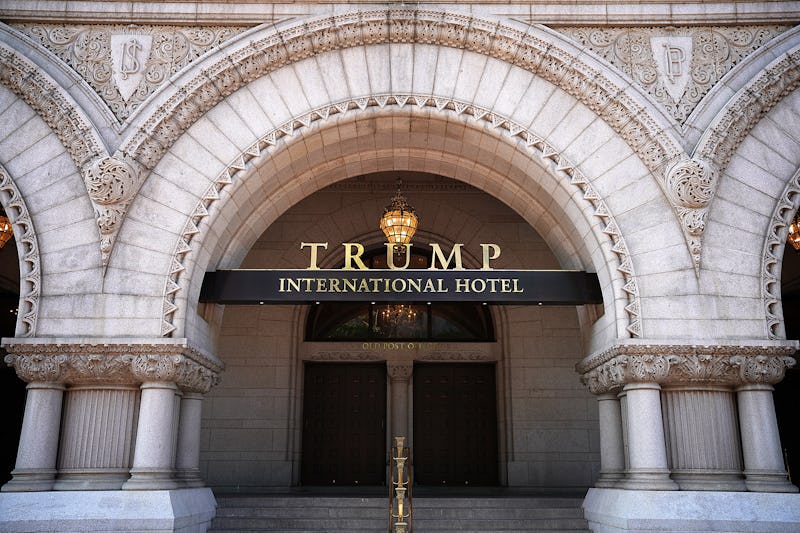 Win McNamee/Getty Images News/Getty Images
Before becoming president of the United States, and prior to hosting The Apprentice, Donald Trump was most famous for his real estate. With the name "Trump" proudly slapped on properties across the world, one might assume the media mogul owns hundreds of hotels, but in fact, the number of hotels Trump owns isn't actually that high.
The Trump Organization lists just 11 hotel properties on its website. The flagship property is in Trump's hometown — The Trump International Hotel and Tower New York. The other U.S. hotels are located in Chicago, Miami, Waikiki, Washington, D.C., Las Vegas, and the Albemarle Estate at Trump Winery in Virginia. Internationally, the Trump Organization owns two hotels in Scotland, one in Ireland, and the most recently built, Trump International Hotel and Tower Vancouver.
As Morgan Giodano explains at AOL, part of this surprisingly modest offering of Trump hotels stems from the fact that Trump only deals in luxury properties. Unlike hotel chains like the Hilton or Marriott — who operate a range of economically diverse hotel offerings — the Trump brand doesn't deal in tiered degrees of opulence. And achieving the Trump-level standard of luxury means maintaining a much smaller portfolio of hotel properties.
But wait! Aren't there far more buildings and hotels with Trump's name on them? The answer is yes. But just because property has been labeled with "Trump" doesn't necessarily mean the Trump Organization owns it. According to The Real Deal, Trump "frequently licenses his name to products — and buildings — he has not developed and does not own, such as the hotel and condominium Trump Soho in Manhattan and the Trump International Hotel & Tower in Dubai."
According to The Washington Post, Trump has licensed his name at least 50 times. Notably, not all of those are on real estate properties. (He's licensed the Trump name to a menswear line of suits, a line of home lighting, and a special mattress offering from Serta, to name just a few.)
But many of his licensing deals are within the real estate industry. For instance, Trump made millions of dollars by licensing his name to a project begun in Baku, Azerbaijan, despite the fact the building has never even been completed. There's a Trump hotel in Toronto, but it's Trump in name only. His name is also on a luxury golf course and resort in Indonesia. The list goes on.
But Trump's ascendance to the Oval Office hasn't necessarily been good for the Trump hotel business. The Independent outlined in January how prices for rooms at Trump properties had dropped significantly since the billionaire mogul's inauguration. The Independent reported that the rate for a two-night stay in a luxury room at one of Trump's properties had dropped 25 percent between January 2017 and January 2018. The price for less ritzy rooms had dropped by even more — 35 percent.
Some properties have been hit harder than others. For instance, a two-night stay at the Trump International Hotel Las Vegas fell a whopping 66 percent from 2017 to 2018. And a year after Trump's election, only two Trump properties were charging more — Trump Turnberry in Scotland and Trump International Golf Links & Hotel Doonbeg in Ireland. Notably, those rate increases were modest by comparison with the decreases elsewhere, at 4 and 7 percent, respectively.
There are, however, some groups dropping significant cash at Trump destinations — his political supporters. Maggie Stevens reported in April at Politico that Trump's reelection campaign had already spent $670,000 at Trump-owned properties. The Republican National Committee had doled out a cool $1.1 million in the same time frame. And political action committees backing Trump and Vice President Mike Pence are also big spenders on Trump real estate.
It seems the Trump Organization's 11 hotels will likely fare just fine through the president's tenure in D.C.