John Oliver & Kate Norley Welcomed Another Baby — Here's Why You Probably Didn't Know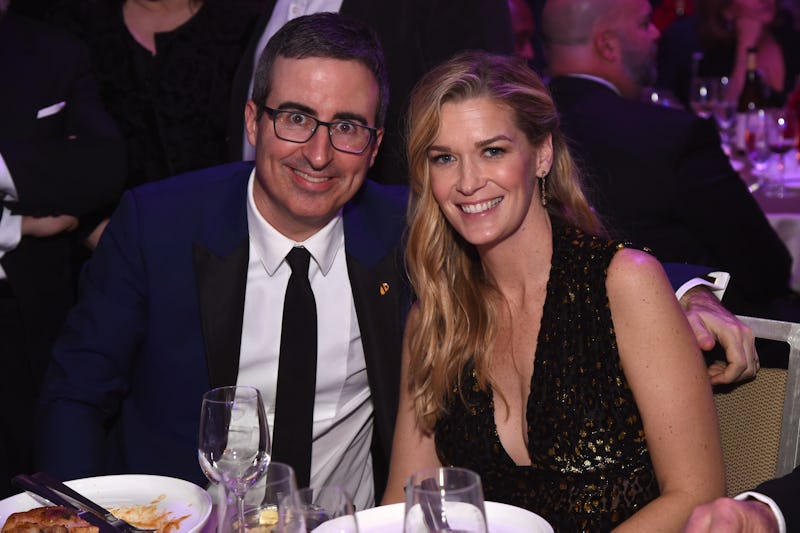 Michael Kovac/Getty Images Entertainment/Getty Images
On The Tonight Show on Tuesday, host Jimmy Fallon congratulated another fellow late night comedian on the birth of his child earlier this year. Following this interview, you may be wondering how many kids John Oliver has, especially in light of his hilarious explanation as to why he doesn't publicly announce his children's births.
Oliver and his wife, Kate Norley, have two sons. Oliver unofficially revealed the birth of his second son in September during an interview with People at the 2018 Emmy Awards Governors Ball. When asked where he was going to keep the Emmy he won for outstanding variety talk series, Oliver replied, "I have no idea! We have a three-month-old, so as far away from the three-month-old as possible." Prior to this interview, Oliver hadn't publicly announced or referred to the birth of his second child — and his comments subsequently prompted a flurry of news stories.
On his show, Fallon congratulated Oliver on his son's arrival. He also added, "I gotta be honest, I didn't really know about this baby until I talked to you backstage." In response, Oliver hilariously explained why he and his wife chose not to make a public proclamation regarding the birth of their second child.
As the Last Week Tonight host asserted:
Yeah, well, we didn't really announce it because it doesn't matter. To me, it matters a great deal, let me just make that clear. But just like, publicly, it just doesn't feel like it's worth making — this is not a royal baby, in terms of how far in line he is to the throne. It's a peasant, I have a peasant child. So it didn't even cross my mind that we should make a public thing about it, cause that seemed weird.
Oliver then briefly discussed his aforementioned Emmys interview in which he unexpectedly revealed the birth of his child — and reflected on the amusing press articles that ensued. "And then, the next day [after the Emmys], there was like a bunch of stories about, 'John Oliver has Secret Baby,'" the comedian said. "Whoa, whoa, I had a baby with my wife! She knew about it the whole time," he exclaimed. "We had another. No one's pulling the wool over anyone's eyes here. It was very strange."
The Last Week Tonight host then further discussed why he thought that publicly announcing his son's birth would be bizarre. As Oliver put it:
I just made a judgement call that it was not high-value information for anybody. It felt arrogent to like walk out on pride rock [like in The Lion King] and [say], 'I have spawned another child. I have brought another child into the world.'
Overall, Oliver's explanation for why he has remained relatively mum when it comes to discussing his children's births offers amusing and pointed insight into how the host of Last Week Tonight views his celebrity status. One wonders if Oliver will employ the same "silence is golden" tactic if he and his wife choose to have another child at some point in the future.