There Will Be More Openly-LGBTQ Members Of Congress In 2019 Than Ever Before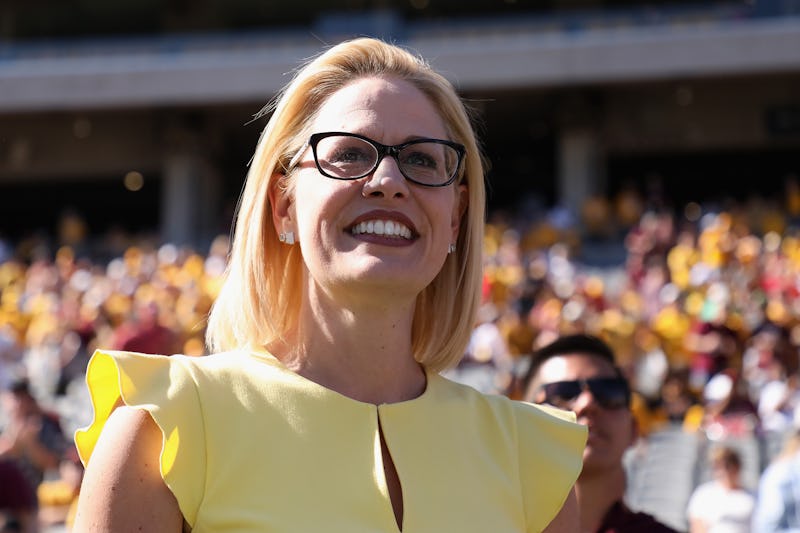 Christian Petersen/Getty Images News/Getty Images
Nearly one week after the November midterm elections, Rep. Kyrsten Sinema made history by officially winning her bid for the U.S. Senate, making her the first Democrat to win an open Arizona Senate seat since 1976, according to The New York Times. But beyond party politics, Sinema also made history by becoming one of 10 LGBTQ members of Congress — an all-time high for the legislative branch.
"As long as I've served Arizona, I've worked to help others see our common humanity & find common ground," Sinema wrote on Facebook Monday night. "That's the same approach I'll take to representing our great state in the Senate, where I'll be an independent voice for all Arizonans. Thank you, Arizona. Let's get to work."
Sinema will be the first openly bisexual person to join the U.S. Senate. The other LGBTQ members in Congress, according to CBS, will be: Rhode Island Rep. David Cicilline, California Rep. Mark Takano, Wisconsin Sen. Tammy Baldwin, Wisconsin Rep. Mark Pocan, New York Rep. Sean Patrick Maloney, Minnesota Congresswoman-elect Angie Craig, Kansas Rep.-elect Sharice Davids, California Rep.-elect Katie Hill, and New Hampshire Rep.-elect Chris Pappas.
Sen. Baldwin tweeted congratulations to Sinema on Monday evening, shortly after her win was announced. "Very happy to say I'm no longer the *only* openly LGBTQ U.S. Senator," she wrote. "Congratulations to @kyrstensinema on a well-deserved victory. The upper chamber is lucky to have your steady leadership."
Sinema's victory comes after an extremely close election. By Tuesday afternoon, NBC reports, Sinema had 1,097,321 votes, which comes out to 49.7 percent, in total. Her opponent, Martha McSally, had 1,059,124 votes, or 48.0 percent.
Come January, Sinema will fill a seat vacated by outgoing Sen. Jeff Flake, who announced his retirement in late 2017. Flake extended congratulations to Sinema after her victory.
"Congratulations to @kyrstensinema on a race well run, and won," he wrote in a Tweet. "It's been a wonderful honor representing Arizona in the Senate. You'll be great."
Sinema has been cast by many political analysts and commentators as a centrist Democrat. "Both will be angry with her because she's likely to side with conservatives on economic issues and with Democrats on social issues," Elvia Diaz wrote of "the extreme right or the radical left" in an op-ed for The Arizona Republic on Tuesday.
In her acceptance speech on Monday, Sinema nodded to the late Sen. John McCain, a Republican, who represented Arizona in the Senate from 1987 until his death in 2018.
"[McCain's] example shines a light on our way forward," she said, according to The Hill. "Sen. John McCain stood for everything we stand for as Arizonans: fighting for what you believe in, standing up for what's right even if you stand alone, and serving a cause that's greater than oneself."
When it comes to legislating, representation truly matters. And though 10 LGTBQ members of Congress may not seem like that many in the grand scheme of things, it does indicate progress toward making sure that elected officials meaningfully represent those who put them in office, and that's always a good thing.