More Than 22,000 People Attended The Harvest Festival & Here's Why It's Called The "Neon Sleepover"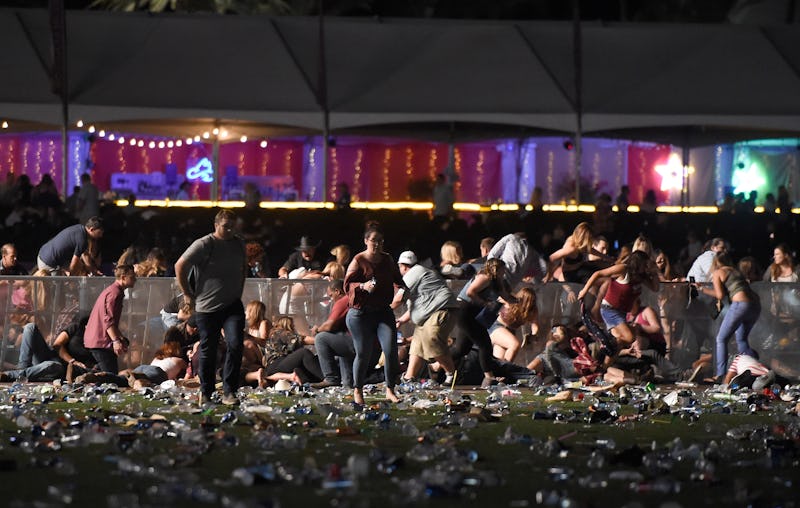 David Becker/Getty Images News/Getty Images
On Sunday night, a concert on the Las Vegas strip turned into a scene of deadly horror when a shooter opened fire on the crowd, killing at least 50 and injuring hundreds more. The performance, which was interrupted by a shower of bullets from the nearby Mandalay Bay hotel, had just been the final act of the Route 91 Harvest Festival, which 22,000 people attended.
According to the Washington Post, the festival was a three-day event known as the "neon sleepover." In its fourth year, the Harvest Festival was also known for being a kid-friendly music festival, drawing families who could rent RVs in a nearby park.
The festival's line-up had been widely anticipated, with country music stars Jason Aldean, Eric Church and Sam Hunt having been named as headliners back in February. When Stephen Paddock, a 64-year-old white man, opened fire, Aldean had reportedly been performing his closing act on the Harvest Festival's final night.
Many concert-goers mistook the spray of bullets for fireworks at first before mass panic ensued.
"We were just at the concert there, and Jason Aldean was playing, ... Kind of sounded like some fireworks going off," Mike Cronk, who'd been in the crowd Sunday night, told ABC News. "...My buddy's like, 'I just got hit, you know.' He got hit three times. Then people started diving for the ground."
Cronk told the outlet that despite sustaining multiple chest wounds, his friend is expected to recover.
Harvest Festival organizers spelled out some of the concert's security measures ahead of Sunday night's mass shooting. On the event's website, organizers warned attendees against bringing banned items such as fireworks and explosives, as well as "knives, sticks, bats, clubs, box cutters, razors or weapons of any kind" onto concert grounds. Heavy.com reported that security officers had searched concert-goers at the event's entry points to ensure no one was in possession of contraband. Revelers were allowed to come and go as they pleased, so long as they could show official Harvest Festival wristbands to security upon reentering.
Little else is known about how many security guards the Harvest Festival employed, or whether they searched every concert-goer upon each entry and reentry. However, as the Washington Post and other outlets have noted, the Harvest Festival massacre is just the latest in a string of attacks that have occurred at concert venues over the last two years, which have prompted many of them to tighten security measures. The latest of these took place at Ariana Grande's May performance in Manchester, England, which was interrupted by a bomb that claimed 22 lives.
But despite whatever lengths Harvest Festival organizers went to in hopes of ensuring the safety of the event's 22,000 attendees, not much could have been done to prevent Sunday night's senseless shooting.
Former Boston Police Commissioner Ed Davis —who'd happened to be in Las Vegas at the time of the mass shooting to give a talk on security — told CBS Boston that the nature of Paddock's crime made it difficult to thwart. Paddock, of course, hadn't opened fire amid the crowd Sunday night, but above it, from his vantage point on the 32nd floor of the Mandalay Bay hotel.
"You put security measures in place, but to try to stop something like this from a high vantage point, it's very difficult to do," Davis said. "When you get a big crowd like this in this type of a venue, how do you stop it? It's very, very difficult."
Still, Davis said Americans shouldn't live in fear of attending large events like Harvest Festival.
"I don't think we can be afraid, I think we just have to be cognizant of where we are," Davis said. "Security forces have to work close together and we have to keep moving forward, but we can't let something like this stop us from doing what we do."