Here's Every Democratic & Republican Senator Up For Re-Election In November 2018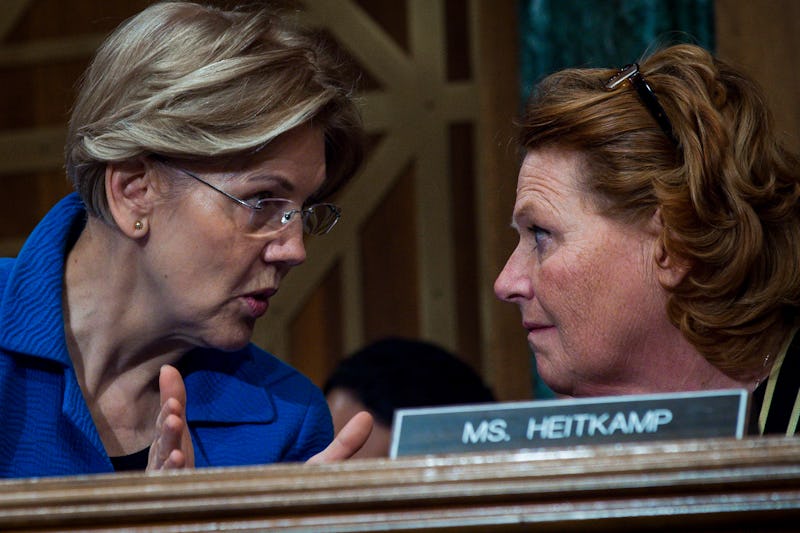 Pete Marovich/Getty Images News/Getty Images
The Senate voted to confirm Brett Kavanaugh to the Supreme Court just weeks before the 2018 midterm elections. If you disagree with how the lawmakers who represent you voted, you're probably wondering how many senators are up for re-election in 2018. In this cycle, according to Ballotpedia, there are nearly three dozen Senate seats up for re-election in November. And whether or not constituents vote for them this time around, following Kavanaugh's confirmation, could speak volumes.
A bulk of the re-election campaigns are on the Democratic side of the aisle. An analysis from The New York Times says Democrats need to win at least two additional seats to regain control of the Senate. Many of those toss-up races that Democrats hope to win are taking place in red states.
But on Sunday, Senate Majority Leader Mitch McConnell claimed the Kavanaugh hearings galvanized Republican voters. "Our energy and enthusiasm was lagging behind theirs, until this," McConnell said in an interview with CBS' Face the Nation. An analysis from Vox's Dylan Scott reports that this supposed surge of Republican energy has the potential to keep red states Republican. "This new Republican energy is therefore good for the GOP in those races," Scott wrote.
Democrats, on the other hand, are fired up for the opposite reason. "We have called out men of privilege and power who protect other men of privilege and power," Elizabeth Warren said prior to the final vote on Kavanaugh. "We have lifted the voices of millions of survivors of sexual assault. We have refused to be the women who sit down and shut up and we have forged the bond that will make us stronger in the next fight." That next fight is the 2018 midterm elections.
The following Democratic seats are up for re-election:
Vermont Sen. Bernie Sanders
Virginia Sen. Tim Kaine
New York Sen. Kirsten Gillibrand
Massachusetts Sen. Elizabeth Warren
Washington Sen. Maria Cantwell
Rhode Island Sen. Sheldon Whitehouse
New Mexico Sen. Martin Heinrich
Minnesota Sen. Amy Klobuchar
Maine Sen. Angus King
Maryland Sen. Benjamin Cardin
Hawaii Sen. Mazie Hirono
Delaware Sen. Thomas Carper
Connecticut Sen. Chris Murphy
California Sen. Dianne Feinstein
Wisconsin Sen. Tammy Baldwin
Pennsylvania Sen. Bob Casey
New Jersey Sen. Bob Menendez
Michigan Sen. Debbie Stabenow
Florida Sen. Bill Nelson
Indiana Sen. Joe Donnelly
Missouri Sen. Claire McCaskill
Ohio Sen. Sherrod Brown
North Dakota Sen. Heidi Heitkamp
West Virginia Sen. Joe Manchin
Montana Sen. Jon Tester
Minnesota Sen. Tina Smith
Many of these senators made headlines for their questions during Kavanaugh's hearings. Klobuchar, for instance, asked Kavanaugh about his binge drinking after talking about her father's alcoholism. Kavanaugh deflected, instead asking the senator about her own drinking habits. Kavanaugh later apologized for his reaction. Regardless, forecasting from The Times said it's likely all these seats will stay with the Democrats.
Heitkamp —who is up for re-election along with Manchin — has also been in the spotlight in the last week for her role in the Kavanaugh vote. Heitkamp eventually decided to vote against confirming Kavanaugh, while Manchin was the sole Democrat to vote in favor of his confirmation.
In comparison, there are fewer Republican senators on the November ballot. Nine Republican seats are available in 2018, according to The New York Times, but even fewer are up for re-election:
Nevada Sen. Dean Heller
Wyoming Sen. John Barrasso
Nebraska Sen. Deb Fischer
Mississippi Sen. Roger Wicker
Texas Sen. Ted Cruz
Mississippi Sen. Cindy Hyde-Smith
If your senator is up for election, here's information on how to register to vote in each state by The Times. And remember: Election Day is Nov. 6.