Why Trump's New Anti-Immigration Bill Could Be DOA In The Senate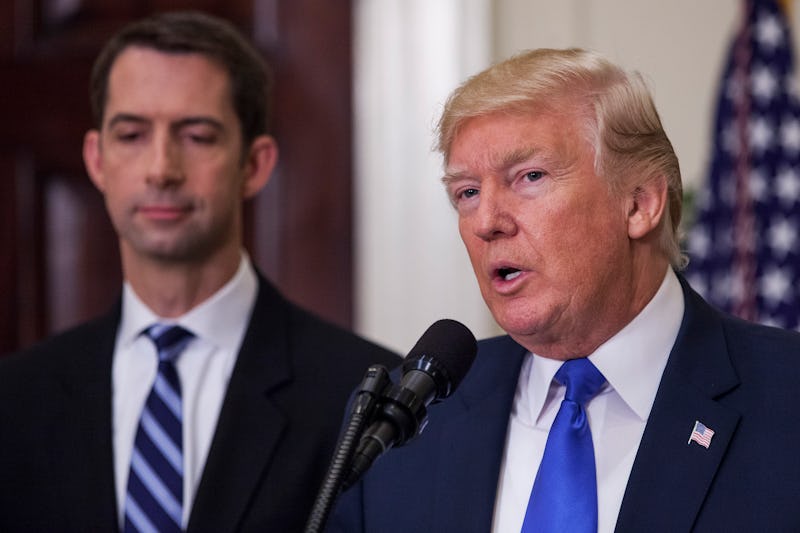 Pool/Getty Images News/Getty Images
On Wednesday, President Trump threw his support behind the RAISE Act, a new immigration overhaul bill co-authored by Republican Sens. Tom Cotton of Arkansas and David Perdue of Louisiana. An instantly controversial proposal, the bill would favor applicants for immigration who speak English and are already financially stable. It would also prohibit recent immigrants from receiving welfare, and would reportedly have the effect of gutting annual legal immigration from about one million per year to about 500,000. So the big question: How many Senate votes does the RAISE Act need for it to become law?
If you're a Democrat, or a progressive, or a leftist, or simply someone concerned with American immigration policy who disagrees with the bill, then you'll probably like the answer. Unlike the GOP-led Senate's recent effort to pass a health care bill, which was done under the budget reconciliation process and thus demanded only a 51-vote majority (or 50 in practical terms, given Vice President Mike Pence's tie-breaking vote), it would take 60 votes to break a Democratic filibuster and get the RAISE Act to an up-or-down vote.
And given the highly controversial nature of the bill, it's highly unlikely that the Republicans would be able to cobble together that much bipartisan support for it. To be clear, the GOP currently controls 52 seats in the Senate, meaning it'd need to draw eight Democrats or independents to its side to get the bill passed.
The upshot? Unless there's a massive outpouring of public support on behalf of the bill, in much the same fashion as was seen from opponents of the GOP health care bill, it's unlikely that there's any route for the RAISE Act to make it through the Senate. Unless, of course, the Republicans were to convince the most conservative Democrats ― people like Joe Manchin, Heidi Heitkamp, and Joe Donnelly ― to turn to their side, and hooked another five votes through some sort of bipartisan bargain relating to other matters.
Given the political implications of the bill, however, it's hard to conceive of that happening. The grassroots left has summoned up a huge amount of activist energy in the early months of the Trump administration, especially around issues that touch on intersections of race and culture ― like the massive airport protests that took place after the announcement of the executive order banning refugees and immigrants from seven predominantly Muslim countries.
As such, it would almost certainly be a dire political miscalculation for Senate Democrats to use the RAISE Act to cut some kind of a bipartisan deal. In other words, as it stands now, this controversial new immigration proposal is probably ― though not assuredly ― dead on arrival.