Trump's Ban Could Change Everything For Thousands Of Trans People In The Military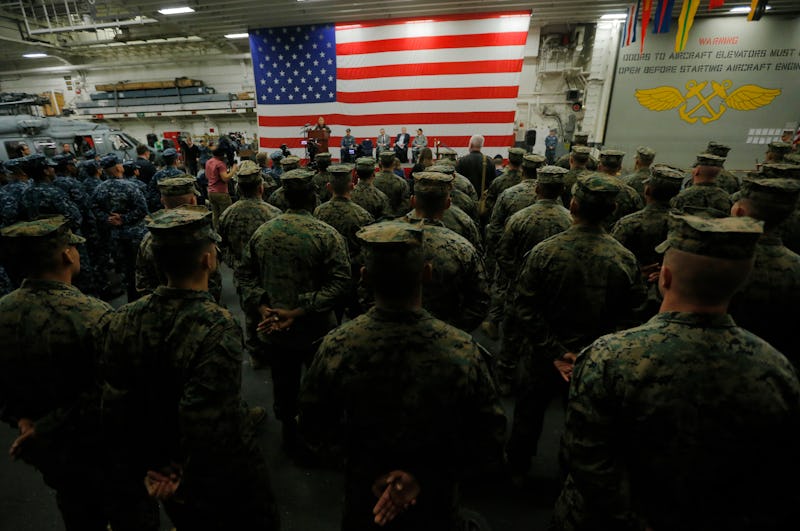 Pool/Getty Images News/Getty Images
On Wednesday morning, President Trump announced on Twitter that he would not allow transgender people to serve in the military "in any capacity," reversing his predecessor's move lifting the ban on allowing trans troops to serve openly. Although the numbers estimating how many transgender people are in the military differ between organizations, the National Center for Transgender Equality states that there are currently more than 15,000 trans soldiers serving today.
Trump tweeted that after consulting with military experts and his generals, he concluded that the U.S. government "will not accept or allow ... transgender individuals to serve in any capacity in the U.S. Military." The president cited the "tremendous medical costs and disruption" of trans people in the military as a reason for the decision.
Axios reporter Jonathan Swan later tweeted that a Trump administration official told him the ban "forces Democrats in Rust Belt states like Ohio, Michigan, and Wisconsin, to take ownership of this issue," ostensibly politicizing the careers of thousands of transgender people serving in the military.
The numbers vary, but it stands that there are thousands of transgender troops today. The RAND Corporation, a public policy research group that often analyzes the U.S. Armed Forces, conducted a study published in 2016 — before the Obama administration lifted the ban on trans people serving openly — that estimates there are between 1,320 and 6,630 active service members. In the year since the ban was lifted, the numbers have surely increased, though by how much is uncertain.
During the election, Trump rarely addressed the LGBT community, save for a several off-color remarks on the campaign trail in criticizing his opponent.
In June 2016, in the wake of the Pulse nightclub shooting, he declared "I'm much better for the gays," and tweeted, "Thank you to the LGBT community! I will fight for you while Hillary brings in more people that will threaten your freedoms and beliefs."
Reports emerged soon after Trump's announcement that the Pentagon and Secretary of Defense Jim Mattis were caught off guard by the ban. (Mattis, however, was supposedly consulted about the ban beforehand.) On Wednesday morning, the policy allowing transgender people to serve openly in the military was reportedly still up on the Defense Department's website.
Former Secretary of Defense Ashton Carter was in charge of the department when the ruling allowing trans members of the military to serve openly. He swiftly responded to Trump's trans service member ban, stating that "what matters in choosing those who serve is that they are best qualified."
But as Trump's new ban sets to take effect (with more questions than answers) it appears that that mindset on military recruitment has changed — with the careers of thousands of transgender troops serving in the military today on the line.