Trump's White House Turnover Rate Is Setting Breathtaking Records & Not In A Good Way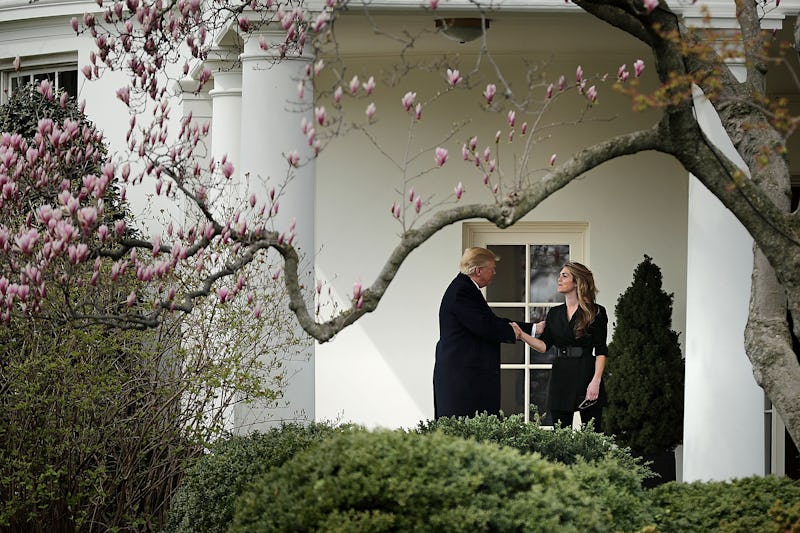 Chip Somodevilla/Getty Images News/Getty Images
Flanked on either side by sparkling white columns, the front doors of the White House don't so much swing lately as they do revolve. Recent federal filings show that White House staff members are leaving in unprecedented numbers; Trump's White House staff turnover rate is record-breaking, according to an Associated Press report, with nearly 150 people gone in a year.
President Donald Trump and his administration's hiring and firing frequency has led to a staff turnover increase of more than 37 percent. Tracking numbers over the calendar year with an end date of June 30, the AP analysis of White House filings revealed that 141 staffers who had worked for the White House during that date in 2017 are no longer there. In those staffers' places were 138 new hires — and that's without counting the employees who both joined and left the team within the one-year timeframe. (Ahem, 10-day term communications director Anthony Scaramucci.)
"We have vacancies on top of vacancies," said Kathryn Dunn Tenpas, a senior fellow at the Brookings Institution who has studied White House turnover over the last six administrations, earlier this year to the New York Times. "You have initial vacancies, you have people who left in the first year and now you have people who are leaving in the second year."
A whopping chunk of Trump's upper-level aides, about 61 percent, have left the White House. The analysis showed that the only other president in the past several decades who comes close to that number is Bill Clinton, at 42 percent. Trump's White House is "setting records for attrition," said the White House Transition Project's Martha Joynt Kumar, according to the AP.
A quick rundown on the staffing in-and-outs shows that Trump is now dealing with his second national security adviser, his second press secretary (good-bye, Sean Spicer), and his third deputy national security adviser, according to the New York Times. The communications director position has played musical chairs to five different people. The president has expressed unhappiness and booted out his health secretary, his chief strategist, several deputy chiefs of staff, and even his private legal team, the New York Times reported. He is on his second chief of staff, John Kelly, who found himself in headlines after reports surfaced alleging that he called Trump an "idiot." Kelly strongly denied the report, calling it "total BS."
According to the analysis, the White House's annual salary disclosure to Congress shows over that same period, upward of 170 staffers were given raises, signifying promotions. For example, Stephanie Grisham, who was thrown in the spotlight during Melania Trump's post-hospital release and public disappearance, got an extra $40,000 pay increase to $155,000 as Melania's spokeswoman. Jordan Karem was presented with a $50,000 raise for a new salary of $165,000 for a title change from the former deputy director of advance to the director of Oval Office operations. The largest raise went to a deputy policy coordinator, Sylvia Davis, who received $85,000, a 121 percent salary boost over the $70,000 she earned as an assistant staff secretary. Trump's daughter and son-in-law, Ivanka Trump and Jared Kushner, act as senior advisors but do not take a salary, according to the AP.
Those spots left empty by previous staffers are not necessarily easy to fill. Republicans, according to the New York Times, have said the supposed unpredictable, "pressure-cooker" atmosphere was worrisome and that being associated with Mueller's Russia investigation could hurt post-White House careers.
"There isn't a huge appetite from many Republicans on the outside to explore job opportunities in this administration," said Ryan Williams, a former spokesman for 2012 presidential nominee Mitt Romney, to the New York Times. "While there are a lot of vacancies and usually a position in the White House is one of the most prestigious jobs in Washington, that's just not the feeling with this administration, given the turmoil and the chaos."