This Is How The Powerball Lottery Is Being Divided Up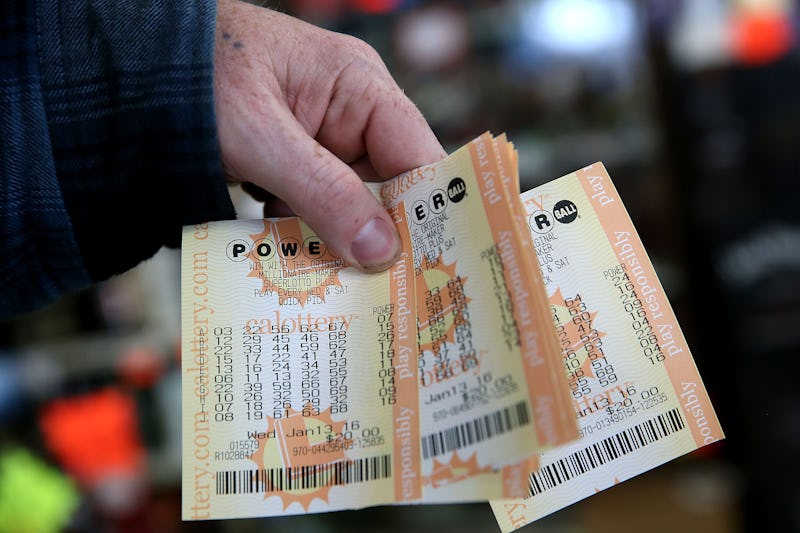 Justin Sullivan/Getty Images News/Getty Images
On Wednesday night, millions of Americans eagerly awaited the announcement of the winning Powerball numbers, with one of the biggest-ever lottery jackpots on the line. But when it was all said and done, how many people actually won the Powerball? Was it one? Was it more than one? Or has the jackpot gone unclaimed, only to swell in advance of the next drawing on Sunday night?
Update: CBS Boston reported that Mavis Wanczyk bought the winning ticket at 2:30 p.m. on Wednesday.
Broadcasting live from Tallahassee, Florida, the Powerball drawing was hotly anticipated, and the excitement rose as the numbers were read off. The winning combination was 7-26-16-23-6 with Powerball 4, leaving everyone who knew they didn't win in suspense as to whether someone else had.
A single winning Powerball ticket was sold in Massachusetts. However, the identity of the person who purchased the ticket is not yet known. Massachusetts is no stranger to Powerball jackpot winners. It's worth nothing that since January 2010 when Powerball was made available in the state, it has witnessed 3 other Powerball jackpot wins. Next, the most recent winner will have the job of determining whether they want to accept the payment in a lump sum, or whether they'd prefer to take the graduate payout system ― although in either case, they'll almost surely be sitting pretty for life as far as their finances are concerned.
Since this unidentified person is the only person with a winning ticket, he or she won't have to split the jackpot with anyone. However, taxes will take a hefty chunk from the amount.
As for the Powerball itself, it's awarded on a bi-weekly basis, meaning there will be another drawing taking place on Saturday night with a jackpot of $40 million. Needless to say, the longer it takes for somebody to actually win the prize, the higher the jackpot goes, until you end up with a chance to the sort of enormous fortune that was on offer on Wednesday night.
Despite the massive size of Wednesday night's jackpot, it still fell far short of the biggest ― a record $1,586,400,000 that was split between three winners from California, Tennessee, and Florida in January 2016. That's more than twice the prize that was up for grabs on Wednesday night, although being split three ways and with taxes, each person reportedly came out with just over $300 million. It might not be the $1.6 billion they had hoped for, but it's still an incredibly huge amount of money.