'TIME' Still Has A Long Way To Go When It Comes To Recognizing Women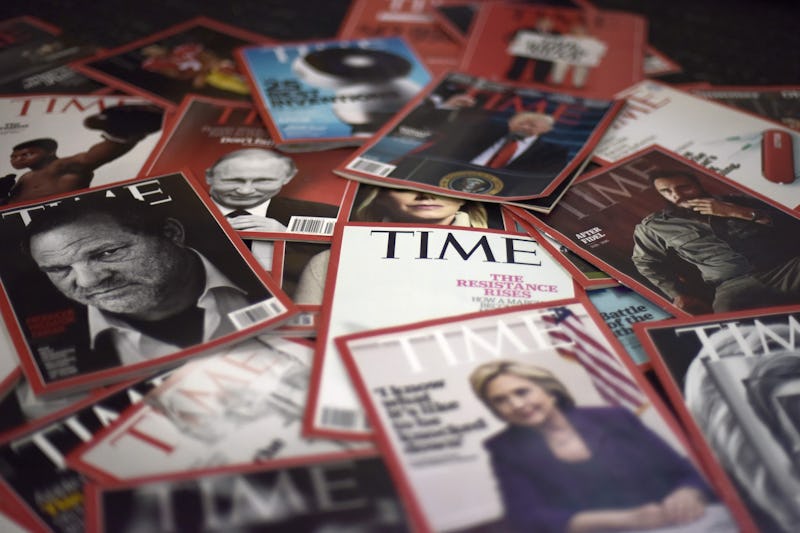 ERIC BARADAT/AFP/Getty Images
TIME's Person of the Year issue debuted on Wednesday to highlight "The Silence-Breakers," the women and men who spoke out against sexual assault and harassment in 2017. And though the 2017 cover is noteworthy in that it highlights a group of women, it doesn't highlight a specific woman. In fact, only four TIME People of the Year have been women in the history of the franchise.
The magazine's special year-end issue was historically called either Man of the Year or Woman of the Year (depending on who appeared on the cover) until 1999 when it changed to Person of the Year. But despite its name, the issue hasn't always just highlighted individuals. Entire classes of people (like "The Silence Breakers" in 2017) have also been featured.
In total, of its 91 Man, Woman or Person of the Year issues, TIME has only awarded the title to an individual woman four times: Wallis Simpson (1936); Elizabeth II (1952); and Corazon Aquino (1986); and Angela Merkel (2015).
In 1937, Soong Mei-ling was recognized, but she was featured alongside her husband as "Man & Wife of the Year."
American women have been featured in groups named Person of the Year. In 1975, for instance, "American Women" received the title, though no single individual was recognized on the cover. Wallis Simpson, while born in America, was featured for her intended marriage to British King Edward VIII, which caused him to abdicate the throne.
The news that TIME had named "The Silence-Breakers" their cover subjects in 2017 was met with a lot of buzz — though many were quick to point out that featuring a group of both women still isn't enough to make up for so few women in the issue's history.
As many noted before the magazine's cover was unveiled, 2017 was a year in which women dominated headlines. And yet, TIME's shortlist for who would go on its cover was overwhelmingly dominated by men. The magazine's shortlist, released Monday, included seven men, two groups, and one woman: Patty Jenkins, the director of Wonder Woman.
Several have taken to social media to note that there were several woman noticeably absent from the list — women that had a massive impact on society and pop culture in 2017. Tamika Mallory, co-founder of the Women's March, helped launch a worldwide movement that attracted some five million women around the globe. Jodi Kantor and Megan Twohey first broke the story of Harvey Weinstein — a story that paved the way for hundreds more women to come forward about sexual harassment — in the New York Times.
Last year's winner of the title was then-President Elect Donald Trump, who lambasted the magazine for changing the issue from "Man" to "Person of the Year."
"The used to call it 'Man of the Year,' but they can't do it anymore, so they call it 'Person.' They want to be politically correct," Trump said at a rally in Ohio. Coincidentally, Trump also spoke out about the issue this year, taking to Twitter to claim that the magazine had asked him to cover its issue again in 2017. "Time Magazine called to say that I was PROBABLY going to be named 'Man (Person) of the Year,' like last year, but I would have to agree to an interview and a major photo shoot," he wrote. "I said probably is no good and took a pass. Thanks anyway!"
This year, Trump was runner-up to The Silence-Breakers, though TIME noted that his tweet about being named Person of the Year was "inaccurate."
Though it didn't feature a specific woman as its Person of the Year in 2017, TIME correspondent Charlotte Alter noted that this year's cover story was conceived, reported, written, fact-checked, designed and edited by women.