Twitter Is Going Wild Over The Record Number Of Women Who Were Elected To The Congress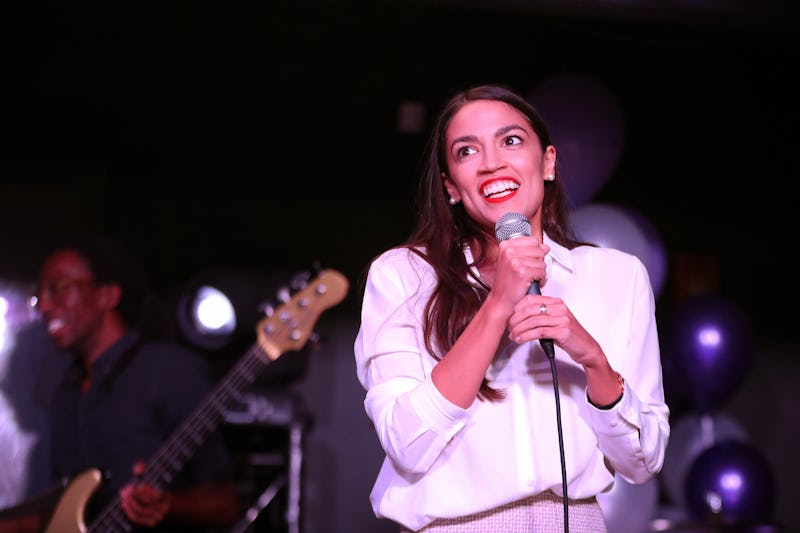 Rick Loomis/Getty Images News/Getty Images
On Tuesday night, after a particularly hyped up election season, it became clear that more than 100 women were elected to Congress after the midterms. Twitter users expressed a well of excitement over this development, particularly against the backdrop of Donald Trump's presidency.
As far as political affiliation is concerned, the majority of women who won their elections on Tuesday were members of the Democratic Party. At the time of writing, more than 90 women were elected to the House of Representatives — which breaks the previous number of 84 women in that chamber. But it's not just about digits. The background and identity of some of the women who scored victories in the midterms are worth checking out as well.
For instance, New York's Alexandria Ocasio-Cortez is now the youngest woman elected to Congress. Meanwhile, Ilhan Omar and Rashida Tlaib will become the first Muslim women to serve in the House. Native American women, too, broke barriers: professional MMA fighter and an openly lesbian candidate Sharice Davids of Kansas, and Debra Haaland of New Mexico, scored wins against their Republican opponents.
It makes sense then that people were absolutely stoked to see these achievements on Tuesday night. For many of them, GIFs seemed to do most of the talking.
Although Republicans maintain majority in the American Senate, Democrats made significant strides by flipping red seats to blue and ultimately gaining a majority in the House of Representatives. On Tuesday night, Trump said that the election results turned out to be a "tremendous success."
But some Twitter users had a different message for him. One responded to the president's tweet with "we are coming for you."
For some, a GIF of Beyonce power-dancing was enough to deliver the message of joy.
Others felt a newfound sense of hope. Musician Bethany Cosentino listed the various seats won by women of color, LGBTQ members, and more, and added, "What is this feeling!? I FEEL HOPE!"
Writer Laila Lalami tweeted, "Listen. Two Native women, Sharice Davids and Deb Haaland, are going to Congress, as are two Muslim women, Rachida [sic] Tlaib and Ilhan Omar. The top movie in America right now stars Rami Malek, and Idris Elba is the Sexiest Man Alive."
"Change is happening," Lalami added, "no matter what."
Writer Roxane Gay also tweeted that there was "a lot to be happy and encouraged about" from the election results on Tuesday night.
And of course, some pulled out a "we can do it" GIF.
Hollywood actor Steven Pasquale tweeted that it was possible "women will fix this mess" now that they were in Congress.
Perhaps the best way to encapsulate people's joy on Tuesday night is by sharing this tweet where good ol' Homer Simpson enjoys a fine night of sleep.
For many people, Simpson's content face deep in slumber delivers their sentiment on the more than 100 women getting elected to Congress. Chances are, though, these tweets won't stop any time soon.