Sexual Assault Onstage At The Opera Has Only Become More Complicated In The #MeToo Era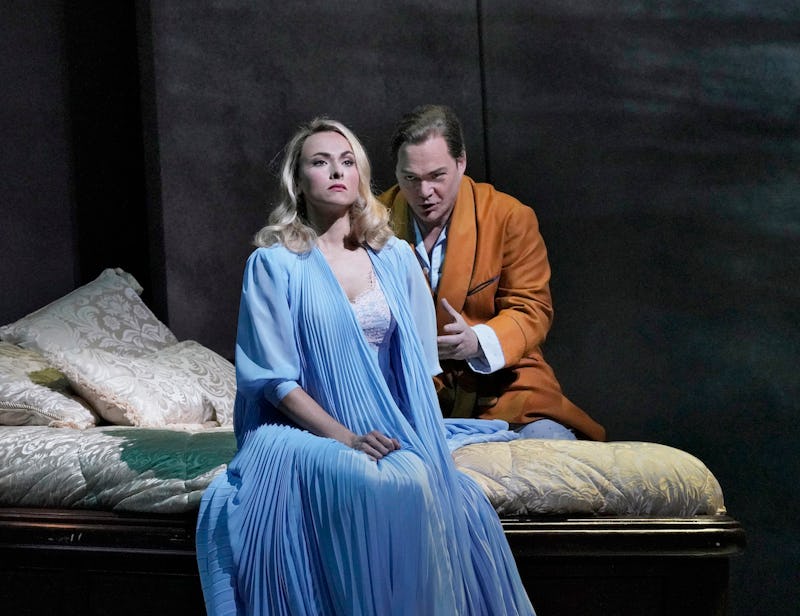 Ken Howard / Met Opera
On Friday, Oct. 19, onstage at the Metropolitan Opera in New York, a man manipulated and attempted to rape a woman. It's a scene that occurs in so many operas, it's practically a trope (even the "comedy" Marriage of Figaro revolves around a boss scheming to rape his employee). The difference this time around, though, was that this particular opera, Marnie, was first performed after the rise of the #MeToo movement, putting the opera in a unique position to be able to reflect these times. As it were, the portrayal of sexual violence onstage in the #MeToo era is as complicated as the conversations happening around the country.
"I wanted the audience to feel uneasy by the end of the opera. Life never wraps up neatly in a bow, and neither does the story of Marnie," Isabel Leonard, the mezzo-soprano who is performing the titular role at the Met, tells Bustle in an email while on vocal rest.
Depending on what's happening in the world, a Don Giovanni audience member can be more attuned to the religious morality, the class dynamics, or the questions of sexual consent that Lorenzo Da Ponte's words touch on. Marnie happened to come to life as gendered harassment dominated headlines, but librettist Nicholas Wright began writing its words in 2015 — the sexual violence in the opera wasn't intended to be as relevant as it ended up being.
It's entirely possible that if #MeToo hadn't risen the way it did, the moment of attempted rape would've passed through opera-goers with a shrug as just another swell of operatic drama. Instead, the opera, which opened Oct. 19 and runs through Nov. 10 (the Nov. 10 performance will also be broadcast in movie theaters worldwide as part of the Met's Live in HD program), is raising discussions about moral ambiguity, the function of onstage gendered violence and how it should be performed, and who gets to tell these stories.
Before coming to New York this October, Marnie, with music by 37-year-old Nico Muhly and a libretto (i.e. the script) by 78-year-old Nicholas Wright, premiered in London in November 2017 with staging by director Michael Mayer. It's based on the 1961 novel of the same name by Winston Graham, which was also adapted into a movie by Alfred Hitchcock.
In the opera, set in the 1950s, Marnie had a childhood trauma that plays out in her making up identities for herself and stealing from male employers. One employer, Mark (performed at the Met by Christopher Maltman), catches her and coerces her into marrying him, under threat of going to the police. She marries him, avoiding him turning her in and being jailed for stealing from his business. On their "honeymoon," he attempts to rape her, which is shown onstage at the end of the first half.
If you're wondering what an attempted rape sounds like musically, Muhly has a compelling theory. That piece begins with "only high piccolo and strings," he explains, "right at the top of the piano range." Those act "like a sine wave throughout her brain" as she's "just in this neutral get-through-this mode." Marnie stares straight ahead as Mark, who has been drinking, approaches her. The rest of the orchestra, according to Muhly, fills "in and around his drunkenness."
"And then it just gets faster and faster and faster until it reaches this moment where we blast through all the music associated with him, all the music associated with her, and it's just this kind of pulsing piano and woodwinds thing that's incredibly, incredibly high again," Muhly says. "So it's sort of like the panicked version of the neutral beginning. It starts with just a buzz, and then it swarms."
The attempted rape ends as she sings her highest notes in the opera — crying "please" and "no" — before she runs into the bathroom and slits her wrists (which is shown in a silhouette from behind a screen). She survives the suicide attempt into the next half of the opera.
Unsurprisingly, Leonard says playing Marnie is "incredibly taxing."
"The emotional toil is deep and long lasting," she writes. "I actually see my acupuncturist, kinesiologist, and vocal coach, frequently."
She notes that in putting together something like that scene, the singers and crew "talk, talk, talk" to make sure that she — and Maltman — are comfortable with what's happening.
"We went through every movement with precision and developed a vocabulary of physicality that was comfortable for us both and that would serve the scene appropriately," she writes. "Once you can establish that with a trusted colleague and friend, the scene can push the boundaries for the audience and still lie in a 'safe' realm for us."
Both Mark and Marnie are presented as complex figures, neither hero nor villain (some could feasibly read Marnie as a "villain" for lying to and stealing from men), which was consciously done at every level of production — especially since Met rehearsals were happening as allegations of an attempted sexual assault were leveled at then-Supreme Court nominee Brett Kavanaugh.
During rehearsals of the attempted rape scene, Leonard says she was cautious of Maltman's character not coming out of the moment looking like a "monster." "Right now, with everything going on, it is going to be very easy for the audience to pass a quick blow of judgment against you in this scene," she recalls telling Maltman. "If they do, they will write the character off, and I feel we will lose the necessary empathy we need for the story we are trying to tell."
This ambiguity of hero and villain makes the audience do a lot of work, which I found frustrating; while there are certainly ways to make that valuable, it didn't work for me here. As Leonard wished, it leaves you uneasy. The writing of Marnie leaves it up for discussion if the attempted rapist who coerced a woman into marrying him under threat of imprisonment is really that bad a guy compared to the lying woman. One has to wonder how this opera would have looked were it not a 78-year-old man writing the words.
This complexity is a departure from other operas that write gendered violence in black and white: a week after I saw Marnie, I watched the character of Scarpia in Tosca, which was written in 1899, sing on the same stage that he likes it when a woman struggles, and frankly, it was a relief to have him coded, simply, as The Bad Guy, even if the titular female character doesn't have as many shades as Marnie.
When the curtain opens for the second half of the opera, Mark and Marnie are still together.
"For the purpose of this still being a story, at the beginning of Act II, I can't turn [Mark] into a monster," Muhly says. "Every time he enters a room it can't be like Darth Vader. But on the other hand, the music can't not acknowledge what happened."
Instead, Muhly wrote Mark's music at the start of the second half, where he is trying to make up with Marnie, as literally lacking substance — "there's no bass in it at all." While there's a sweet melody ("his sweetest mask"), "there's no fundament to it, so it's completely hollow."
Aside from the attempted spousal rape, the opera is imbued with the pressure of a patriarchal society. A set of male dancers in business suits watch Marnie intently during pivotal moments. In the opening sequence, Marnie decides to steal from her boss after he makes a pass at her.
This was done, Muhly says, to show that gendered violence is a "climate." "It's not like, 'Here's a list of four sh*tty things that happened to me by these four specific guys,'" Muhly says. "Actually, no, it's an entire weather system, basically, in which things happen. Even if you don't get struck by lightning, you're still in this horrifying storm."
Although, as critics noted, the libretto clearly needed rewrites, the visuals were effective. But they also bring to mind a behind-the-scenes image: Leonard, rehearsing this role written by two men, directed by a man, conducted by a man, in a house that has only ever been managed by a man. The source material was authored by a man, and the movie that made it famous was directed by a man. As Alex Ross at The New Yorker wrote in an unrelated article, "The current Met season, like the last, has no female composers, no female conductors, and no female directors in charge of new productions."
(It's very rare for the Met to put on a new work, especially one by a composer under 60 years old, and it has announced that it is commissioning two operas by women in upcoming years, for the first time ever, bringing Met audiences a grand total of four operas written by women — each, so far, only performed for one season — in well over 100 years.)
Leonard does not seem outwardly bothered by this.
"A conversation is just that, no matter if I am the only woman in the room, I do not present my ideas worrying about my sex or anyone else's. An idea is sexless," she writes about discussions during rehearsal, although she also noted that she was "more vocal" about this role than she typically is.
But it clearly made Muhly uncomfortable — within the first 15 minutes of our interview, he brings up three times, unprompted, that he's a white gay man "so removed in a visceral sense" from the gendered violence women face.
"I know that I'm not the right — I didn't set out to write a #MeToo opera, you know what I mean? Nor would I ever, because that's not my story to tell," Muhly says. In addition to not writing the libretto, he has said that he was approached by director Mayer with the opera idea in the first place. He hopes, instead, for Leonard (and other women who will sing the role) to have control. "It's my job to make sure that what I'm doing is not being like, 'Here's my opinion about #MeToo expressed in notes and rhythms!' Instead, it's like, 'Here is a collection of notes and rhythms through which I hope that you feel comfortable to say everything that you have accumulated in your life on this Earth in your 30-x years of your experiences.'"
Muhly's discomfort and good intentions (and, yes, his brilliant music) don't change the fact that in 2018, a group of men told the story of a woman's trauma. Mayer's choice in staging Marnie meant yet another sexual assault onstage at Lincoln Center — a plot that kept at least some opera fans from seeing it, exhausted at the idea of having to watch gendered violence yet again, at the idea that the only way to make a woman's story worthy of a full orchestra is to sexually assault her.
Maybe with #MeToo the conversations and questions asked onstage have gotten denser, but until it's not an anomaly for women to compose, conduct, and direct on opera's major stages, it might as well be 1899.
Marnie is onstage at the Met on Nov. 7 and 10, and in movie theaters worldwide on Nov. 10.