What Melania Has Said About Trump Vs. What Michelle Has Said About Obama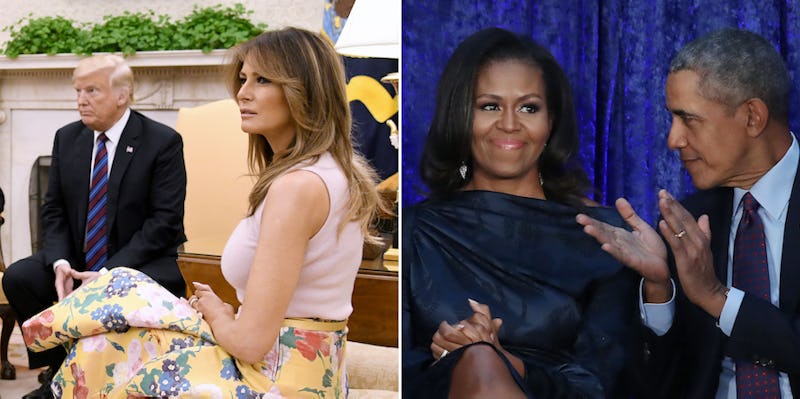 Pool & Mark Wilson/Getty Images News/Getty Images
The differences between President Donald Trump and former President Barack Obama are, by now, well documented. And unsurprisingly, so too are the differences between their wives. In fact, Melania Trump and Michell Obama have had their clothing choices compared, their gardening skills juxtaposed, their facial features and body language analyzed side-by-side, and their speeches contrasted. Indeed, the comparisons between the two first ladies can seem endless and inevitable. But how Melania and Michelle talk about their husbands and their marriages may prove these first ladies aren't complete opposites after all.
Not every love story begins the same, and so it goes for the Obamas and the Trumps. While Trump is reported to have met Melania at a New York Fashion Week Party in Manhattan in 1998, the Obamas met via their work at a corporate law firm in Chicago in 1989.
In an interview with Harper's Bazaar in 2016, Melania said she rebuffed Trump's initial request for her phone number, asking instead for his as a means of testing to see how serious he was about her. Michelle has also said that she initially turned down Obama's requests for a date.
But both women eventually gave in to their respective men. According to Melania, her first date with Trump consisted of dinner and a visit to Moomba, then an A-list hot-spot. Michelle told ABC News that her first date with Obama was spent visiting a museum, watching a movie, and getting ice cream.
Both couples would eventually marry, although their relationships followed different timelines. While Trump married Melania in 2005, some seven years after they'd first met, the Obamas married in 1992, roughly three years after they'd first met. Over the years, both women have had plenty to say about their marriages and their husbands.