Here's How This Winter's Mercury Retrograde Might Mess With Holiday Travel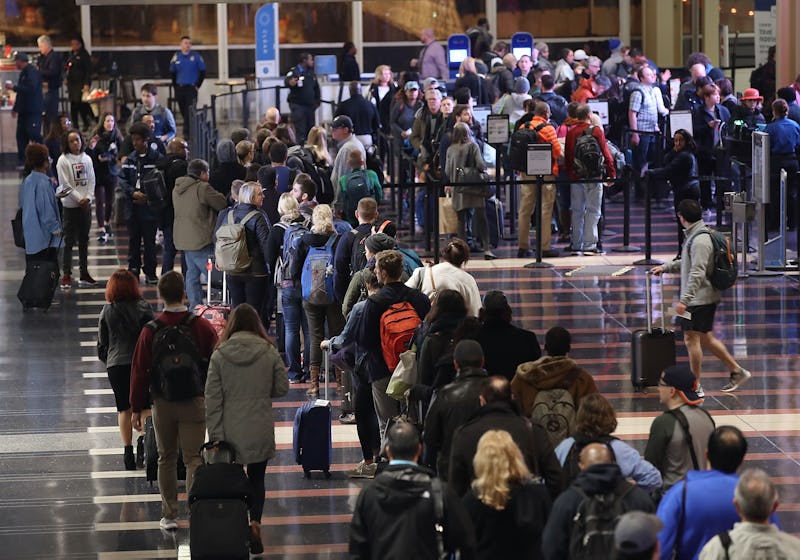 Mark Wilson/Getty Images News/Getty Images
The days before and after Thanksgiving are some of the busiest travel days of the year. And according to Airlines for America, more than 30-million people will fly over the 2018 turkey holiday. If you're one of them, then you're going to want to know how Mercury retrograde winter 2018 will affect holiday travel. 'Tis the season for bad weather and overbooked flights, which means that traveling during the holidays even when all of the planets are in alignment can be challenging. If you've decided to hit the road or fly anyways, Mercury retrograde November 2018 is going to make things extra bajiggity.
"Mercury retrograde November 2018 is square Neptune which adds confusion and deception to the usual Mercury retrograde problems like communication and technology breakdowns, nervous anxiety, travel delays, and lost items," Astrologer Jamie Partridge wrote on Astrology King. The keywords here are "lost items" and "travel delays." If you're flying, it's best to carry on instead of checking a bag. You'll also want to plan ahead for delays. This means bringing a book or downloading some shows to your tablet or computer so you have something to do while you wait, and preparing yourself mentally so you don't have an airport meltdown.
Hope For The Best But Prepare For The Worst
Trust me, I am the queen of crying at the airport. A little bit of breathing can help keep you calm when the gate agent tells you the storm in the northeast is causing a five-hour delay. The more prepared you are up front, the less the chaos will affect you. "With Mercury retrograde in the zodiac sign Sagittarius it's a good idea to be extra careful booking long distance travel," Star Sign Style noted on its website.
Double check everything before you leave your house. Is your flight on time? Do you have your ID or passport? Did you pack underwear? If you're driving, do you have a spare tire in the trunk? What about an emergency kit? Have you checked the weather forecast for road closures? Don't trust Waze to be your fearless leader during Mercury retrograde — bring a paper map. What's more, if you let your frustration get the better of you, you could make things a whole lot worse.
"While Sagittarius as a zodiac sign is often described as suffering from 'foot in mouth disease,' Mercury in the centaur sign tends to devolve further into 'hoof in mouth disease.' This planet-sign pairing, honest though it may be, often struggles to keep its enchanting brand of candor from spilling over into gaffes galore," Astrologer Lee Coleman wrote on Astrology.com.
Keep A Cool Head & A Kind Heart
This means yelling at your Uber driver, the gate agent, or anyone else is ill advised. While it's always best to treat everyone with kindness, losing your cool during Mercury retrograde could mean you tank your Uber rating or lose out on that standby seat. Because no one is being their best self during Mercury's backspin, petty behavior will only attract more of the same.
Keep in mind that there are few place more frustrating than the airport or a gridlocked highway, and everyone is feeling just as annoyed as you. Practicing patience and kindness will help keep things in perspective. Remember, you can't control the situation. You can only control how you react to it. If you're staying put for Thanksgiving, and planning to travel during the December holidays, Mercury could still cause your plans to go sideways.
Even though Mercury turns direct Dec. 6, it's in its shadow period until Dec. 24. According to Coleman, the chaotic energy of Mercury retrograde could linger until then. This means that everything that applies to Thanksgiving travel also applies to December travel. If you haven't bought a flight yet or committed to going home, it might be best to stay put until New Year's.