The Number Of Weapons The Las Vegas Shooter Had Is Terrifying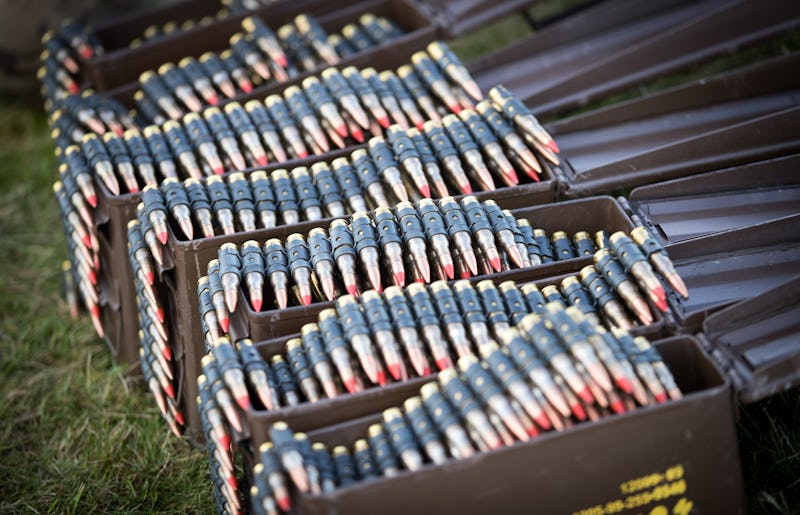 Matt Cardy/Getty Images News/Getty Images
On Sunday night, a gunman shot and killed 58 people and injured over 500 more at a music festival in Las Vegas. After the shooting, SWAT teams found hundreds of rounds of ammunition in the Las Vegas shooter's hotel room — and thousands more in his home in Mesquite, Nevada.
The shooter also had firearms in his hotel suite. Sheriff Joseph Lombardo of the Las Vegas Metropolitan Police Department said that that "at least" 17 firearms were found in the room, including a handgun, while an unnamed federal law enforcement official told the New York Times earlier that there were at least 20 rifles in the room. Later Monday evening, Todd R. Fasulo, assistant sheriff for the Las Vegas Police Department, said that authorities found 23 guns in his hotel room and 19 at his home.
Police found additional weaponry in the shooter's car and home. Lombardo said that authorities found ammonium nitrate, which can be used as an explosive, in the gunman's car, as well as other explosives and thousands of additional rounds of ammunition in his home.
Although firearms are regulated to various degrees throughout the country, most of those regulations don't apply to ammunition itself. Federal law doesn't require vendors to obtain a license before selling ammo, for instance, and customers can purchase ammo without needing to pass a federal background check. Likewise, federally licensed dealers are required to keep records of gun sales, but not of ammunition sales.
A small handful of state and local governments have taken steps to regulate ammunition. California passed a law in 2016 that requires background checks for ammunition purchases, and voters later approved a referendum that banned the possession of magazines that hold more than 10 rounds of ammunition. However, a federal judge temporarily blocked that latter policy from taking effect after the National Rifle Association challenged its constitutionality.
Two gun stores in Nevada confirmed to NBC News that they had sold weapons to the Las Vegas shooter within the last year, and said that he passed all required background checks. However, it's unclear whether those guns were used in Monday's assault, or if they were among the firearms discovered in the shooter's hotel room.
Authorities still haven't identified the gunman's motive. Although the Islamic State in Iraq and Syria claimed that he was acting on their behalf, the group presented no evidence to support that claim, and the FBI said later in the day that they haven't discovered any link between the gunman and foreign terror groups.
"As this event unfolds, we have determined to this point no connection with an international terrorist group," FBI Special Agent in Charge Aaron Rouse told reporters at a press conference Monday. "As this investigation continues, we will continue to work with our partners to ensure that this is factually, thoroughly and absolutely investigated to be able to bring comfort and peace back to this community."
The conservative Gateway Pundit news site misidentified the shooter as a far-left activist, publishing the name of a Black Lives Matter supporter and incorrectly claiming that he was the gunman. However, authorities later identified somebody else as the shooter; Gateway Pundit quickly deleted its initial report, although it issued no correction to its readers. It was the second time the website wrongly accused a leftist of a deadly assault.
Nevada has relatively lax gun laws. No state permit is required to purchase or possess shotguns, handguns or rifles, and the state allows the possession of semi-automatic weapons. The audio from Sunday's shooting suggested that the gunman used an automatic weapon in his assault; in Nevada, those are legal as long as they were made before 1986 and registered with the federal government.