The Yeezy Boost 350 V2s Cost This Much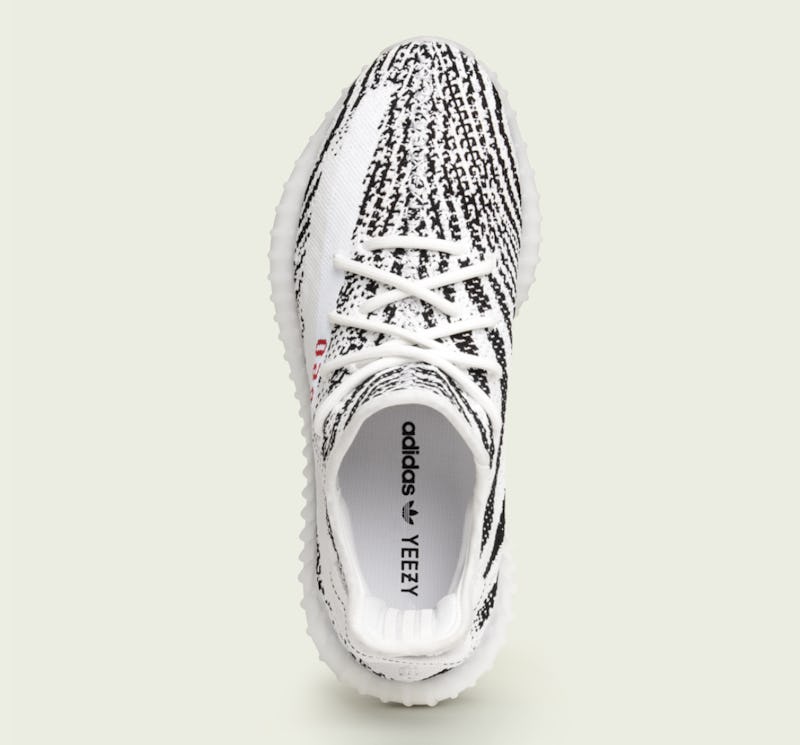 The Boosts are back! More specifically, a new version of Yeezy Boost 350s is on deck. Kanye West's Adidas Yeezy Boost 350 V2 sneakers arrive on Saturday, Feb. 25. The exact on-sale time is TBD. I will pause to allow you to program a reminder in your iPhone or preferred mobile device.
The latest edition of the ever-popular and increasingly hard-to-get kicks will be available for purchase at Adidas.com, select Adidas stores, and Yeezy Supply. Fans are also able to make in-store reservations to attempt to purchase the shoes and can use the nifty Adidas Confirmed App. Now that you know the when and the where, what about the price? How much are the Adidas Yeezy Boost 350 V2s?
According to Women's Wear Daily, the new Yeezy Boost 350 kicks are $187 a pair. The V2 version of Yeezy Boost 350s is black and white, with a mirrored, red SPLY-350 on the side, and a semi-translucent rubber sole.
If you are all about that athleisure, you will be magnetically attracted to these trainers. Every Yeezy Boost drop, be it 350s or the high-top 750s, is accompanied by a lot of mania and hype. They are basically fashion unicorns — that is, many talk about and desire them, but few have seen and actually purchased them!
Have a look at the Adidas Yeezy Boost 350 V2s below.
If you love sneakers, then you undoubtedly think these are dope AF.
You better reschedule your Saturday plans so you can focus on the task at hand (or foot) and shop the Yeezy Boost 350 V2s. These kicks would look rad with leggings, sweats, skinnies, a denim skirt, joggers, whatever! They will pair well with any bottoms.
If you want to further prep for this sneaker drop, you can sign up for email alerts on the Adidas site. That way, you will always be in the know. There is also a store locator. Knowledge is power, yo!
Oh, hello there, Yeezy Boost 350 V2.
Images: Courtesy of Adidas (4)