Wet N Wild Realeased Pro Brushes & Here's How They Stack Up Against Tools Twice Their Price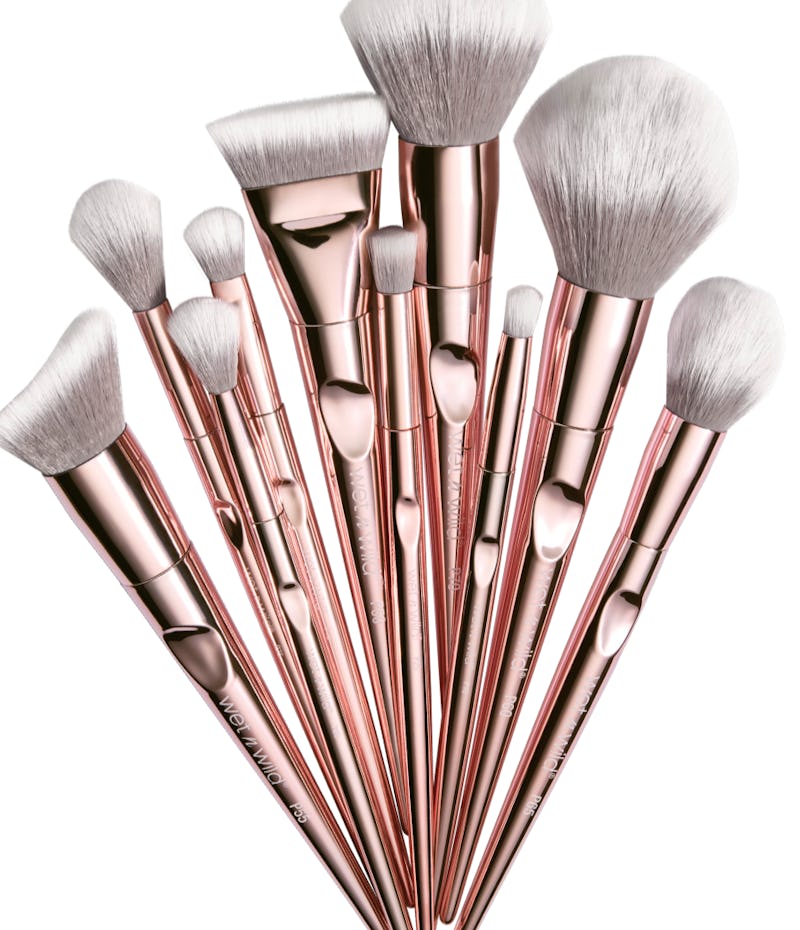 Courtesy of Wet N Wild
With a new year on the horizon, it's time to think about refreshing your makeup brush wardrobe. If your trusty tools are worn out from using and washing them, you don't need to start completely over by investing in a pricy set. That's because new Wet N Wild's Pro Brush Line is high quality and affordable. Your wallet won't feel the pinch.
The 10-piece vegan tools boast synthetic bristles and sleek 'n' chic, dusty pink metal handles designed for easy handling. The brushes cost $5.99 and $7.99, depending on their function, and are available at the Wet N Wild website.
You can spend a serious cash on beauty products, but it won't matter one bit if you don't have the proper tools for application. So it's wise to purchase luxe makeup brushes that are built to last. But Wet N Wild proves than luxe doesn't mean costly.
I received the full set of brushes from the brand, so I ave some first-hand experience with the brushes. The hairs are densely packed and silky soft, while the handles are sharpened to a stiletto-like point. There are grooves built into the handles, so you can rest your thumb comfortably while makeupping.
There are four eyeshadow brushes and six face brushes, meaning you can smoke out your eyes and contour like a Kardashian with this collection. The luxe hairs are as soft as a bunny's fur and your conscience will be guilt-free while using them.
Shedding bristles is a telltale sign of a cheap tool, and my personal litmus test for brush quality is whether or not stray hairs end up on my cheek. The Pro Brush Line doesn't deposit its hairs on my face, making it a winner.
You know what else the Wet N Wild Pro Brush set doesn't leave behind? Eyeshadow fallout on the cheeks. Lower-end brushes don't grab the product and disperse it as smoothly. You often end up with fairy dust all over your face. It's messy, hard to clean up, and wasteful. That scenario isn't an issue with these babies. The hairs hold onto eyeshadow and you are able to buff and blend eyeshadow beautifully on your lids.
I find the quality of these brushes to be akin to MAC, whose brushes I have been using for ages and consider to be the Holy Grail, as well as those designed by Urban Decay or Luxie Beauty, whose Wonder Woman and Princess Jasmine sets are as fabulous as they are functional.
Ultimately, the Wet N Wild Pro Brush line is affordable, effective, and glamorous. They look so pretty perched in an mason jar on my vanity.
I find myself gravitating most towards the big, fluffy powder brush. It's like velvet and tickles the skin.
It fits perfectly in my hand. While I am used to the wooden handles of my much more expensive MAC brush repertoire, the Wet N Wild brushes truly offer a no-slip grip.
The tapered and pointed handles have an additional function. They can be used as a loose guide when creating contouring lines or cat eye flicks.
These brushes have worked their way into my daily routine, and are definitely worth the minimal cash.