Alexandria Ocasio-Cortez Wants To Address Low Wages — Starting In Congress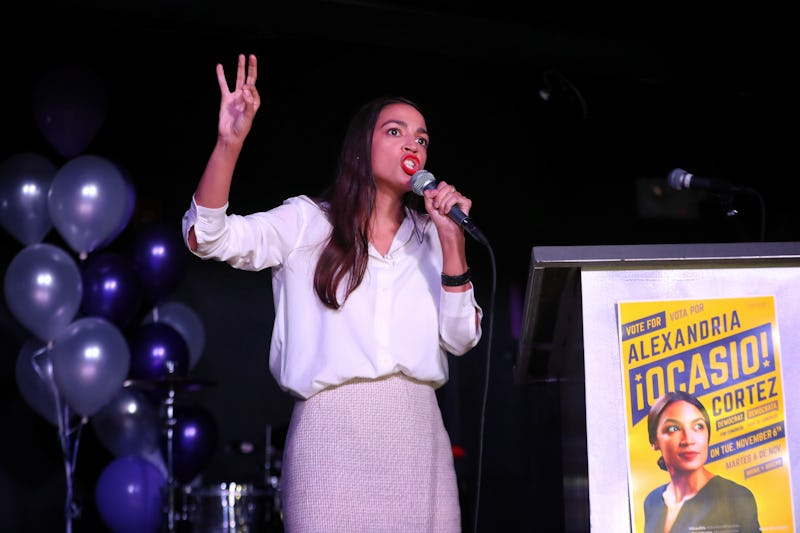 Rick Loomis/Getty Images News/Getty Images
A popular congresswoman-elect is calling for changes to employee pay on Capitol Hill. Indeed, how much congressional staffers make is something Alexandria Ocasio-Cortez wants to tackle immediately, as the future lawmaker noted that many staffers work multiple jobs just to make ends meet.
Congressional staff wages vary depending on the member of Congress for whom a staffer works. However, generally, staffers in lower level positions, like staff assistants, have a median salary of around $35,000, as USA Today reported. The paper also noted that, according to an analysis conducted by Legistorm, Democratic members of Congress pay their staff an average of $52,142, while Republican members pay staffers an average of $51,490.
These numbers reflect salaries well below those needed to live comfortably in the Washington, D.C. area, which is one of the most expensive metropolitan regions in the country. Indeed, last year the Washington Post reported that an individual should make around $80,000 to live comfortably in the D.C. area. Moreover, a living wage analysis from Dr. Amy K. Glasmeier and the Massachusetts Institute of Technology found that single adults need to make at least $35,000 before taxes just to cover expenses in the District.
Ocasio-Cortez condemned low congressional staff wages in a tweet on Monday, saying that it's "a disgrace" that staffers are struggling to afford to live in the nation's capital.
As the congresswoman-elect wrote:
This week I went to dive spot in DC for some late night food. I chatted up the staff. SEVERAL bartenders, managers, & servers *currently worked in Senate + House offices.* This is a disgrace. Congress of ALL places should raise MRAs so we can pay staff an actual DC living wage.
It is unjust for Congress to budget a living wage for ourselves, yet rely on unpaid interns & underpaid overworked staff just bc Republicans want to make a statement about "fiscal responsibility." If that's the case, they can cut down on staff to pay them well. Or raise the MRA.
As CBS reported, members of Congress use their Members' Representational Allowance (MRA) to pay their staffers and to fund other office-related administrative expenses. As the outlet noted, in 2017, the average MRA per member was $1,315,523. Of this amount, members used an average of $944,671 to pay their staffers. In her tweets, Ocasio-Cortez indicated that she believes the MRA needs to be raised in order for staffers to be paid higher wages.
Insufficient wages are often cited as one of the main reasons why turnover is so high among congressional staff. A 2013 survey from The Hill found that 46 percent of staffers said they would search for a new job within a year because of a "desire to earn more money." An article in the Washington Post in November 2018 echoed similar sentiments, arguing that insufficient staff pay is causing a "brain drain" in the country's capital. The paper also pointed out that staffers' pay has essentially been frozen for the past 10 years — and has failed to keep up with inflation.
Ocasio-Cortez certainly believes it is important to shed light on the issue of congressional staffers' pay. Time will soon tell in what ways she will advocate for this issue once she is sworn in as a member of Congress in January.