Tom Price Vows To Give Back $52,000 Of The $400,000 He Spent On Charter Planes — UPDATE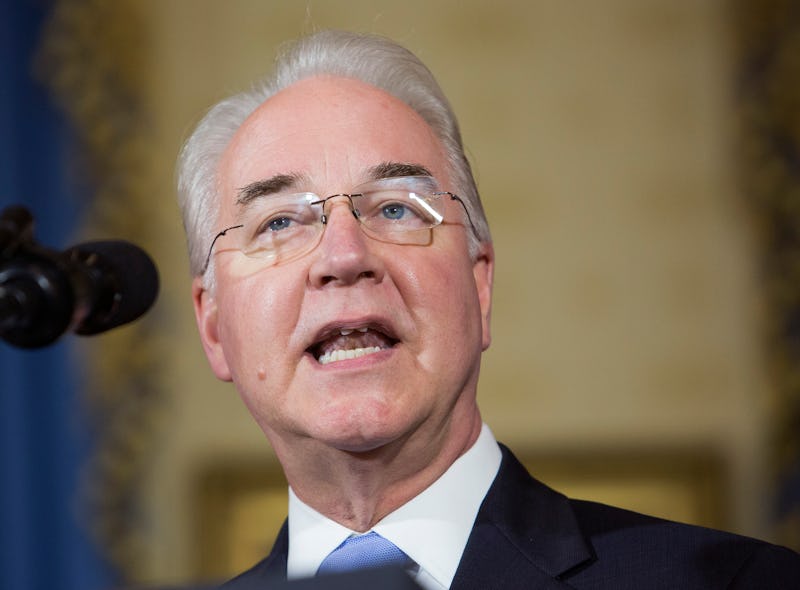 Pool/Getty Images News/Getty Images
Following widespread public criticism for his frequent use of taxpayer-funded private jets, including from President Trump himself, Secretary of Health and Human Services Tom Price plans to personally pay back the government for his traveling costs, he announced Thursday. Price also said that he will officially stop his excessive use of charter flights to conduct both official and personal business around the country.
Update: In a statement released on Thursday, Price noted, "Today, I will write a personal check to the US Treasury for the expenses of my travel on private charter planes. The taxpayers won't pay a dime for my seat on those planes." He will pay about $52,000 for the travel costs of one person, NPR reported. The flights he chartered reportedly cost $400,000.
Earlier: "I will write a personal check to the US Treasury for the expenses of my travel on private charter planes," Price said in a statement. "The taxpayers won't pay a dime for my seat on those planes."
According to an investigation conducted by Politico, that check may have to cover the hefty sum of $400,000. The investigation found that Price has traveled on charter flights at least 24 times since May, even though much cheaper commercial options were available. Price's decision to pay the federal government back for his expensive taxpayer-funded excursions comes just one day after President Trump hinted that he may be considering removing Price from his position in the Cabinet because of his actions.
"We'll see," Trump said on Wednesday when asked whether he might fire the secretary. "I will tell you personally, I'm not happy about it."
Other Republican leaders were also critical of Price's traveling habits, even going so far as to call his actions "indefensible."
"No excuses here, can't put lipstick on this pig. It's a pig," Republican Senator John Kennedy said on Thursday. "Taking these charter flights, playing the big shot on the taxpayer's dime when you can go by bus or train or regular commercial air, can't put lipstick on this pig."
Given the heated rhetoric surrounding the topic from both sides of the aisle, it's unclear if Price's attempted act of redemption will do much to preserve his public image, heal his relationship with the president, or, most importantly, secure his position in Trump's Cabinet. Price, however, seems confident.
"We're going to work through this," Price told reporters on Thursday. "I think we've still got the confidence of the president."
But according to the New York Times, President Trump has told at least one person close to him in the past 24 hours that he still "reserves the right" to fire Price even after he reimburses the government.
According to Federal Travel Regulations, government officials can only take charter plans for business purposes if "no scheduled commercial airline service is reasonably available... to fulfill your agency's travel requirement." Contrary to these regulations, the Politico investigation found that multiple commercial airlines were available at the time of many of Price's private trips. In one instance, Price flew from Washington Dulles International Airport to Nashville, Tennessee, for $17,760 round-trip on a charter flight — even though commercial airline tickets, which were available at the time, would have cost no more than $333 per person one way between the two cities.
Additionally, Price used charter flights to head to destinations where his family resides, sometimes planning to arrive days before he was scheduled to conduct any official business in the area. In August, Price boarded a private jet to St. Simon's Island, where he and his wife conveniently own property, two days before he was scheduled to give a speech at the Medical Association of Georgia's retreat. And in June, he chartered an $18,000 flight to Nashville, where his son lives, for a brief and reportedly last-minute speech.
Price vowing to pay back the federal government for these frivolous expenses is certainly a step in the right direction. But given the severity — and expense — of this particular scandal, it seems that he has a long way to go in gaining back public trust.