You'll Be Shocked At How Much Olympic Coaches Make, TBH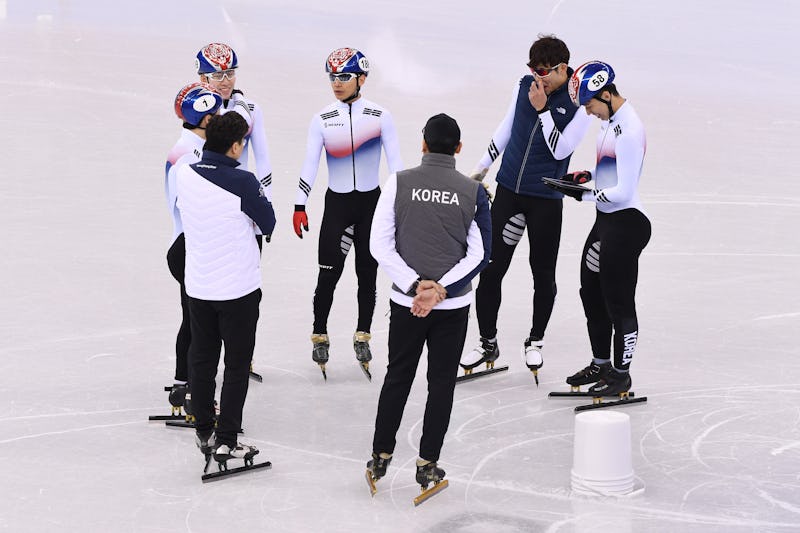 Harry How/Getty Images Sport/Getty Images
As athletes from around the world prepare to face PyeongChang's freezing temperatures, they're aiming for victory — not for the money but for their countries and their dedication to their sports. But athletes aren't the only ones invested in Olympic outcomes. Their coaches are there every step of the way. So how much do Olympic coaches make?
Coaches' salaries typically vary based on the sports they coach and their qualifications. Cost of living is often taken into account, too, making location an occasional factor in determining a coach's salary. Nonetheless, Olympic coaches aren't exactly raking in heaps of money. As Sports Illustrated reported a few years ago, it can be difficult to assess how much American coaches make because their contracts aren't often released to the public, but it's still possible to come up with estimates.
Let's start by taking a look at gymnastics; it is one of the most popular Olympic sports, though we won't see any gymnasts at the 2018 Winter Olympics. According to The Houston Chronicle, the average annual salary of a gymnastics coach in 2013 was $32,000, although the job search engine site Simply Hired estimates that this number has since decreased to just above $27,000.
Simply Hired also indicated that this figure varied on location — in New York, gymnastics coaches made an average of $38,000 per year, while in North Carolina, that number dropped to below $29,000. As of 2016, The Houston Chronicle reported, coaches and scouts were earning a median annual salary of $31,450, with the top 10 percent making over $50,000, according to Simply Hired.
For sports that will be featured at the Winter Olympics, the average salary for coaches tends to be a bit higher. Salaries site Paysa indicates that figure skating coaches, for example, earn an average annual salary of around $50,000. Ice hockey coaches, meanwhile, tend to make a lot more money than many other winter sports coaches. The NHL usually sends its athletes to compete in the Winter Olympics, and the league's highest-paid coaches make millions of dollars per year. The NHL announced last year, however, that it would not be sending any of its players to the 2018 PyeongChang games, for fear of "disrupting the 2017-18 NHL season."
Although the International Olympic Committee does not pay athletes or coaches, governing bodies for different sports within the U.S. have in the past offered medal incentives — a financial reward for earning a gold, silver, or bronze medal at the Olympics. For example, ahead of the 2016 Summer Olympics in Rio, U.S.A. Shooting offered its national coaches up to $25,000 in rewards based on the number of medals won by their athletes. It is still unclear whether any sports' governing bodies plan to institute a similar reward ahead of this year's Winter Games.
Even if they're not expecting to make a lot of money, Olympic coaches are extremely valuable assets without whom athletes could not succeed. It's worth noting that until being chosen for the U.S. national team, Olympic athletes often have to pay their coaches themselves, as well as for their travel expenses. As a result, coaches aren't the only ones that have to worry about their finances. According to The Daily Beast, the families of many Olympic athletes — such as those of Gabby Douglas and Ryan Lochte — have experienced precarious financial conditions in order to fund their children's Olympic ventures.
Nonetheless, coaches and athletes continue to aim for trips to the Olympics; some get by with sponsorships or endorsements, while others choose this path because they love their sport enough to overlook the meager payoff.