Trump's Florida Trips Cost Money At All Levels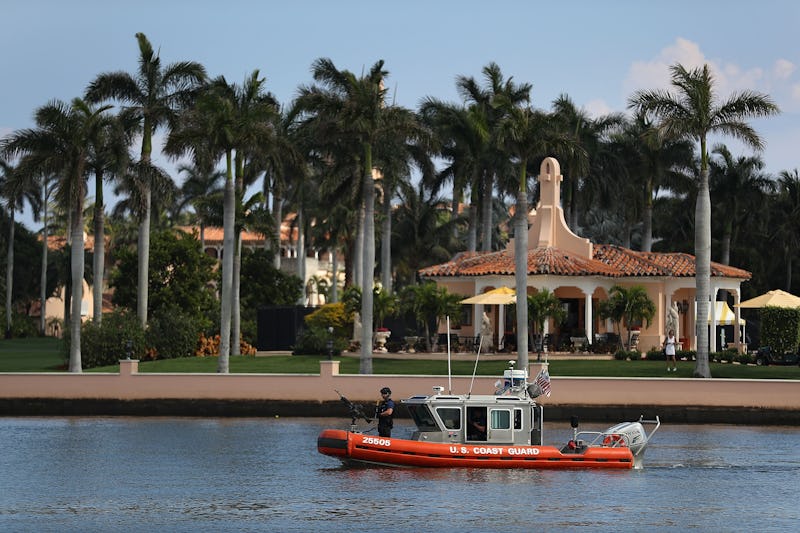 Joe Raedle/Getty Images News/Getty Images
Over the weekend, President Trump took his fifth trip as president to the private Mar-a-Lago club in Palm Beach, Florida. His trips have become so commonplace that the luxurious Florida estate has been called the Winter White House. For the president, the frequent Mar-a-Lago trips appear to be a chance to reunite with his family, hit the golf course, and get away from the rat race of Washington, D.C. But for the people who travel with and protect him, Trump's Florida trips are costing a lot of money.
It's unclear exactly how much each of Trump's trips to Palm Beach cost, but there are several estimates. In February, POLITICO reported that each weekend getaway could cost upward of $3 million. That estimate is based on a report from a similar trip that President Obama took in 2013. That trip reportedly cost the Department of Defense and the Department of Homeland Security $3.6 million.
Also in February, The Washington Post reported that Trump's travel could have cost some $10 million during his first month in office. While presidents pay for their own lodging, food, and incidentals while on vacation, the cost of taking Air Force One could be racking up the government's bill. One hour of flying could reportedly cost the government more than $200,000.
It's not just the federal government that bears the cost of Trump's travel. Ahead of Trump's most recent trip to Palm Beach, CNN reported on Friday that Palm Beach County officials want the Trump administration to cover some of the local costs associated with the first family's frequent visits. According to the story, the Palm Beach County sheriff's department must cover about $60,000 in overtime pay for its officers and staff each day that the president is in town. With the fifth trip underway on Sunday, CNN estimates that the sheriff department's overtime bill will exceed $1 million over the weekend.
Ironically, Trump often criticized President Obama for his family's travel and the costs associated with it. The president has reportedly worked to reduce the cost of a new incarnation of Air Force One, perhaps to make his travel more amenable to the taxpayers, though that may not reduce the cost of flying it.
The concern over Trump's travel costs could be understandably rising as it is juxtaposed by the first budget outline he proposed to Congress last week. The budget proposal suggests cutting funding for grants that make programs like Meals on Wheels more feasible. The Meals on Wheels conversation dominated much of the news cycle over the weekend, while Trump remained secluded at the opulent Mar-a-Lago estate.