Here's How Much A 'Bachelorette Weekend' Will Set You Back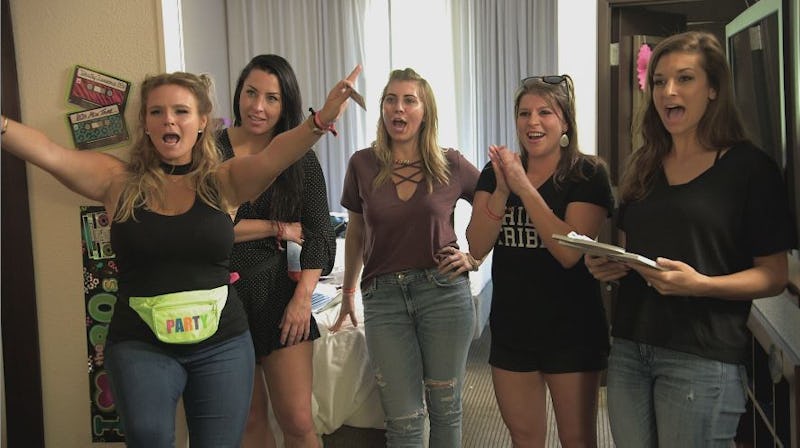 CMT
The new CMT reality series Bachelorette Weekend takes a look at all the work that goes into crafting an exuberant, unforgettable bachelor or bachelorette party. Of course, nothing perfect comes for free, and the cost of a Bachelorette Weekend from Bach Weekend will run each attendee a pretty penny.
If you're interested in getting the Bach Weekend company to plan your party, you'll want to book it as soon as possible. The Nashville-based company's popularity is bound to skyrocket after it makes its reality television debut on August 2. The company — which also plans weekends in New Orleans as well, already seems to be planning for a new series of clientele based on their television series. On the Bach Weekend booking page, there are three options listed for pricing with the most expensive listed as "I want to go all out like I saw on TV!!" which is $1,000 per person.
While this price level isn't yet reflected on all of their website materials — other pages on the Bach Weekend website list their most expensive package as $550 per person for a full weekend in Nashville, it seems that some preparation has begun on catering to customers who discover the company through the reality show. While the price point of a grand per person can really empty out a few bank accounts, the experience included with the package seems to be well worth the price. And you could easily spend $1,000 anyway on your friends' bachelor and bachelorette parties anyway, sometimes, right?
The Bach Weekend website promises a weekend of festivities that include a 2-hour open bar on the Friday and Saturday of the weekend, a Saturday "daytime activity," dinner reservations, and a "hangover kit," among other things. To get all that, which is listed at the Bach Weekend Silver Package your bridal party would have to drop $250 per person — but if the group decides to upgrade to the $399 per person Gold Package they'll also be provided with hotel rooms for their Nashville vacation and the bride gets a free T-Shirt. The most expensive package listed on the site is the VIP Platinum Package, which runs $549 per person and allows the entire party to get a free T-shirt and "Snacks in each room."
While the main Bach Weekend website's most expensive option is the VIP Platinum Package, there's a chance that their higher option could go live once the show has aired. The booking page's enticing promise of getting to "go all out like I saw on TV" is enticing, but there are no further details listed at the time of writing.
However, the booking page seems to be targeted to providing a specifically tailored experience, asking prospective customers "What is the #1 way we can make your weekend unforgettable?" While there aren't many details about the package on the website, the weekends seen on Bach Weekend seem to prove that those that pay the $1, 000 per person price tag get their money's worth. There's no better testament to one company's services than to have an entire television show dedicated to how wild and unforgettable their weekends are.