Gronk's Contract With The Patriots Isn't A Normal One — Here's Why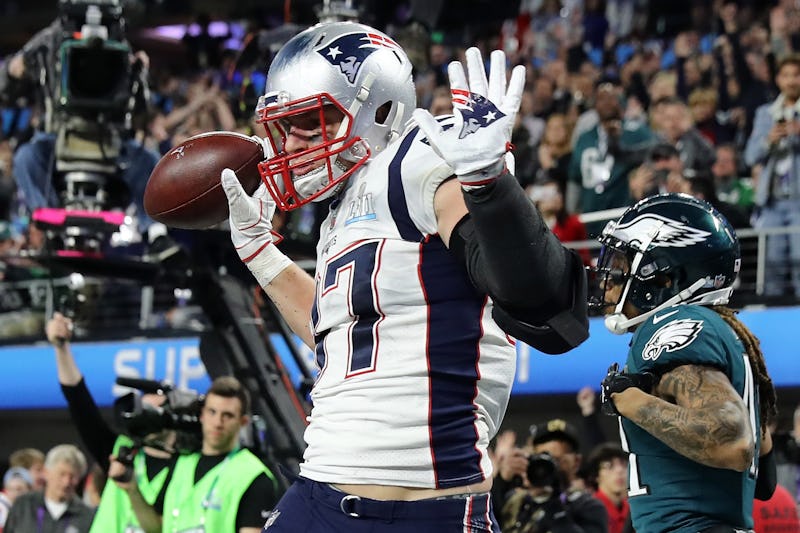 Elsa/Getty Images Sport/Getty Images
One thing you can probably guess is that Patriots tight end Rob Gronkowski makes millions. How much he earns every year, like any NFL player, depends on his contract.
With his well-documented goofiness, penchant for dancing in the end zone, and enviable position on a dynastic football team, it's reasonable to assume that Gronk is living his best life. His paycheck, it turns out, doesn't hurt. The 28 year-old tight end, reportedly enjoys a cool $57 million contract with Patriots. The contract stipulates that he agrees to play for the team for six years.
Additionally, Gronk also added a series of incentives to his contract in the off-season. As CBS Boston reports, he earns extra money if he does any of the following:
Play 90 percent of snaps
Make 80 catches
Record 1,200 receiving yards
Be named to the First Team All-Pro
If he achieves any of these goals, even just one, he is slated to earn an additional $5.5 million. He also earned a $8 million bonus just for signing to the team at all. All of this is to say that, while he may not (yet) be one of the leagues highest earners, he is certainly not strapped for cash.
Gronk is well-known among football fans for sustaining a lot of injuries. Adding these types of incentives into his contract essentially encourages him to try to avoid injury. After all, if he can't play, he can't meet any of the incentive points and therefore won't get the extra payout. The same logic has the unintended consequence of discouraging actions that could lead to suspension.
According to CNBC, Gronk doesn't blow his paycheck, either. In his 2015 book, It's Good To Be Gronk, the tight end reportedly dished on his money-managing tactics. Reportedly, he lives off all the other money he makes — income that comes from source other than the NFL. This type of income could manifest in many ways, but one major source would be endorsement deals. In Gronk's case, these deals come from places like energy drinks and football apps, which he would be paid to help promote.
In his book, he said at the time that he hadn't spent a penny of what he has directly earned from the NFL.
To this day, I still haven't touched one dime of my signing bonus or NFL contract money. I live off my marketing money and haven't blown it on any big-money expensive cars, expensive jewelry or tattoos and still wear my favorite pair of jeans from high school… I don't hurt anyone (except Gord with the occasional kick to the groin), I don't do drugs, I don't drive drunk, I don't break the law… I'm a 23-year-old guy just looking to have a fun time.
It's unclear whether he has maintained this savings plan, but exhibiting such self-control, especially at such a young age, is impressive either way. But, interestingly enough, Gronk has actually had some pretty close examples to look to insofar as handling life in the NFL, including the pay that comes with it. Four out of five of the Gronkowski brothers have played in the NFL, something they have already capitalized on, vis a vis launching their very own "Gronk Nation" clothing brand. All of this is to say that, while no man is an island, Rob Gronkowski's family is more like an archipelago of professional football players.
While he earns millions of dollars and comes from a long line of pro-athletes, the fact is that one doesn't get as far in the NFL as Gronk has without a combination of talent and athletic perseverance. The jury may be out on whether NFL players are paid a bit too much to play a sport, but one thing is certain — Gronk has worked very hard to get where he is.