Here's How Much Trump's "Solution" To Family Separations Could Actually Cost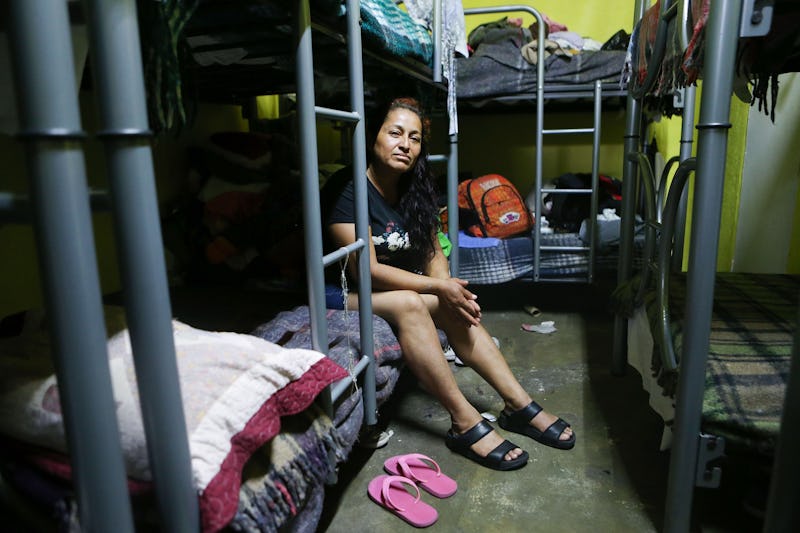 Mario Tama/Getty Images News/Getty Images
President Trump is between a rock and a hard place: On the one hand, he's determined not to back down from his zero-tolerance, hardline immigration stance. It was, after all, the linchpin of his campaign. On the other, going forward with his new detention policy could be a financial fantasy. The estimated cost of Trump's family detention policy is astronomical, and according to the Huffington Post, it could cost approximately $2 billion a year. It's unclear where the extra money would come from or what Immigrations and Customs Enforcement (ICE) would have to cut out of its budget.
In response to the public furor roiling his White House, President Trump signed an executive order last week that ended the family separation policy for migrants caught crossing the border. In its place was a plan to keep families together in detention, and with that, a need for military bases to create space on its land for detention facilities. According to the Huffington Post, ICE submitted a Request for Information, which is a call for contractors to send in cost proposals for the development of 15,000 more family detention beds.
By Huffington Posts's rough estimates, the beds would cost an extra $2 billion annually. If you do the math, the result hits a bit over, at around $2.46 billion with this breakdown: 365 days multiplied by 15,000 beds multiplied by $450 daily cost. The $450 per day estimate stems from an instance in 2014 when the Obama administration worked with the nation's largest private prison contractor, CoreCivic, to construct a family detention center in Texas. Time was of the essence, and hurried negotiations resulted in a cost of $450 daily per bed. The cost was renegotiated afterward, but according to Huffington Post's interview with a former ICE employee, this practice isn't entirely unusual.
"ICE has entered into some pretty bad contracts in the past, because they do them like this," said Alonzo Peña, the former deputy director of ICE to Huffington Post. "All of a sudden, there will be this emergency need and they enter these contracts and they're not going to be advantageous to the government. The cost is very inflated. There's not a lot of competition or oversight. They skip a lot of the normal bureaucratic processes that are involved."
Other news outlets use the figure given by the Department of Homeland Security, which puts the cost of a family bed at at around $319 a day, according to CNBC. The calculations with that figure on the 15,000 extra beds leads to a cost of about $1.74 billion more annually. However, the numbers given by ICE are not always representative of the actual cost, CNBC reported. Its numbers have led the United States' Government Accountability Office (GAO) to analyze ICE's budget request, which ended in a conclusion that found a "number of inconsistencies and errors in ICE's calculations for its congressional budget justifications."
Family detention beds are exponentially more expensive than single adult beds — which are estimated to be $134 a day, according to the Huffington Post — because family detention centers are required to be less secure. The presence of children mandates different necessities, and federal authorities have to make sure kids at every age are provided for; this includes the expense of educating detained children, allowing access to medical care, play areas, clothing, and child care materials. For mothers of babies, this might include diapers, high chairs, and bottles.
Whatever the president decides to do, the issue won't be easy to take on. The money has to come from somewhere, and with more migrants being detained each day, something will have to give.