The Trump Admin Wants To Boost ICE's 2019 Funding In A Pretty Major Way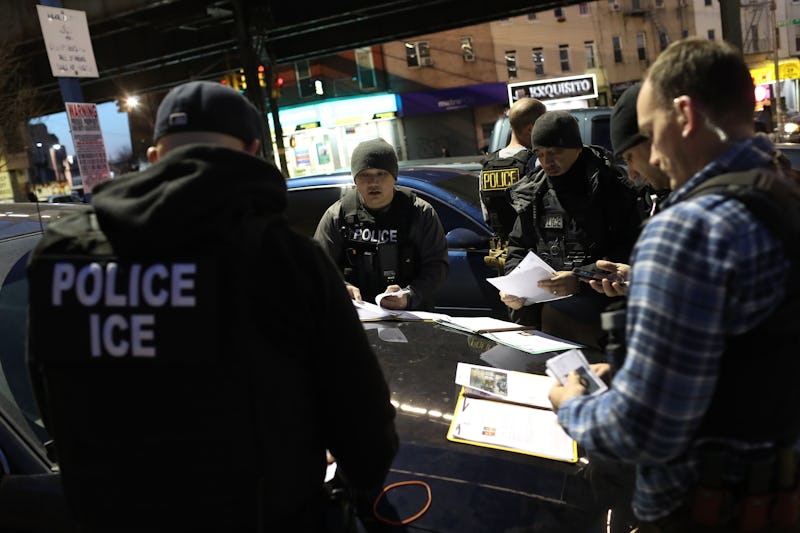 John Moore/Getty Images News/Getty Images
The U.S. Immigration and Customs Enforcement (ICE) agency has been the subject of much controversy lately, as some people have called for its abolition following the implementation of the Trump administration's zero tolerance immigration policy. As discussion about the agency's future continues to loom large, you may be curious about how much funding ICE gets every year. While the agency was allocated billions of dollars in 2018, the Trump administration wants to substantially increase this amount in 2019 — to over eight billion dollars.
As Newsweek reported, for 2019, the Trump administration is seeking $8.3 billion in discretionary funding for ICE, as well as $525.6 million in budget authority to cover mandatory fees. This adds up to a total of around $8.8 billion. The administration's proposed 2019 ICE budget represents an increase of $967 million when compared with 2018's ICE budget (2018's budget was $7.6 million).
The Hill reported that the Trump administration's proposed ICE budget is already causing controversy in Congress, as some Democrats are concerned that the increased funding will be used to accelerate deportations of immigrants. As The Hill noted, Democrats' hesitation about the increased funding could affect whether or not the funds are approved, since both Democratic and Republican support is needed to pass new spending bills.
According to a joint statement from ICE and the Department of Homeland Security, of which the agency is a part, the increased funding is necessary for the agency to meet its needs. As the statement, which was submitted to the House Committee on Appropriations' Subcommittee on Homeland Security back in April, described:
This increase in funding is critical for ICE to meet its mission needs. Simply put, the men and women of ICE need the requested resources and tools to do their work. The FY 2019 Budget will support current efforts and enable ICE to invest in much needed areas: immigration enforcement, criminal investigations, dismantling trans-national criminal organizations, workforce expansion and training, and the information technology needed to meet the security challenges of the 21st century ...
This request for increased funding comes as the Trump administration has faced much scrutiny for its immigration policies. In April 2018, the administration began enforcing its zero tolerance immigration policy, which requires that all undocumented immigrants crossing the U.S. border are criminally prosecuted. As a result of this policy, many immigrant parents and children were separated at border crossings since, by law, parents who are being criminally charged cannot be detained with their children. While an executive order ended this highly controversial family separation policy on June 20, thousands of children still remain separated from their parents.
Amidst the enforcement of these controversial policies, some have called for the abolition of ICE, saying that the agency has moved away from its original purpose of countering terrorism in the post-9/11 era. Many have called for either replacing the embattled agency with a new one or distributing its essential functions among other already existing federal agencies.
Some of those calling for ICE's abolition include prominent Democratic senators, like Elizabeth Warren. Warren shared her thoughts on ICE's future on Facebook on June 30, writing:
President Trump seems to think that the only way to have immigration rules is to rip parents from their children, treat rape victims and refugees like terrorists, and put children in cages ... The President's deeply immoral actions have made it obvious that we need to rebuild our immigration system from top to bottom, starting by replacing ICE with something that reflects our values ...
Considering that many are calling ICE's future existence into question, it seems that a significant agency budget increase for 2019 is far from a guarantee. Time will tell just how much funding ICE will receive for 2019 and whether or not the criticism it has received will affect its future operations.