'A Hotel for the Super Rich & Famous' Profiles This Spenny AF London Hotel & GULP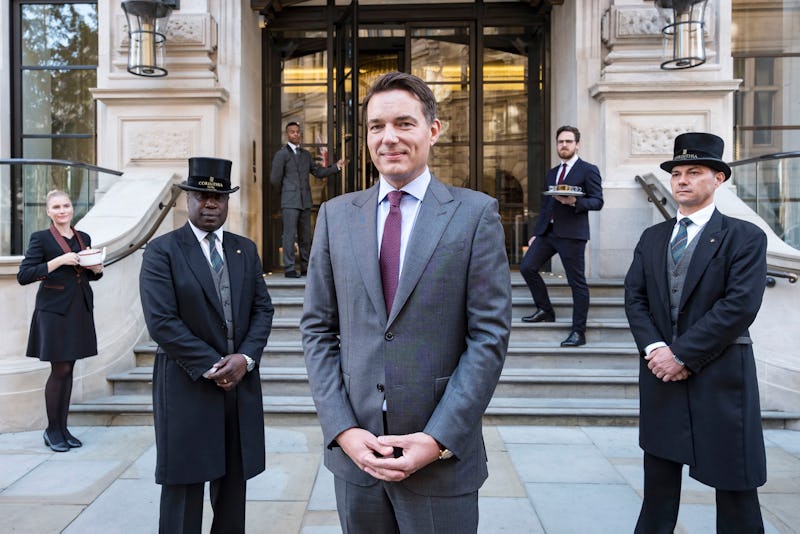 BBC/Spun Gold TV/John Rogers
Babe you have been working too hard. You deserve a break. And I am not talking a weekend in Butlins, I mean chic chic chic. And where better to take inspiration from than a documentary series about the most fabulous and luxurious places around. Yes honey, you deserve it. But, ahead of tonight's episode about this particular luxurious destination, it might be worth finding out how much wedge you will be parting with for a night in one of its gorgeous rooms. How much is a room at The Corinthia Hotel? Why not go on ahead and book yourself a weekend away for one of those blue January weekends to shake the SADs away?
The great thing about watching a show that is about a place that does customer service based work is that if you think it's great, you can go there. So, this BBC show titled A Hotel For The Super Rich & Famous details just that — a boujee AF hotel. And one that, for the mere price of approximately £474 a night for two people on a January weekend, you can live it up. Gulp. Yes, that's starting at £474. Before you have even bought yourself a glass of booze. Maybe best smuggle some into your room babes.
Alright then, maybe you might have to save for a bit to go but if you're someone who likes a bit of luxury this is definitely the place for you. The hotel is managed by former manager of Claridges (another crazy posh hotel), Thomas Kochs. The hotel has a world class spa, offering treatments to actually die for, like massages, facials, and wellness sort of things called "Time rituals" (I don't know either, but it is expensive so probably incredible). Basically you will leave that glowing.
The incredible rooms and facilities are accompanied by a swag as swag can be restaurant headed by the famous Michelin starred UK chef, Tom Kerridge.
Kerridge is best known for having the The Hand And Flowers, which is the only pub in the UK with two Michelin stars. So what else would you expect other than British comfort food with a stylish, high-end twist. Happy tummies all round.
They also, of course have a wildly posh afternoon tea which they describe as "served under the splendid Baccarat Chandelier." I mean how lit is that? And those seeking out a stiff drink after clocking the bill can mosey over to Bassoon Bar.
No wonder this place is basically a celeb haven. Apart from the price tag, this place is also a super cute way to get your self-care on. But which celebrities are said to hang out round these parts? Who could you potentially see and get a fright and nearly choke on your tiny sandwich? Well in this episode alone, the staff are seen in a tizzy getting ready for some VIP guests. Those guests are none other than Bill Clinton and James Corden! Not together guys, that would be one surprising sleep over. But other famous frequenters include Cuba Gooding Jr and Will.I.Am.
I've got a feeling, that tonight's gonna be a good night. Sorry, I couldn't help myself.
A Hotel for the Super Rich & Famous airs on BBC One at 8 p.m.