Anastasia's Beverly Hill's Norvina Palette Has This One Major Thing In Common With Past ABH Palettes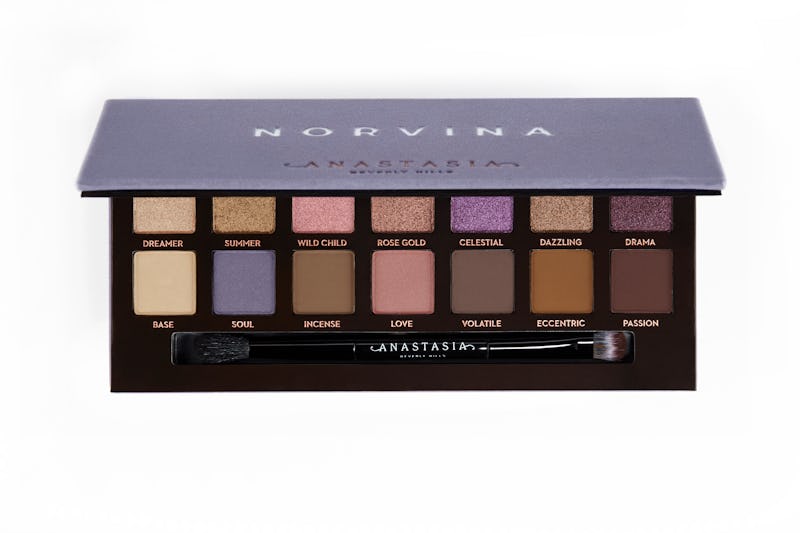 Courtesy Anastasia Beverly Hills
When Anastasia Beverly Hills commits to a makeup palette, they do just that. The Norvina Palette is no different. Thankfully, a few things are the same though. According to the brand, the price of the Norvina Palette is the same as all the others. Here's everything you need to know, so you're prepared for launch day.
From the name to the colors, everything about the latest palette is all about the brand's president. Named the Norvina Palette, the product have 14 shades and is lavender — which is her signature hair color. The name and color might be different, but it's got a whole lot in common with past palettes.
According to the brand, the Norvina Palette will be $42.
That's the exact same price as the Modern Renaissance and Subculture Palettes. It's up to you to decide whether that's a good or bad thing, but at least you'll be prepared. Also like the other palettes, Novina has pick 14 shades for the product. There's seven mattes and seven shimmers, ranging from neutral tones to purples, which are Norvina's favorite shades.
"I have always wanted to create a palette that embodies my spirit," Norvina says in the press release. "I'm a dreamer at heart and get lost in my own fantasy world daily. It's a whimsical place that leaves you feeling carefree. If I had to explain how these colors made me feel, I would say 'happy."
Now that the price is out of the way, let's talk launch date. The brand isn't making fans wait too much longer to get their hands on their latest launch. According to the press release, the Norvina Palette will be available on July 17 on the Anastasia Beverly Hills website. But that's not the only place you can shop.
The palette will be at Ulta Beauty in-stores and online on July 29, and online at Sephora, Macys, Dilliards, and Nordstrom on Aug. 7. It will then arrive in stores at all the above retailers on Aug. 17, after going international on Aug. 8. That is a whole lot of options for buying this palette.
It's a good thing that this palette is so readily available, because every single ABH product flies off the shelves. There's a good chance that the brand will sell-out of the product on the official launch date, so you'll want to be waiting by your computer. Unless, of course, your tactic is to wait and see reviews first.
As far as the shades go, these colors are super versatile. There's a little bit of neutrals, some pops of color, and some shimmer. This might have been created by Norvina, but this was made for just about everyone. The brand shows the shades of four different skin tones on its Instagram page. Each one looks absolutely stunning.
You will also get a large mirror and a double-sided brush inside the palette. Basically, this will sit perfectly next to your other ABH products and won't cost you any more, either. That is a whole lot of bang for your buck.
ABH has also been showing off different eye creation on the Instagram page. None of them look alike, but all of them come from the same 14 shade selection. That's how versatile the Norvina Palette is. The warm and cool tone creations are incredible.
Get your $42 ready and go ahead and cancel your plans for July 17, because this is one beauty launch that you won't want to miss. Thankfully, this launch isn't limited edition though. So you'll be able to snag it, even if you do miss the date.