The Price Point Of Rihanna's Newest Fenty Launch Has The Internet Torn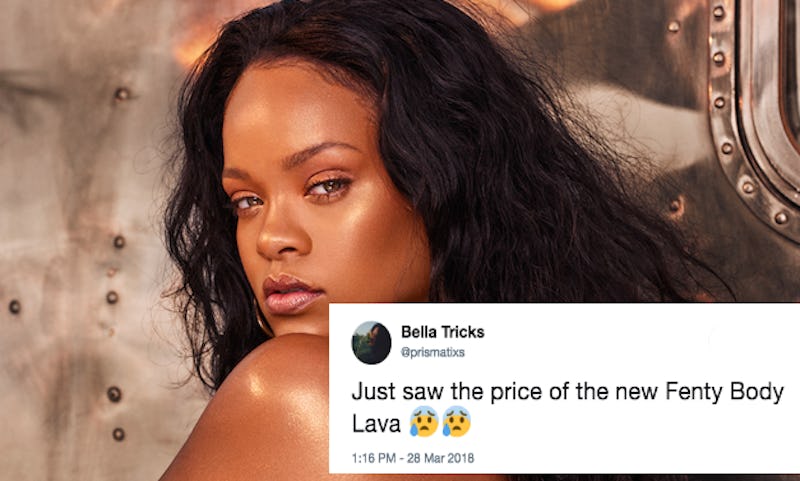 Courtesy of Fenty Beauty
Fenty Beauty is up to something shimmery for summer. The products have been announced and the tutorials have been shown, but one thing has been missing — the price tag. Well, the price of Fenty Beauty's Beach, Please Collection is finally here, and it has the internet torn. The body highlighters and tools are slightly more expensive than the other products, which has some makeup lovers a tad bit let down.
Everything that Rihanna touches seems to turn to gold. First, it was the Trophy Wife Highlighter that looked exactly like powdered gold. Now there's the Beach, Please collection looking to outshine it. The brand created two Body Lava Body Luminizers, a Face & Kabuki Brush, and the Fairy Bomb Glittering Pom Pom — all of which pack a whole lot of shine.
Up until now, the price has been elusive. The brand showed the tutorials of Rihanna using the products and got fans excited to get their hands on the products on April 6. Now that the prices are here, peoples' feelings have changed a little bit.
According to the press release, the Body Lava Body Luminizers are $59 each, the Face & Kabuki Brush is $34, and the Fairy Bomb Glittering Pom Pom is $42.
If you're not familiar with Fenty Beauty, these prices are slightly higher than other products in the collection. For a comparison, the brand's foundation is $34 and the Match Stix Trio rings in at $54. The most expensive product in the line is the Limited Edition Galaxy Eyeshadow Palette, which is $59 — the same price as one of the new body highlighters.
Twitter is split on how they feel about the price of the products. While some people are willing to pay pretty much any price to get their hands on some Fenty, others aren't as exciting to see the price hike. This has been the most torn that people have ever been on the launch of a Fenty Beauty product.
The emojis really do say it all.
People were ready to run to the stores... until they weren't.
Other people are willing to shell out as much as it takes.
Of course, buying makeup is a personal decision. Here's a rundown of every single item, so you can decide for yourself what you will and won't be shopping on launch day.
Body Lava in Brown Sugar, $59
Body Lava in Brown Sugar
Fenty Beauty
2. Body Lava in Who Needs Clothes?, $59
Body Lava in Who Needs Clothes?
Fenty Beauty
3. Face & Body Kabuki Brush, $34
Face & Body Kabuki Brush
Fenty Beauty
4. Fairy Bomb Glittering Pom Pom, $42
Fairy Bomb Glittering Pom Pom
Fenty Beauty
You'll have to decide for yourself, if you're going to buy the collection or not. If so, prepare yourself and your wallet for the launch on Apr. 6. You can shop on the Fenty beauty website, the Sephora website, or in Sephora stores in JC Penny's.