America's Gun Culture Costs $2.8 Billion In Hospital Bills Alone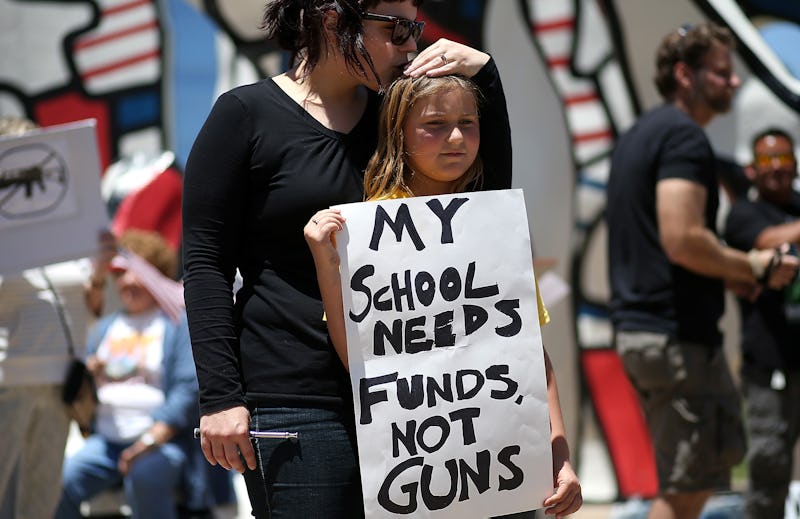 Justin Sullivan/Getty Images News/Getty Images
A recent analysis published in the Health Affairs journal revealed that gun culture is costing Americans billions of dollars each year. The study, which was coincidentally released the day after the tragic mass shooting in Las Vegas, revealed that in addition to substantial emotional and societal expenses, there are also profound financial costs associated with gun violence in the U.S.
To examine the cost of gun violence in the U.S., the study, according to Newsweek, used data from the Healthcare Cost and Utilization Project Nationwide Emergency Department Sample, which is a comprehensive database that captures all-payer emergency department statistics from around the country.
The study examined the costs associated with gunshot victims from 2006 through 2014. Researchers only included emergency room and inpatient costs associated with gunshot victims who arrived at the hospital alive — not those who never came to the hospital or those who died on the way to the hospital. It calculating costs, researchers found a staggering statistic — gunshot woulds cost Americans $2.8 billion in hospital bills per year.
The study, entitled "Emergency Department Visits For Firearm-Related Injuries In The United States, 2006–14," was conducted by Faiz Gani, Joseph Sakran and Joseph Canner of the Johns Hopkins University School of Medicine.
Shockingly, the $2.8 billion number reflects only hospital bills alone, not the myriad of other costs, like lost wages and physical therapy, for example, associated with gunshot wounds. As Newsweek reported, Sakran, one of the study's authors, noted that "this doesn't include the economic costs from the standpoint of productivity to society, legal fees, all those other things that aren't really included in this aspect," meaning that the actual, comprehensive cost of gunshot wounds for the U.S. is actually much higher.
Moreover, Newsweek pointed out that the study revealed some interesting trends in regards to gun-related injuries. For example, it found that gun violence physically impacted men much more than women, with nine male patients being treated for gun violence for every one female patient. Youth were also disproportionately impacted by gun violence, with around half of the patients falling into the age category of 18-29 years. Finally, the study also demonstrated that gun violence overwhelmingly affects the uninsured, as over half of the patients in the study were uninsured or self-paying.
Authors of the study pointed out that "despite high clinical and financial burden associated with firearm-related injuries, resources allocated to preventing them remain low." Moreover, in the discussion section of the study, the authors observed the ironic notion that, despite its profound impact on the American public's health and welfare, funding for health-related research into gun violence has been very limited or even prohibited. Indeed, the article's authors made a detailed observation about this issue:
Although firearm-related injuries are a major public health concern with significant financial consequences, research in this area has been limited as a result of a lack of funding. For example, while gun violence is responsible for about as many deaths as sepsis is, funding for gun violence research is equivalent to 0.7 percent of the funding allocated for sepsis ... [Furthermore], historically, federal funding for gun violence research has been limited because of the Dickey Amendment of 1996, a provision in that year's federal government omnibus spending bill stating that funds made available to the CDC for injury research cannot 'be used to advocate or promote gun control.'
The authors noted that they believe that the only way to reduce the "medical and financial burden" of gun violence consists of taking a comprehensive, evidence-based public health approach to solving the problem — and understanding the myriad of interconnected factors that cause gun violence.
In the immediate term, they also recommended several prevention-focused interventions to help diminish the likelihood of gun violence, saying,
Although future research is warranted to better understand firearm-related injuries, policy makers might consider implementing universal background checks for firearm purchases and limiting access to firearms for people with a history of violence or previous convictions to reduce the clinical and financial burden associated with these injuries ... [Moreover] future policies related to firearms should focus on better understanding and preventing these injuries.
Overall, it is clear that gun violence has a substantial economic and medical cost for Americans every year, in addition, of course, to the myriad of other tangible and intangible costs associated with gun violence. Hopefully policymakers will pay close attention to the findings of this study and carefully consider them when crafting gun-related legislation.