Seriously, You Won't *Believe* Just How Much Holly Willoughby Earned This Year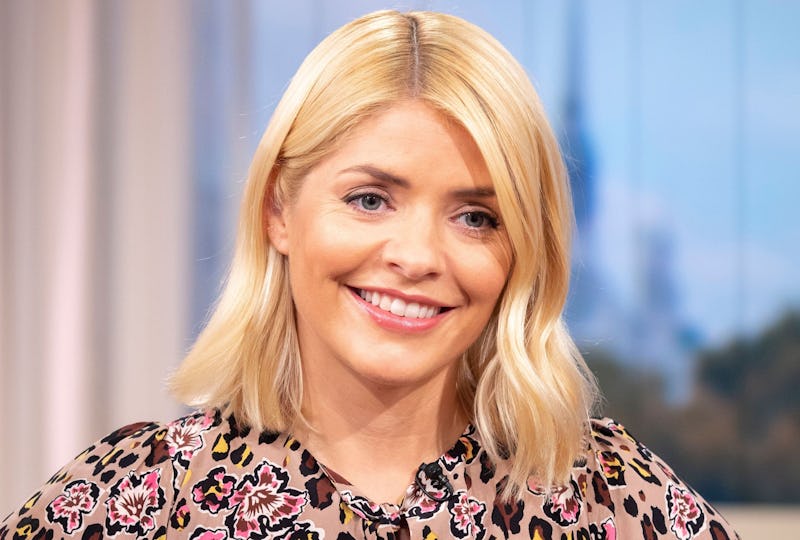 Ken McKay/ITV/Shutterstock
Holly Willoughby is pretty much everywhere at the minute: there's her This Morning hosting position, her Dancing on Ice gig, her team captain position on Celebrity Juice, and her role as a brand ambassador for Marks & Spencer, for a start. And then, of course, there's her current job as a co-host of I'm a Celebrity...Get Me Out of Here! while Ant McPartlin takes some time away from the spotlight. You might, therefore, imagine that she's earning a significant amount of money — but the exact amount is likely to widen your eyes. How much is Holly Willoughby paid? More than the average person could begin countenance, it turns out.
According to the Sun, Willoughby's earnings go into her own company, Roxy Media, from which she pays herself a salary. Willoughby owns 80 per cent of the business, while her husband, TV producer Dan Baldwin, owns 20 per cent. Last year, Willoughby pocketed £950,000 from the company. So what about this year? The presenter paid herself and Baldwin an astonishing £1.7 million in total — almost double last year's pay cheque. Willoughby received £1,355,784, the Sun reports, while her husband received £338,946. Which seems like too much money for anyone to know what to do with; do you think they've got a conservatory built entirely out of £1 coins?
Here's the thing: that doesn't even include her pay for I'm a Celebrity, which she's hosting alongside Declan Donnelly. According to the Sun, Willoughby was already raking in a grand total of £2.5 million a year before taking on the I'm a Celebrity job. Fancy taking a guess at how much she's earning on I'm a Celeb? I can almost guarantee you guessed too low. Willoughby's apparently being paid £2.5 million for the hosting stint, doubling her previous earnings.
"ITV want to make it clear that she is theirs and they are prepared to pay her for it," an unnamed source said. "With the exception of Ant and Dec, Holly is their most popular and well-known presenter, and they see her as their main appeal to the female market."
The source continued, "She has got herself in a place where she can ask for what she wants and ITV will pay her what she is worth. Negotiations on a new contract will start imminently."
Willoughby's temporary gig as I'm a Celeb host has seen ratings for the reality show skyrocket, according to Digital Spy. The first episode of the series, which aired on Sunday, November 18, drew an astonishing 11 million viewers, with 11.9 million watching at the episode's peak. The episode was the most watched programme of the year, excepting several World Cup matches, ITV tweeted. As the Radio Times notes, a significant amount of those viewers were probably tuning in to see how Holly and Dec would match up to Ant and Dec, so the figures don't necessarily represent Willoughby's overall success as an I'm a Celeb host. But it's a pretty damn good start — and it's likely the ITV bosses writing her pay cheques are satisfied too.