This News About Jodie Whittaker's 'Doctor Who' Salary Will Put A Spring In Your Step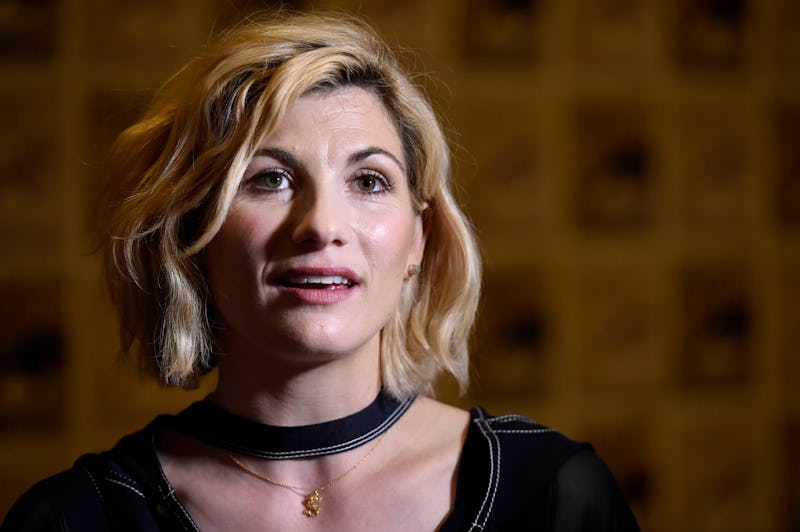 Chris Pizzello/Invision/AP/Shutterstock
We're mere weeks away from Jodie Whittaker's first full episode as the Doctor, marking a significant milestone for the previously male-led Doctor Who. For female Whovians, Whittaker's casting provides representation the previous 55 years have sorely lacked. But in the light of major gender pay gap scandals across the BBC and beyond, it's only natural to wonder: how much is Jodie Whittaker paid for Doctor Who? Will her salary match that of her male predecessors? Thankfully, in a new interview with Metro, Whittaker cleared that question up.
Though the new Time Lord didn't specify exactly what she's paid to play the Doctor, Whittaker made it clear while speaking to Metro that her salary is an equal one. "I absolutely know that I'm not being paid less than any other Doctor," she told the newspaper. Phew!
She continued, "This is not the show to set that standard. Not the company, this show is not the show that's going to do that and then have that revelation be the side bar. It isn't. Thank God!" And a further perk for the actor: "So that's not going to have to fall on an awkward press conference for me!"
Though Whittaker, thankfully, is receiving equal (or greater!) compensation to the male Doctors before her, a pay gap wouldn't be unprecedented at the BBC. In July this year, the broadcaster revealed that the 12 stars commanding the greatest salaries were all white men (though this excludes "most entertainment, factual and drama programmes" which are produced by BBC Studios, a commercial entity that doesn't have to declare its salaries). And earlier this month, QI presenter Sandi Toksvig revealed that she's paid only 40% of what her male predecessor, Stephen Fry, received, as the Guardian reports.
A tangentially Doctor Who associated pay scandal? In March this year, the producers of Netflix series The Crown revealed that in the first two series of the show, former Doctor Matt Smith was paid more for his role as Prince Philip than Claire Foy received for the lead role of Queen Elizabeth II. Variety reports that the pay disparity will be rectified by the next series, in which Olivia Colman will play the Queen and Tobias Menzies will play her husband. "Going forward, no one gets paid more than the Queen," producer Suzanne Mackie said.
Speaking to Metro, Whittaker said she's fully aware of the significance of the first female Doctor. "When I was growing up, these characters didn't look like us doing these things," she told the paper. "These were the white guys running about, saving the day, really cool stuff, and if you were lucky you may be clapped at the side, and passed something to help the really heroic moment happen." Her comment touches on a vital milestone yet to be reached — though the companions in the upcoming series and series past have been played by actors of colour, every Doctor to date has been white.
Whittaker continued, "People don't necessarily know how to feel about it, but for us it's 2018, of course we're not…women are not a genre." Can I please get "women are not a genre" on a t-shirt?